Day-one of the Federal election campaign on Monday last week produced a predictably large media scrum for Opposition leader Tony Abbott's first official campaign visit, to JBS Australia's Dinmore processing plant.
His reaffirmation of a Coalition pledge to remove the carbon tax attracted all the headlines, but what was lost in the rush for pre-election political coverage was JBS's message to Mr Abbott about the desperate need for a broad suite of industry reforms to lift competitiveness of Australian beef on the world stage.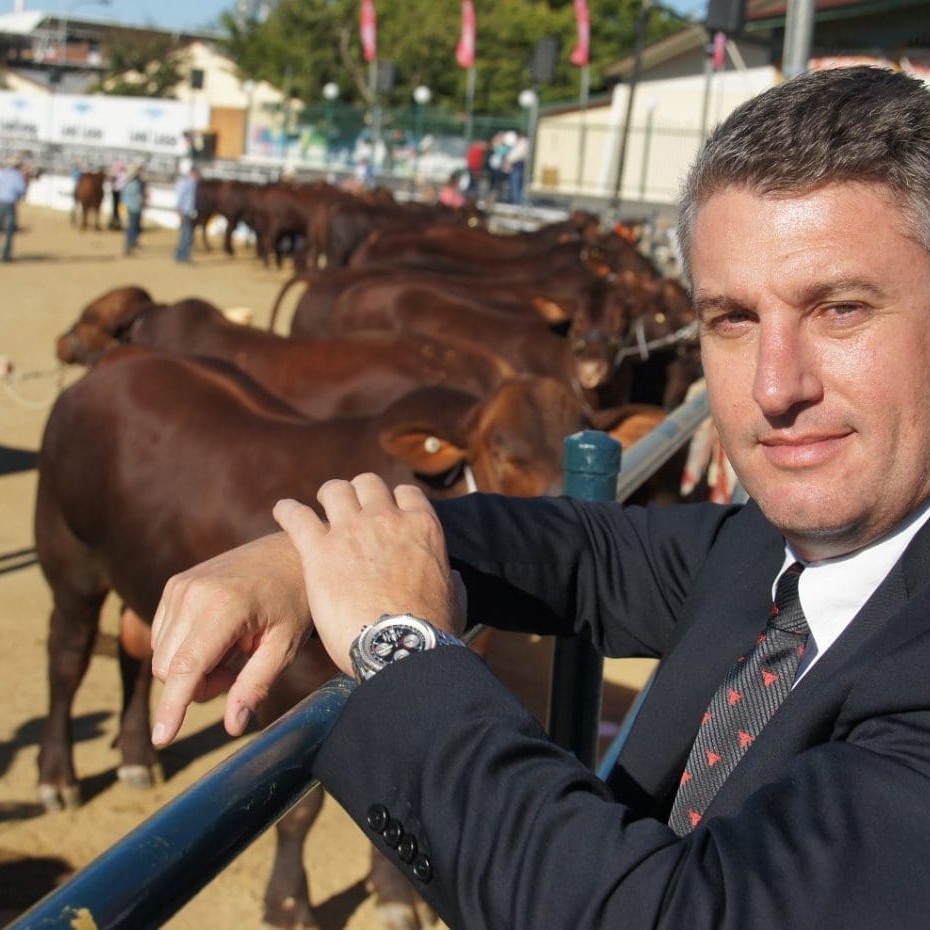 Making his first visit to Brisbane Show's stud cattle judging ring late last week was JBS Australia's chief executive officer, Brent Eastwood.
Mr Eastwood, who succeeded Andre Noguiera as JBS Australia's CEO last September, liked what he saw around the grounds, particularly the engagement being made between city-based consumers and their food suppliers.
The big picture messages that JBS raised with Mr Abbott during last Monday's Dinmore visit revolved around current international market access challenges, regulatory burdens including the direct AQIS inspection costs and the soaring cost of utilities.
Importantly, the Opposition leader was made aware that Queensland's meat processing industry is the State's largest manufacturing sector, and that across Australia, processing is a major regional employer.
Mr Eastwood stressed the impact that cost burdens were having on both the Australian beef industry relative to major competitors in North and South America, and the fact that it was often impossible to build those costs into meat customer pricing. That meant they were inevitably borne back through the chain in reduced margins at both the processor and cattle producer level.
"Mr Abbott was receptive to our points during our conversation and recognised and understood the cost burdens we face as processors, and as a broader industry, which actively operates in a complex international environment," he said.
"Certainly the statements he made during his visit over the carbon tax are a start. In our view why should scale of production such as that seen at Dinmore – built to compete in an international market – be penalised through the application of a direct cost impost of a carbon tax, which smaller plants are not exposed to? More broadly, this is a tax which processors in both the US and Brazil do not pay."
"We stressed to him the need for government and industry to have specific responses to addressing roadblocks to improved productivity across the red meat production and processing supply chain," Mr Eastwood said.
There needed to be a response to delivering efficiencies and lowering costs to operate through improvements to road and rail infrastructure, streamlining government charges, lowering cost of utilities and growing export markets, he said.
For that to happen, the Government needed a clear, broad-based strategy in place to address the sector's competitiveness issues.
"While it's important, simply scrapping the carbon tax is not a quick fix to dealing with other costs and structural issues facing our industry," Mr Eastwood said.
JBS (and other processors) had investment projects already underway based around lowering their carbon emissions and reducing (in the case of sites generating annual emissions above 25,000t) the direct cost of the carbon tax. Today that sits at more than $24/t.
"We're half-way through the Dinmore project, which is based on covering anaerobic lagoons and capturing the methane for re-use in our boilers. But as we said to Mr Abbott, we'd much rather be spending that capital on improvements based on productivity and innovation, that could make our products more competitive on the world stage, against Brazil and the US rather than offsetting a tax impost," he said.
Cost of production challenge
Mr Abbott was told that the cost of production in beef processing in Australia was more than double what it was in the US, and upwards of three times the cost of production in Brazil.
Utility costs across the country were another area where costs had spiralled out of control.
"This year alone, we've seen electricity, gas, trade-waste and water charges go up 20, 30 and 40 percent. Again, compared to our US operations gas and electricity here in Australia is more than twice the price. In the case of Dinmore, water charges are the highest of any of our ten Australian processing operations, with half the cost being a contribution to paying-off the Western Corridor recycling infrastructure, which is currently moth-balled.
"We cannot see a situation where we can justify those sort of increases, especially as it is just one year – what happens next year? A do-nothing approach will continue to place a significant cost burden on Australian product in the international market," Mr Eastwood said.
Last Monday's plant visit discussion also touched on the cost of regulation to the red meat industry, and the fact that in areas like AQIS inspection, the industry is wearing the entire cost, while international competitors pay nothing.
In Australia, AQIS inspection is an $80 million a year program, borne directly by processors. Add to that the $30 million indirect AQIS Authorised Officer (AAO) company-based inspector costs, and it represented around $110 million in direct cost to industry.
Trade access
Mr Eastwood also raised trade access during Mr Abbott's visit.
"We impressed on him that every day is critical in the FTA process. It's critical that Australia completes its FTA with Korea as soon as it possibly can, because we're becoming less and less competitive against the US in beef trade into Korea, due to the tariff disparity. Next year, it only gets worse," he said.
"Similarly, the FTA with Japan needs to be completed, at the right time, but we cannot afford to be disadvantaged in the same way that the industry has been in Korea."
In China, Australia needed to 'hasten slowly,' Mr Eastwood said. "We need to be smart, build the infrastructure, and the fundamentals, which underpin our integrity as a supplier into China. There are also market access and regulatory issues into China that need to be streamlined."
"We told Mr Abbott that Australia has a wonderful opportunity to go through the front door with its quality beef, sheep and lamb products in emerging markets like China. But as a country, we need to maximise the level of perception of Australian product as fast as we can in these emerging markets, in terms of its safety, quality and integrity, because challenges will come from other supplier countries."
"The Department of Foreign Affairs and Trade, and the ministers involved in trade and agriculture -along with commercial players in the market – will play a critical role in achieving that."
Mr Eastwood said cattle prices had not moved over a long time in real terms, and at the processing end of the industry, labour and utility costs over the same period had gone up at an astronomical rate.
"The reality of life is that farmers should be getting more for their cattle, but that is directly impacted by the high costs to operate processing plants combined with higher wages and lower productivity levels per unit of labour compared to both the US and Brazil," he said.
"Let's not forget that prices we are getting for our product overseas in US currency are already at an all-time high. We can't just go to a customer overseas and say, 'we need a price rise because our utility costs have gone 30pc this year'."
"Those costs cannot be passed on in a competitive marketplace. Add the cost to operate in Australia to that, and it gets harder to pay for livestock. But we need producers in Australia to be more profitable, to drive efficiencies through their own businesses, but unfortunately, under the current trading and regulatory environment, we're not able to do it."
"That's where the Federal Government – whoever should win the next election – needs to have specific responses with industry and directly with commercial players to these specific problems. It can't say, 'We're going to be the food bowl of Asia' and not put the structures and processes in place to allow the industry to deliver on that potential," he said.
Mr Eastwood said the strong and encouraging impression he got from Mr Abbott was that he wanted to actively engage with the private sector – to understand the companies and the issues they faced, and to do something about it.
Productivity key to industrial relations
In the area of industrial relations, Mr Eastwood said he impressed on Mr Abbott the need to gain more productivity from the background of Australia's high labour cost structure.
"If that doesn't happen, our industry will continue to struggle to remain competitive in international markets," he said.
Associated with the wage/cost disparity between Australia, the US and Brazil was the amount of workplace productivity delivered for each hour's work.
"We are seeing the move in the Australian processing sector to wage increases linked to productivity improvement. We need to have flexibility and the ability to run these plants hard, to deliver maximum efficiency when the opportunity presents itself. This is good for the worker through the opportunity to earn more and the producer with increased capacity to slaughter."
Mr Eastwood said it needed to be understood by employees and unions that each enterprise bargaining agreement negotiated with staff was an agreement for what was best for that particular site.
JBS and staff negotiated three such agreements in its northern operations last year, and others in the south were under discussion.
"We've had good cooperation and discussion with our on-site unions to get an agreement each time, but we need to continue to work on that, because that underlying productivity and flexibility improvement needs to come through, to ensure the industry's survival," he said.
"JBS has made major investments in Australia – more than $500 million since it arrived in 2007 – and we're happy to continue to make capital investments in improvement – but it's in the best interests of all parties to make those investments as viable and productive as possible."
The seismic shift that had been seen away from 'commodity' beef production into brand programs (JBS now runs more than a dozen brands through its Australian beef plants), backed by heavy marketing programs, meant that the old 'seasonal' kill production cycle was now redundant. Customer demand for brand programs 52-weeks a year needed to be reflected in workplace structures.
Processing's role as large regional employer
Mr Eastwood stressed to Mr Abbott that meat processing, by and large, was a regional industry, providing vital direct employment and flow-on benefits to regional and rural communities.
"The importance of a meat processing plant to any local community where they are situated is very, very high. Many people don't understand or appreciate that. Meat processing is in fact the largest manufacturing industry in Queensland.
"Three of our Queensland facilities and a total of eight across our business are a major employer in these rural and regional communities. In the case of JBS Dinmore, we put $120 million into the local Ipswich area through the wages paid at the plant alone," he said.
"We have 8000 employees and thousands of producers across the country that rely on us delivering a quality product day-in, and day-out."
JBS has a strong brand profile at this year's Brisbane Ekka showcasing brands like Riverina Black Angus and Friboi through the showgrounds restaurant and function venues.