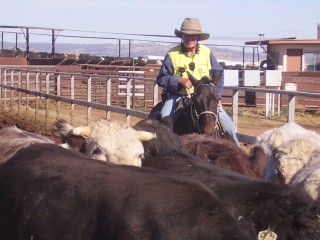 JBS Australia is to rationalise its feedlot operations with the closure and sale of the company's Yambinya feedlot in southern New South Wales.
In a notice to the market issued by parent company JBS SA, Australian operations chief executive Iain Mars describes the proposed sale as a consolidation designed to generate more value for company shareholders through cost reduction and efficiency gains.
He said by refocusing its beef operations through other company-owned Australian feedlot units, JBS expected to generate $25 million through costs reductions and synergies across the beef feedlot operations and proceeds from the asset sale.
Since the purchase of the 52,000-head Rockdale (now Riverina Beef) feedlot near Yanco last year, and the pre-existing JBS Prime City feedlot near Griffith (35,000 capacity), JBS had surplus capacity in its southern feedlot operations.
A closure at Yambinya would only serve to enhance capacity utilisation at these sites, an important key driver of lotfeeding profitability. Having said that, JBS traditionally operates its feedlots at utilisation rates well above industry averages, based on long-term customer relationships.
Located near Coolah southwest of Deniliquin, Yambinya was acquired by JBS in 2009 as part of the assets of the Tasman processing group. The site has an operational capacity for 12,000 beef (licensed to 25,000 SCUs) and 40,000 lamb. It remained operational until a fortnight ago when the last 40,000 lambs were turned off.
One of the business's unique attributes is that it is one of only a handful of Australian feedlots of any size designed to grain-finish both beef and lamb. Its sale will signal an end to JBS's interest in lamb lotfeeding operations.
JBS is yet to decide about a sale method for the Yambinya property, but it is likely to go to expressions of interest. It is understood that 'informal' inquiry has already been received from potential overseas investors, not currently engaged in Australian agribusiness.
JBS Australia director and feedlots general manager Michael Doyle said the company's decision to sell was in response to changing customer needs.
"As a result of those needs, the requirement to lotfeed cattle at Yambinya is no longer there, and we already have significant capacity elsewhere," Mr Doyle said.
He said Yambinya's primary beef role was in feeding into the Riverina Beef program, and into the company's Brooklyn processing factory near Melbourne.
"As those customer requirements have changed – some customers are seeking shorter feeding programs, while other are looking at grassfed programs – our business mix has had to change to match those requirements."
Brooklyn is now processing more grassfed domestic and export, and shorter days-on-feed.
Mr Doyle said the Yambinya sale should not be interpreted as a sign that JBS's desire or ability to produce grainfed beef in current volumes would be impacted in any way.
JBS has offered relocation opportunities to a substantial portion of the Yambinya employees to other company sites.
Tough climate to sell a feedlot?
While observers might conclude that the current industry environment might not be conducive to the successful sale of a feedlot, Yambinya has several key features which could make it easier to market than some other grainfeeding enterprises currently on the market in Australia.
One of these is 2850ha of large-scale cultivation and an abundance of water, with a guaranteed, large allocation both this year and next from the Murray Darling system.
"Compared with the last few years, there is an opportunity to start farming immediately, meaning the property is much better primed to generate cash-flow immediately than it might have been in earlier years," Mr Doyle said. "We would see it as a good reason to sell the Yambinya business now, not a bad one."
It also offered the diversification aspect rare in Australian feedlots in feeding both lamb and beef, delivering greater efficiencies. There has also been a lot of money spent in fencing infrastructure, making the property well set-up to background stock in a paddock situation before entry into the feedyard.
JBS currently operates six feedlots across eastern Australia.