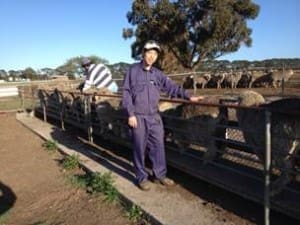 Five Japanese students from areas affected by the March 2011 earthquake, subsequent tsunami and nuclear power-station accidents, are this week experiencing farm life on Australian cattle farms.
The students, who are participating in the Australian red meat industry supported together with Japan scholarship, facilitated by MLA, are being hosted by Australian farmers across Victoria, NSW and Queensland.
The visit was part of the Australian beef industry's Together With Japan (TWJ) scholarship program, developed by the Australian beef industry in the wake of the disaster to support affected producers and their families.
Cattle Council of Australia supported the program by identifying some of host families who wished to take part of this good-will initiative between Australia and Japan. The program is an excellent opportunity for the students to have some experience on a farm that was completely different to a traditional Japanese cattle property.
David Allen from Victoria is hosting Sho Kanno from Fukushima.
"It is a great experience for Sho to see how we manage cattle and keep them in good condition, regardless of the season," David said
"We have dry conditions at the moment, but we have a feeding program to ensure the quality of cattle and it is working well."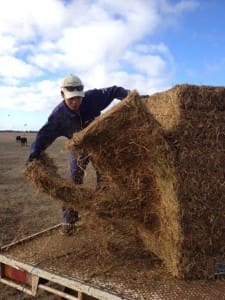 David has provided Sho with an array of activities while staying at his Victorian property from fencing, cattle and sheep work, feeding out and participating in their breeding program.
Students have gained an insight into the Australian red meat industry providing a different example of farming compared to the typical Japanese farming operations.
Not only have the hosting properties provided these students with on the farm experience discussion about the challenges facing farming globally within- price increases, unpredictable weather, and lack of successors were important areas to cover.
Throughout their period of their stay within Australia students will take part in a ceremony at Stockyard Feedlot in Queensland providing an example of the supply chain within the Australian red meat industry.
While Japan was marking the four year anniversary of the earthquake and tsunami disaster, five young Japanese agricultural and food production students from the disaster affected region were visiting Australian cattle farms.
During their farm stay from 8-14 March, students will experience the Australian rural lifestyle, by living with a host family, engaging in farm work and visiting local livestock facilities. They will have an opportunity to visit Kerwee Feedlot and JBS Dinmore beef processing plant in Queensland, to gain an understanding of the Australian beef supply chain.
Meet the scholars
The following five students were selected as TWJ recipients after a strict selection process and endorsements from representatives from the students' local governments.
Sota Sato from Fukushima Prefecture is studying rural revitalisation and agriculture at Utsunomiya University. He wishes to work on re-building his local beef industry which has been severely damaged by the nuclear accidents in Fukushima. Sota is staying with Leo Neill-Ballantine and his family in Gladstone, Queensland, where Leo will introduce him to a large Brahman operation.
Sho Kanno from Fukushima Prefecture is studying agriculture and livestock production at Miyagi University. Despite having no farming background, Sho has always been attracted to agriculture and wishes to be a cattle producer and farming business entrepreneur. Sho is staying with David Allen and his family in Mortlake, Victoria, and will have opportunities to learn about cattle and Merino sheep operations.
Keita Komatsu from Miyagi Prefecture is studying food production, environment and economics at Tokyo University of Agriculture. Keita's family runs a stock feed distribution business in the Tohoku region and Keita is staying with Tess Herbert and her family at Gundamain feedlot in NSW.
Miki Fukushi from Iwate Prefecture is studying Wagyu production at Iwate Agricultural College. Her family runs a mixed operation of rice, vegetables and livestock production, but her passion has always been Wagyu cattle. Miki is staying with Annie and Hugh Kraefft and her family at "Springfield", Merriwa NSW, where she will be gaining a first-hand experience with Angus cattle and grain production.
Ryoga Sasaki from Iwate Prefecture is studying agriculture and livestock production at Tono Ryokuho High School. He is the youngest of all the scholars, but his enthusiasm to visit Australia and meet with Australian cattle farmers convinced his family and school. He is staying with Derek Schoen and his family in Albury NSW, and will be guided by Derek about their grain, sheep and cattle operations.
MLA's international business manager in Tokyo, Andrew Cox said developing the program was important for Australia to show support for Japanese beef producers in a time of crisis, and demonstrate Australia's commitment to the trade relationship with Japan.
"Australian beef has been enjoyed by three generations of Japanese families, forming part of Japan's everyday meal options," he said.
"The TWJ program is a natural outcome of working with the market and helping out communities that share the same passion with us – that is, producing high quality beef for consumers."
Ryoga Sasaki, the youngest of participants, whose grandparents breed Wagyu in his hometown of Iwate prefecture, said: "I want to increase the number of cattle at our farm in the future. Having this experience in Australia will give me a great confidence as a farmer, and I will let my friends know what I have learnt when I return to Japan."
The scholarship was initiated by MLA and made possible through donations from Australian cattle producers, industry associations, beef exporters, and Australian citizens who, in the aftermath of the 2011 disasters, wanted to help provide long term support to the reconstruction of the Tohoku cattle industry.
Source: Cattle Council of Australia, MLA.