Readers of Beef Central appreciate their cows every day.
But for everyone else, today's date – July 12 – has become officially known as "Cow Appreciation Day".
At first glance it would be easy to imagine Cow Appreciation Day was created by a  group of farmers, given how much they love their cows and talking about them.
But bel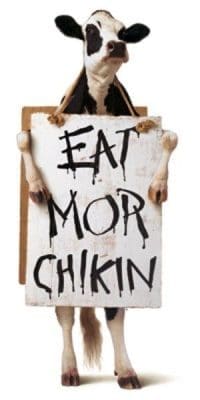 ieve it or not, the origins of Cow Appreciation Day lie in the chicken industry.
Cow Appreciation Day grew out of a successful marketing campaign created by US-based chicken burger chain Chick-Fil-A way back in 1995.
In that year it launched a new advertising campaign featuring picture of a cow holding a hoof-written sign urging people to 'Eat Mor Chikin'.
The image was an instant viral hit, and in 2007, the Chick-fil-A "Eat Mor Chikin" Cows were recognised as one of America's most popular advertising icons, in a public vote sponsored by Advertising Week, and they share a spot on the Madison Avenue Advertising Walk of Fame.
The campaign led to the creation of Cow Appreciation Day in 2005.
On Cow Appreciation Day Customers visiting the chain's 1900 plus restaurants who dress "head to hoof" in cow attire are rewarded with a free meal of their choice.
The moral of the story is that you can't be chicken when it comes to promoting your business.
Hats off to a clever marketing strategy, but we'll happily stick with the beef, thanks.