GINA Rinehart's Hancock Prospecting cattle business is apparently in no hurry to invest in downstream assets like processing, feedlots or live cattle export businesses, despite its colossal investment in cattle production assets over the past two years.
Discussion around the subject of vertical integration prospects arose during Tuesday's launch of Ms Rinehart's 2GR Fullblood Wagyu beef brand and first shipment of beef to China (see yesterday's report).
Together with her 67pc share in Australian Outback Beef, a joint venture with China's Shanghai Cred which last year paid about $360 million for S. Kidman & Co, Ms Rinehart's separate Hancock Prospecting cattle business has over the past two years put together a string of large northern cattle properties including Liveringa, Nerrima and Fossil Downs Stations in the Kimberley; Mulga Downs station in the Pilbara; and aggregations of properties in Queensland's South Burnett district and around Dubbo in NSW (see map).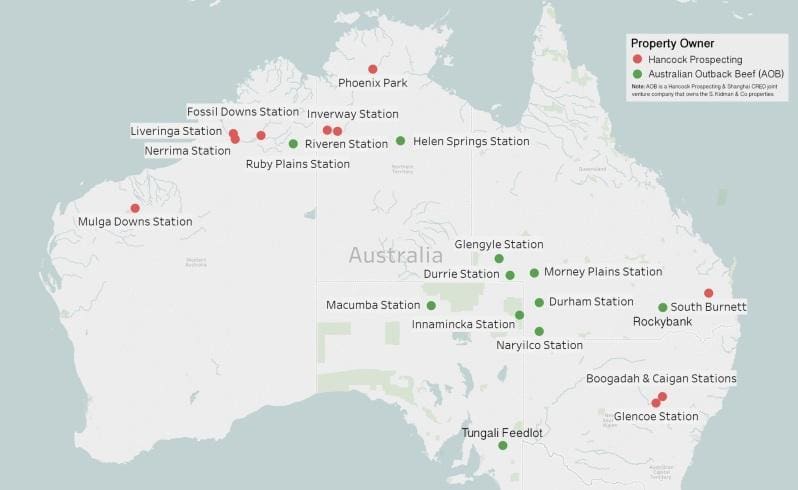 Two distinctly separate production streams have emerged within Ms Rinehart's recent cattle investments:
The extensive northern cattle production systems under her Hancock Prospecting business in the northern region of Western Australia, the Northern Territory (extending into Queensland's channel country and northern parts of South Australia, in the case of Kidman), and
A much more intensive high-quality Wagyu business breeding Fullbloods at the company's Dubbo, NSW property aggregation, and F1 Wagyu x Angus on an aggregation of properties in southern Queensland. Those cattle are being lotfed at Geoff Willett's Maydan feedlot near Warwick, and processed as boxed beef at the nearby John Dee export facility. Current numbers on feed at Maydan are around 900 head, but that number will grow as three-weekly intakes of 80 head start to occupy more space in the feed yard.
Given the amount of capital Ms Rinehart has been prepared to inject into the beef industry recently – now controlling a herd of some 300,000 cattle – it was perhaps inevitable that speculation would mount that she may at some point move to vertically integrate the business to some extent – perhaps in buying assets in live export operations, lotfeeding infrastructure, or meat processing.
That speculation was perhaps heightened by last weekend's historic first shipment of live export cattle to China under Elders' North Australian Cattle Co, with the beef destined for Shanghai CRED, Hancock's JV partner in Australian Outback Beef (see earlier story).
Last year, Elders announced plans to sell its North Australian Cattle Co live export arm, and it wasn't long before stakeholders started to link this to a possible sale to the rapidly expanding Hancock Prospecting/AOB business.
But Elders Ltd this morning confirmed to Beef Central that Shanghai CRED/Hancock were not in discussion with Elders over a purchase of NACC.
"While we are obviously in discussion with Shanghai CRED over last weekend's live cattle exports to China, and future prospects for similar live cattle trade, there has been no dialogue over a possible investment in NACC," an Elders spokesman said.
Hancock Prospecting's general manager for cattle operations, Scott Richardson said during Tuesday's 2GR brand launch that while he could not speculate about the future, the company currently had no plans to buy or establish its own live export business.
"I think it would be unlikely that Hancock Prospecting would ever seek to become an exporter in its own right, or hold a live export license," he said.
Nor was it likely, any time soon, that the company would consider investment in beef processing.
"Anything is possible, but if we were ever to invest in downstream assets like processing, it would primarily be to provide guaranteed access to killing space," he said.
"Looking back only a couple of years ago, service kill space was very hard to find at all in Australia. But at this stage, we are very happy with our new service kill relationship with John Dee at Warwick," he said.
In terms of feedlot assets, Mr Richardson said in the north Hancock already held Phoenix Park, near Katherine, used as a live export depot, and a feedlot at Liveringa in WA's north, which could be used for short-term feeding.
"As our Wagyu breeding capacity and our export beef business grows in the south, it's possible that investment in a feedlot asset might be looked at, but at the moment we're very happy to be a custom-feeding client at Maydan feedlot," he said.
"Maydan is a specialist in the Wagyu feeding industry, and the numbers of Wagyu in the yard and its marbling results are testament to the yard's performance."