In his final column for the 2018 year, meat and livestock industry analyst Simon Quilty takes a look at recent weather events and similar cycles that have appeared in the past, to try to draw some conclusions over what lies ahead, weather and cattle market wise, in 2019.
EXTREME rainfall events in the last fortnight in Victoria, NSW and Queensland – with flooding occurring in parts of each state and overnight Sydney receiving a deluge of rain and hail – have prompted me to look at Eastern seaboard rainfall history and what the potential impact of recent rain could be compared to previous events.
I've looked at 118 years of rainfall data and found nine years that resembled 2018, being what I have described as an extreme dry year. Those years are outlined below and I have used the average rainfall from those as extreme years, post the event, as a guide to understand what may happen in 2019 and 2020 in Australia.
I do not claim to be an expert in weather, but I am a great believer in history repeating itself. I would always suggest to readers to seek advice on such matters from experts in this field before making any commercial decisions.
Findings show strength
I am surprised at my findings and the strength of the rainfall relationships compared with previous dry year events, these being:
After each extreme dry year (nine in total over 118 years) like 2018 – the extreme dry year was always followed with two greater rainfall years. This is encouraging for 2019 and 2020.
Secondly, that there is a wide variation in Year 2 of additional rainfall of 23-117 percent, which effectively could mean another drought year (though not as extreme as 2018) to a very wet year. Either way, conditions are likely to be better, and cattle slaughterings are always less. This I have measured as an average of a 5.4pc fall in kill in Year 2 and a 9pc fall in Year 3 compared to Year 1, based on these historic years.
Thirdly, January and February are the higher QLD rainfall months in Year 2 & 3 compared to the same months of the extreme dry year – VIC rainfall is generally higher in June, July and August (winter months) and NSW is generally higher across most Year 2 & 3 months – the assumption is that 2019 behaves in a similar manner.
Points to note:
The average monthly rainfall across QLD/NSW/VIC this year has been 105.6mm (Jan-Nov, 2018), the seventh lowest average rainfall in 118 years.
Based on rainfall history when assessing the following year after an extreme dry year like 2018, all following years historically saw an increase in rainfall ranging from 23pc to 117pc, with the average being 65pc increase in rain – if this average was to hold true it would put 2019 at 174 mm (the 118 year average is 145.6mm)
This does not mean the drought is over, as was the case 1995 and 2003, whereby heavy rain was received in December, January and February, but then it got dry again with the following 5-7 months well below the long term average. In each case the total for the year was still higher than the previous extreme dry year.
Historical rainfall figures tell us QLD experiences its wet period in post dry event years in January, February and March (typical wet season), VIC in June, July and August (typical winter months) and NSW seems to be consistently better across all months. It could be argued that QLD based on history and timing is the first to come out of drought.
If history repeats itself the cattle slaughterings will fall across Australia in Year 2 and Year 3 by 5.4pc and 3.6pc respectively. The consequences of this are higher cattle prices in Year 2 and Year 3, in particular cows as the herd rebuilds with lower production and global shipments from Australia.
In commentary below I have estimated where livestock prices could go, and in particular Australian cow values which could increase by 25-50pc from today's levels if and when the drought breaks.
Past extreme dry years similar to 2018
Assessing the rainfall increase following an extreme dry year (Year 1), based on history
In all instances after an extreme dry year like 2018, the rainfall the following year was always higher. In percentage terms this ranged from 23pc to 117pc or in mm terms, it has seen 24.5mm to 110mm improvement. When looking at averages, this would imply that next year's rainfall could be in the range of 167-175 mm – a significant improvement on this year.

When will the rain fall, based on history?
Using the same methodology of looking at previous extreme dry periods, I used the average rainfall of all the nine years of extreme dry and the following wet years outlined above. I have also included two years that had very similar rainfall trends to this 2018.
If history is any guide, the months most critical based on previous trends are January/February, which has seen average rainfall across QLD/NSW/VIC jump above 200mm. This was evident in both the 9 year average and in the similar years of 1994-95 and 2002-03. It should be noted that in the years of 1995 and 2003 (graph below shows the 118 year average of 145.6mm, which these years are below) the dry conditions continued and the drought was not broken until 1996 and 2004, which saw more consistent rainfall. The 9 year average (in red) was very similar to the long term average rainfall.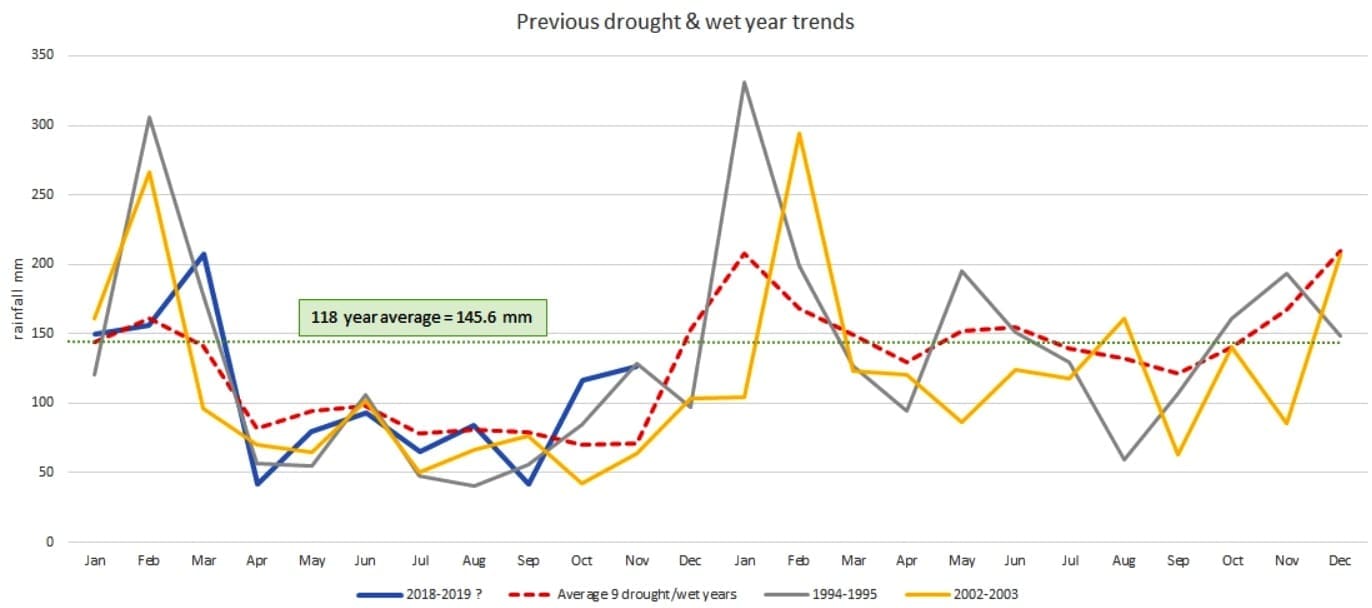 What happened in year 3 historically?
When assessing the third year after an extreme dry year like 2018 in the past, based on nine previous similar years, some drier conditions prevailed. What is clear is that the wet season reappeared in both year 2 & 3.
Some points to note:
If rainfall history was to repeat itself, then it would imply that the northern wet season could return.
Year 3 is no guarantee the drought is over, with below average rainfall occurring Year 3 and has had lower rainfall levels than Year 2. But rainfall levels in Year 3 are better in almost all instances than Year 1 (2018).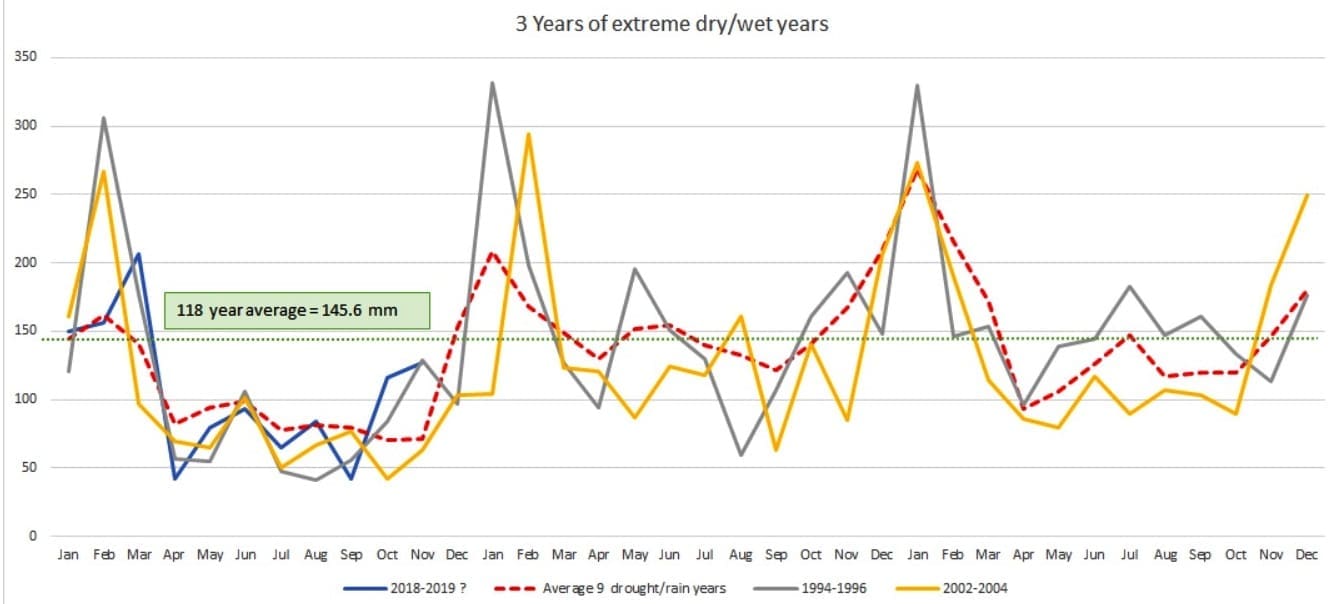 Which state exits drought first, based on history?
When assessing the impact on each state, NSW in the past has seen the most dramatic increase in rainfall of 66pc in Year 2, followed by QLD (47pc) and VIC (42pc). Year 2 & 3 often remain steady. Given the seasonal nature of the wet year, QLD is likely to exit the drought first in January/February, followed by VIC in June/July/August with NSW exit being more gradual over 12 months with a steady increase over Jan-Dec period.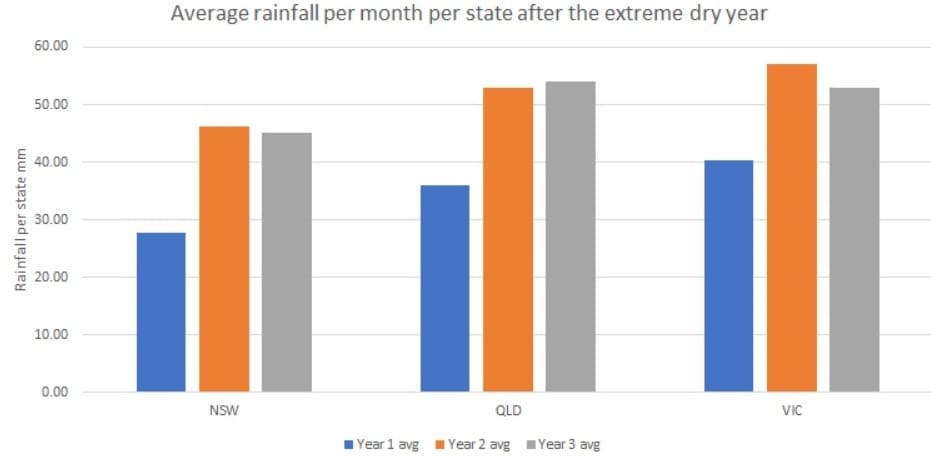 The monthly dramatic rainfall change in QLD is January, February and March – VIC showing the biggest monthly increases in June, July and August – NSW tends to be an increase across all months.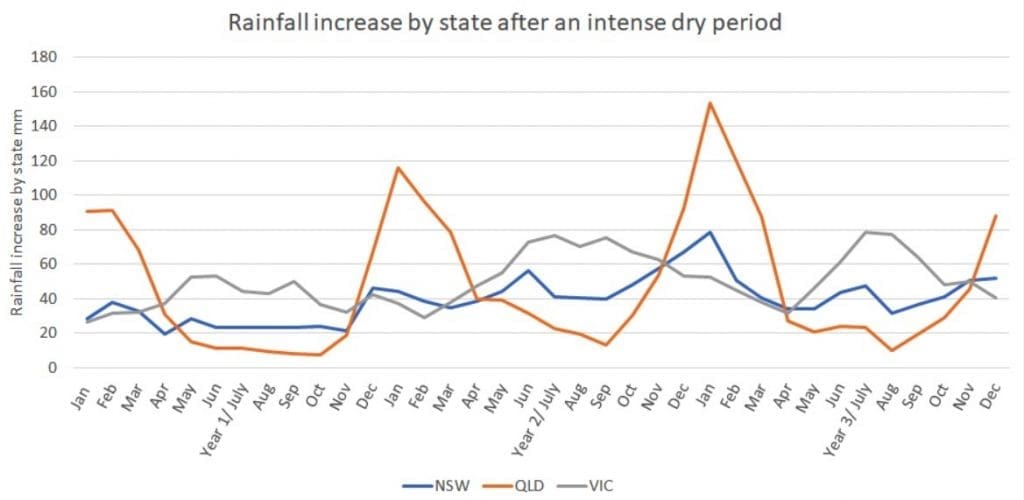 Impact on Australian slaughterings
History tells us the impact of increased rain after an extreme dry year has seen slaughterings fall on each occasion. When looking at the average reduction in kill in Year 2, this was 5.4pc lower, and in Year 3, a fall of 9pc compared to year 1. In other words herd rebuilding would have truly commenced should 2019 and 2020 follow suit and history should repeat itself.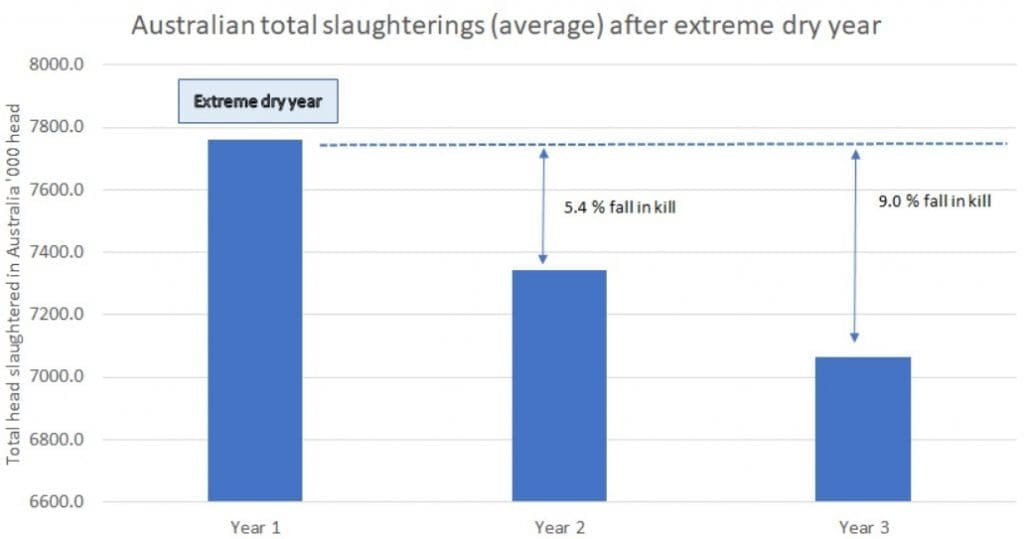 Potential impact on Australia's cow market
I think improved global beef prices are now built into today's cattle markets, and this is evident when looking at the previous price cycle levels versus today's market. So a traditional cow price rise in the 15-40pc range is more likely as opposed to the 70pc average cow price increase that occurred after 2013-14 drought.
There are several important caveats to this. Firstly, the severe drought of 2013-14 cleaned out a lot of old cows and today's Australian cow herd is much, much younger. Therefore the impact of the 2018 herd liquidation is even greater, as quality cows will be very hard to find when the drought breaks.
In the past, the ability to buy 'old cull cows' and try to get another calf or two out of them was a potential cheap way to re-enter the breeding business, but with so few old cows now left, this will be hard to do.
Should global beef prices go higher in the next 3-4 years, and when the drought breaks, it could see steer and cow prices go to new record levels in Australia. Given the potential shortage of protein due to African Swine Fever, I would not rule out this possibility, and the continued growth of China and the Asian middle class are also key factors in driving global beef prices high.
Once again the ability to buy back cows with such strong market signals could drive cow prices much higher than expected. I think these two factors alone will add another 10pc to the price improvement range, putting my estimate on where Australian cow prices could go to 25-50pc higher from today's cow price.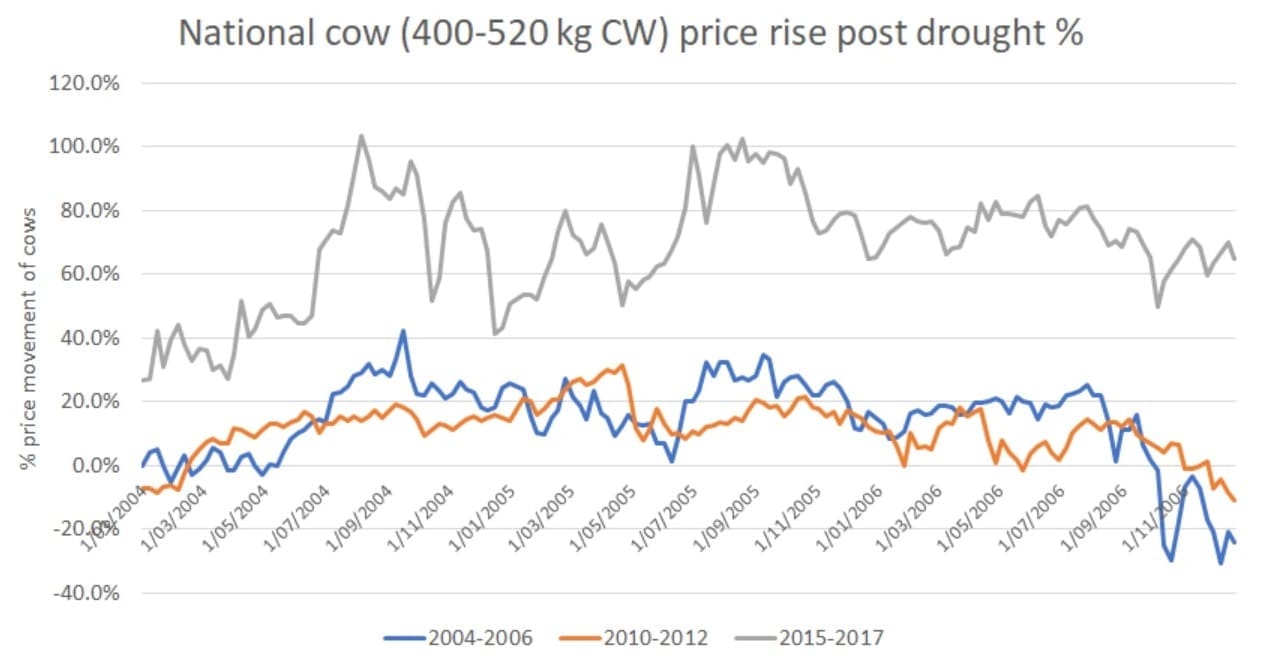 Conclusion
The events of the last two weeks in terms of increased rainfall across QLD, NSW and VIC falls in line with how historical December rainfall patterns have occurred in the past after an extreme dry year like 2018. I am a great believer in history repeating itself, and the early indicators are that this is starting to play out in this manner.
Based on history and the outline above, it is safe to assume that with lower Australia slaughterings it will lead to lower production and Australian cattle prices will go higher should 2019 and 2020 follow the historical trends of previous extreme dry periods.
Australia's global exports under this scenario would fall over 2019 and 2020 as the herd rebuilds.
As stated, these are personal views I have outlined, using an analysis based on historic rainfall, and I do not lay claim to being an expert on weather. It is wise to seek expert advice on these types of matters before making any commercial decisions.
As we move into the Christmas break, it is a moment to reflect on the last year and what potentially lies ahead. It is abundantly clear to me that once the drought breaks, the cost of cows will be very expensive and meat will be scarce. This for some might be the best Christmas present of all.
I wish all my readers a safe and happy Christmas – thanks for your support this year.