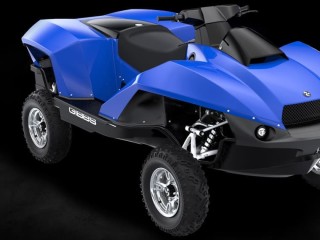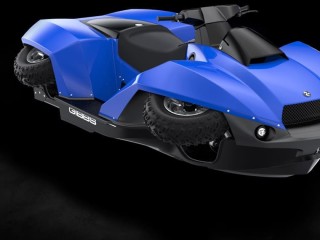 A new type of vehicle that transitions between a quad bike and a jet ski within five seconds and can reach speeds of 45 miles per hour (72km/hr) on land and water has been launched in the United States.
The Gibbs 'Quadski', invented by New Zealand entrepreneur and former diplomat Alan Gibbs, is described as the world's first high-speed sports amphibian.
The Quadski isa jet ski with four wheels that travels on both land and water. It is powered by a four-cylinder, 175-horsepowerBMW Motorrad engine and transmission.
With the press of a button, its wheels retract within five seconds when entering the water and deploy when approaching land.
"You just drive straight into the water, quite fast, and keep on going. It's sort of magic,'' Mr Gibbs told the US media at the Quadski's launch this week.
Mr Gibbs said the Quadski is the first land vehicle for sale that can travel faster than 10 mph (16 km/hr) in water.
He said the Quadski represented an investment of more than $200 million and two-million man hours of work over a period of 15 years. The Quadski concept was first unveiled to the public in 2006 and becomes commercially available for retail sale from next month.
VIDEO: The Gibbs Quadski in action
Each unit will sell for around US $40,000.
The Michigan-based Gibbs Sports Amphibians hopes to sell the vehicle worldwide by 2014.
Whether Australian cattle producers will have that sort of money to spend compared to quad bikes that retail from $4000-$10,000 is debatable, but there is no doubt that a quad bike with the ability to swim would have come in handy for many during the widespread floods of the past two summers around Australia.
The Quadski weighs 1300 pounds (589kg), is equipped with a 15-gallon (66 litre) fuel tank and will be available in five colours – red, yellow, blue, silver and black.
"It's been a long, uphill battle, but clearly worth the effort," Mr Gibbs said. "Quadski will pave the way for a host of other HSAs for consumers, sports enthusiasts, law enforcement agencies, first responders and other commercial enterprises."
"Although Quadski initially will be available for sale only in the US, we expect to find a ready market for it in Europe, Latin America and elsewhere around the world in 2014 and beyond."