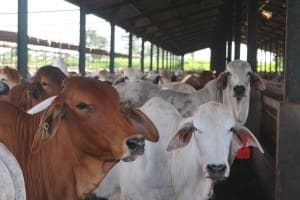 A GROWING middle class in Indonesia is shifting diets to higher value foods and making it harder for the country to resist importing, according to the Federal Government's commodities forecaster.
The Australian Bureau of Agricultural and Resource Economics and Sciences (ABARES) this week released its Indonesian outlook, looking at exporting opportunities for Australia.
Indonesia's middle class has been growing for the past two decades, increasing 13 percent between 2002 and 2016. It was classified by the world bank as an upper-middle income country in 2020, before one of the worst COVID 19 outbreaks in the world downgraded that classification.
Despite the challenges Indonesia has faced with COVID 19, the report said it was likely to continue its increase in incomes.
"(COVID 19) increased the number of Indonesia's poor to 27.5 million people, or 10.1pc of the population, and turned back 3 years of progress in poverty reduction," the report said.
"Once Indonesia navigates its way out of the health crisis, it should resume its trajectory to higher incomes."
The report found the higher incomes of Indonesian people were contributing to a shift in diets, with a more diverse range of foods, an increase in processed and prepared foods from hospitality and more people using supermarkets, rather than "wet" markets.
"Significant growth in the number of restaurants and food stalls and the growing use of smart phones and food delivery services, have supported consumer preferences for ready-made and prepared meals," the report said.
"Indonesia is at the forefront of many e-commerce platforms, encouraged by its young, higher income and urbanised population's openness to new technology, particularly in food."
While it is coming off a low base, the report is predicting a 1,321pc increase in meat consumption.
Still some trade barriers
While the demand for imported goods is increasing in Indonesia, the country still has complex regulatory barriers.
"Increased behind-the-border barriers to trade have been encouraged by the self-sufficiency policies of the Food Law and a suite of complementing, overlapping and at times contradictory agricultural and trade regulations," the report said.
"Due to restrictions on foreign ownership in some agricultural industries, there has also been little foreign investment in Indonesian agriculture, particularly in food crops and horticulture."
Indonesia has made 14 trade agreements, some bilateral and others as part of groups like ASEAN. The country recently made reforms, with an "Omnibus Law" helping remove some trade barriers.
"These include the removal of quantity restrictions on imports of horticulture, livestock and animal products and the removal of weight limitations on imports of live cattle," the report said.
"The Omnibus Law has deregulated some of the more restrictive sectors, such as removing a 30% foreign ownership cap in horticulture businesses and removing the negative investment list, which affected horticulture and 14 other sectors."
While there was a loosening of restrictions, the report said the country's import industry still had regulatory barriers.
"Technical measures, such as sanitary and phytosanitary measures, technical barriers to trade and pre-shipment inspections, are designed to protect consumers and the environment," the report said.
"However, they also increase compliance and storage costs. Inefficient application of these measures adds significantly to costs and can be used as an ad hoc barrier to deter selected imports."
Source: ABARES