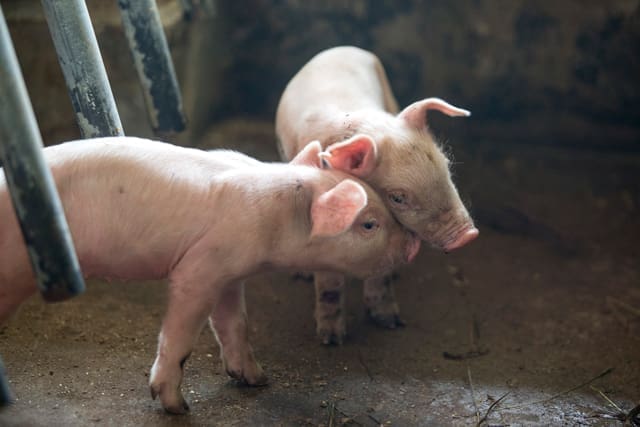 THE circumstances that led to the jailing of two west Australian pig farmers this week have highlighted the disturbing potential that exists for Australia's livestock industries to be exposed to devastating disease outbreaks.
Torben Soerensen, Henning Laue and GD Pork Pty Ltd were this week sentenced to serious penalties for illegally importing boar semen over eight years, putting Australia's pork industry at serious risk.
Mr Soerensen received a sentence of three years imprisonment with a minimum of 18 months to serve before being eligible for parole.
Mr Laue received a sentence of two years imprisonment with a minimum of eight months to serve before being eligible for parole.
GD Pork received a fine of $500,000.
The sentences follow guilty pleas entered by GP Pork in April to 12 charges of aggravated illegal importation (commercial advantage) under section 67(3) of the Quarantine Act 1908, and four charges of contravening conditions  applying to conditionally non-prohibited goods brought or imported into Australian territory to obtain a commercial advantage under section 186(4) of the Biosecurity Act 2015.
The court had heard that the men illegally imported boar semen in shampoo bottles from Denmark on a number of occasions between May 2009 and March 2017.
The semen was used in GD Pork's artificial breeding program and a number of breeding sows on its property were direct offspring of Danish boars.
The court heard the motivation behind the illegal imports was to gain an unfair advantage over the company's competitors, through new genetics.
Illegal imports of pig genetics can carry significant risks and specific conditions surround  the import of animal genetic material.
An array of viruses can be transmitted by semen to pigs  including African Swine Fever and Foot-and-Mouth virus.
It is important to note that Denmark has not had a reported case of ASF and the country has not reported a case of FMD since 1983,
The maximum penalty for an 'illegal importation to obtain a commercial advantage' is 10 years jail and/or 2000 penalty units ($420,000). For a corporation the maximum penalty is 10000 penalty units ($2.1 million).
Minister for Agriculture Bridget McKenzie said the case showed a "disturbing disregard" for the laws that protect the livelihoods of Australia's 2,700 pork producers, and the quality of the pork that millions of Australians enjoy each year.
But beyond that the incident also posed a risk to the entire Australian livestock sector.
"Boar semen can potentially contain a number of exotic diseases, including Porcine Reproductive and Respiratory Syndrome (PRRSV) which could devastate Australian breeding herds.
"Biosecurity controls exist for a reason. Importers and those within supply chains must comply. Those caught seeking to deliberately evade biosecurity controls will be punished."
Administrators were appointed to manage GD Pork in October last year last year and the company was placed into liquidation in May this year.
The case was first uncovered in January 2017 and has been the subject of an ongoing investigation by the Department of Agriculture and Water Resources.