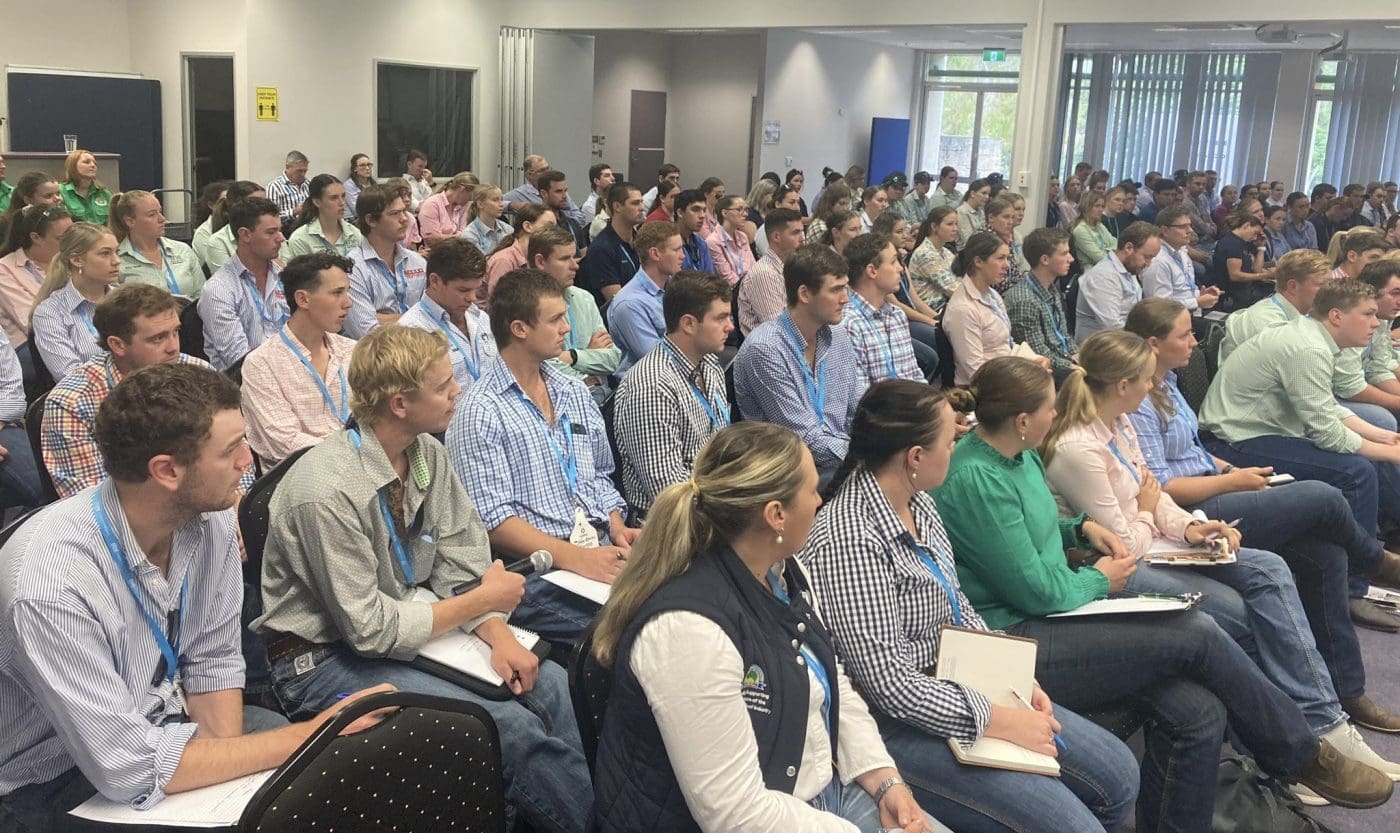 WHAT career advice would one of Australia's most prominent agricultural leaders offer to his 20-year-old self?
Red Meat Advisory Council chair John McKillop answered that question in a candid, open and heartfelt address to 130 young university students and red meat industry professionals at the ICMJ northern conference in Rockhampton last week.
The Intercollegiate Meat Judging (ICMJ) program provides valuable learning opportunities to participants in many ways, from sessions offering technical science training to practical hands-on live cattle assessment and meat-judging skills.
But perhaps one of the most under-rated sources of value the ICMJ experience imparts is the direct access it provides for attendees to spend time with, and learn from, experienced industry achievers – those who have "been there and done that", but just as importantly are also only too willing to share their knowledge with any young industry members interested enough to ask.
There were many examples of this at the ICMJ northern conference in Rockhampton last week where some of the biggest names in the Australian meat industry were present, including prominent corporate agribusiness leader and RMAC chair John McKillop.
Mr McKillop's distinguished career has spanned leadership positions in many of the biggest companies and organisations in Australian agriculture including Meat & Livestock Australia, Dairy Australia, Cubbie Cotton, Hassad Australia, LAWD, CBRE Agribusiness, Marcus Oldham, Stanbroke Pastoral Co, Swire group's Clyde Agriculture and Elders. Most recently he was the CEO of Gina Rinehart's Hancock Agriculture and Kidman & Co, and he currently chairs Australia's Red Meat Advisory Council.
He touched on many themes in his presentation, including stories about the ups and downs that are an inevitable part of life in business, imparting along the way several take home messages for his young audience, which included:
In life you get what you negotiate, not what you deserve
It may sound unfair, but it's true.
"You need to learn the art of negotiation," he said.
"Negotiation is a learned skill.
"I would encourage you to go off and read books such as 'You Can Negotiate Anything' (Herb Cohen, 1984), or any of those books that can teach you the art of negotiation, because in life, it will hold you in good stead."
Start a life long journey of study
Whether it be diplomas or degrees or masters qualifications or short courses that add specific value, learning is something that should never stop, he advises.
"You have to learn to learn," he said. "If you are just sitting there saying I have got the diploma, I have got the degree, I'm happy with that, it is just not going to cut it."
Work hard, and figure out where you can add value
"The imposter syndrome is real", he said, adding that " I spent half my life trying to get to the top and the other half wondering how I got to the top".
But despite any misgivings you may have, his advice when taking on any new role is to look at the things that need to be done and then figure out where you can add value – and then "get in there and chew".
Network
This box was obviously well and truly "ticked" by every one of the 130 young attendees at the ICMJ in Rocky last week.
"One of the most important things you can do is go out of your way to meet people in the industry, and immerse yourself in the industry," Mr McKillop said.
Those who stay at home sitting on their dungheap and don't go to conferences or events like Beef Week miss a lot of opportunities to make important and valuable connections.
Ask questions
Mr McKillop also encouraged young people to be brave enough to stand up at conferences and industry events and ask questions.
"It makes you listen", he said, while also building up your confidence, and, additionally, building your name in the wider industry.
"I would encourage you not just to network, but go outside your comfort zone as you do it."
Maintain your integrity
"Sometimes you're in an environment of work where you will be asked to do things that you're not comfortable doing," he said.
"And you will have to decide, is that really worth doing to compromise your integrity?"
If not, move on to the next phase.
Know what motivates you
Different people are motivated by different things – some by love, some by money, some by power, some by respect.
"You have to work out what keeps you going, what gets you up in the morning."
Life's about overcoming obstacles
Success was not about avoiding adversity, but how you recover from it, he explained:
"Abraham Lincoln once said that success should not be judged by what you have achieved in life but by the obstacles you have overcome to achieve it."
Get involved in advocacy
Why invest your time in advocacy?
"Because decisions are made by those who turn up.
"And that is as simple as you can get.
"Turn up and be part of that contribution."
Remember to "take that breath"
Recently a friend told John about an experience of being dumped by a huge wave while surfing, and then being pinned down against rocks and being trapped below by the pressure of the water upon him. He said the pressure was so great he thought he was going to die. But then suddenly the weight of the water lifted, and he rose to the top and was able to take the biggest – and most enjoyable – breath of his life.
When John asked what he did next, his friend replied that he went straight back out on his surfboard.
"I said why?
"And he said 'because that is what I love doing'.
"So there will be times in your career, as there have been in mine, when you will feel that pressure, your back will be against the rocks, and you'll think I just want out, I don't want to be part of this.
"Trust me, that wave will lift, that water will lift, you'll come up, you will take a breath, and you will go back out again, because you are in an industry that you love being in."