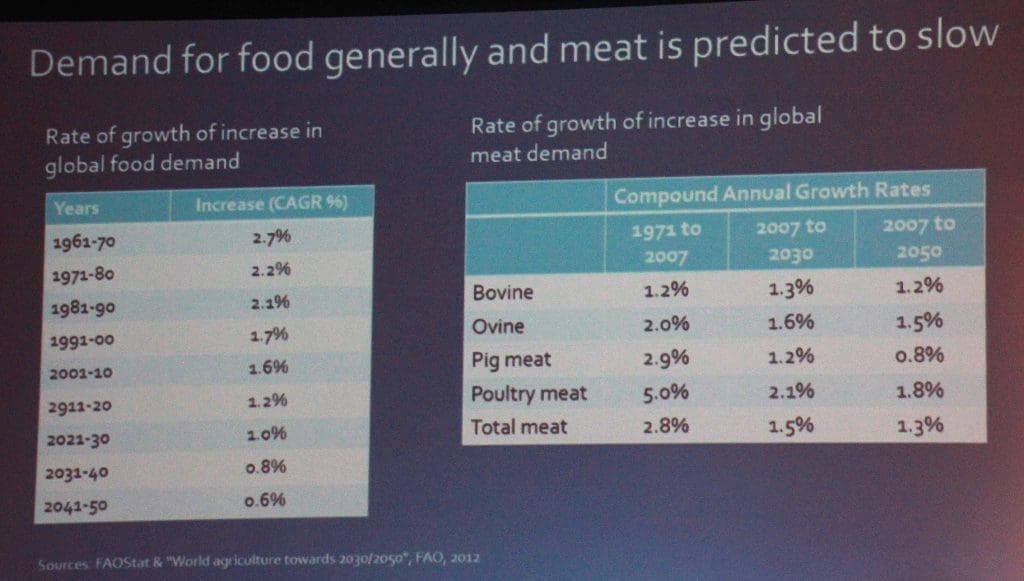 They are claims we have all heard many times before: the world will need 70 percent more food by 2050, and the dining boom is about to replace the mining boom.
But at least one rural economist is urging caution, expressing concern at the level of hype currently surrounding Australian agriculture.
Speaking at the Livexchange conference in Darwin, Dr Peter Barnard said politicians, industry leaders and analysts were all contributing to an unrealistic belief that Australian agriculture represents a "path to riches".
"There seems to be a belief that all we have to do is produce more food and the world will buy it, and will buy it at higher prices," Dr Barnard said.
However, the cold hard facts told a more sobering story: growth in world food demand is in fact slowing down.
Dr Barnard said FAO data shows that the rate of increase in food demand per annum slowed from 2.7pc annually between 1961 and 1970 to 1.7pc annually between 1991 and 2000 and 1.2pc in the current decade.
It was also predicted to drop further, Dr Barnard said, because the rate of increase in the world's population and GDP was falling.
China's population is also set to decline from the mid-2020s through to 2050. While China's recent decision to abolish its one-child policy may cause that trend to change in time, it will not impact population change in China before 2050.
Dr Barnard said the statement that the world will need 70pc more food to feed the world's population in 2050 was correct, and was also "easily achievable".
"We have achieved it in the past," Dr Barnard said.
"We have had rates of growth well in excess of 70pc and we're likely to achieve it going out to 2050.
"Without allocating an extra hectare of the world's land agriculture production all that is required to meet that 70pc target is about a 1pc growth in productivity per year.
"I don't want to pour too much cold water on this hype, I might have done that in a way, I think at the very least some caution is warranted."