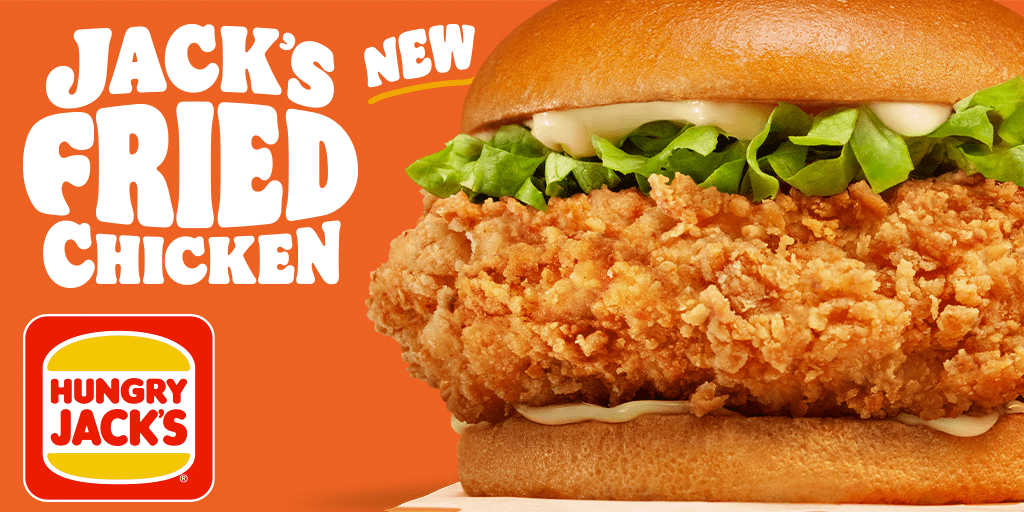 BURGER giant Hungry Jack's has cited the soaring cost of beef as one of the factors behind a shift into a new range of fried chicken burgers, launched nationally today.
The move represents the national burger giant's first foray into fried chicken meals, in a strategy aimed at capitalising on growing demand in Australia for fried chicken and taking market share away from rival such as  KFC, McDonald's and Red Rooster.
A statement from Hungry Jack's today said the new Jack's Fried Chicken burger was put through over two years of rigorous testing, and will be "40 percent bigger" than its closest rival.
Hungry Jack's says its own market research shows that the popularity of fried chicken burgers is on the rise in Australia, with its internal study of YouGov data suggesting over 2.2 million Aussies eat fried chicken several times a week or at least once a day.
It also claims a number of bizarre findings including that 21 percent of Australians "would give up sex" in order to have fried chicken.
In an interview with the Australian Financial Review Mr Cowin said the shift into fried chicken burgers was prompted by the rising popularity of chicken in Australian diets and the soaring cost of beef.
In recent years Mr Cowin has also invested in plant-based alternatives to meat, buying a stake in start-up v2foods which supplies Hungry Jack's vegetarian Rebel Whopper.
He told AFR the Rebel Whopper had been making "steady progress" at Hungry Jack's, but won't bring about a transformation of the business just yet.
"It doesn't revolutionise the business; the benefit of it is it brings a different customer" – those with a vegan diet, or wanting to eat less meat.
It remain a regular on the menu and "will continue and grow", he said.
Hungry Jack's three new burger flavours include Fried Chicken Spicy, Fried Chicken Classic and Fried Chicken Cheesy Bacon.
They have been trialled at selected stores in the ACT in Queanbeyan and in Goulburn in NSW for the last few months.
From today Jack's Fried Chicken burger range is available from Hungry Jack's 440 stores nationwide.