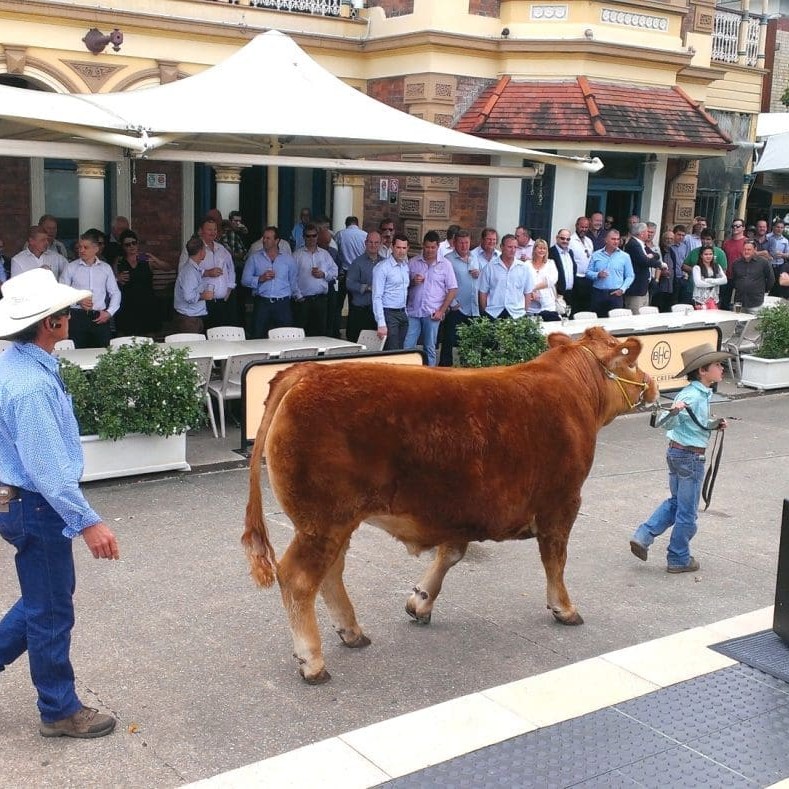 WOOLWORTHS' ALH Hotel group, which operates more than 200 hotels across Australia featuring the company's Grazier brand steaks – forked out $21,000 to buy a Brisbane show led steer for charity yesterday.
In what has become an annual tradition, ALH's flagship Breakfast Creek Hotel in Brisbane yesterday hosted a lunch featuring the auction of a heavyweight led steer from Brisbane show.
ALH's Bruce Mathieson Jr secured the steer after an intense bidding duel with underbidders, Tony and Jenny O'Reilly from Quest Apartments. While this year's auction went close, it did not exceed last year's record steer auction which fetched a price of $25,000.
Proceeds from the auction will go to QHA Health Care Week which will direct the funds to prostate cancer research at Brisbane's Mater and Princess Alexandra Hospitals.
The donated steer, Rusty, has had an eventful life since hitting the ground in February on the Kirk Family's Wilworril Limousin Stud, Rylstone NSW. He was identified as a potential led steer show prospect by Nolan Meats' Terry Nolan, who bought him as a calf, and handed over to students at St John's College, Dubbo under the watchful eye of Mr Ben Toll, for feeding and competition on this year's led steer circuit.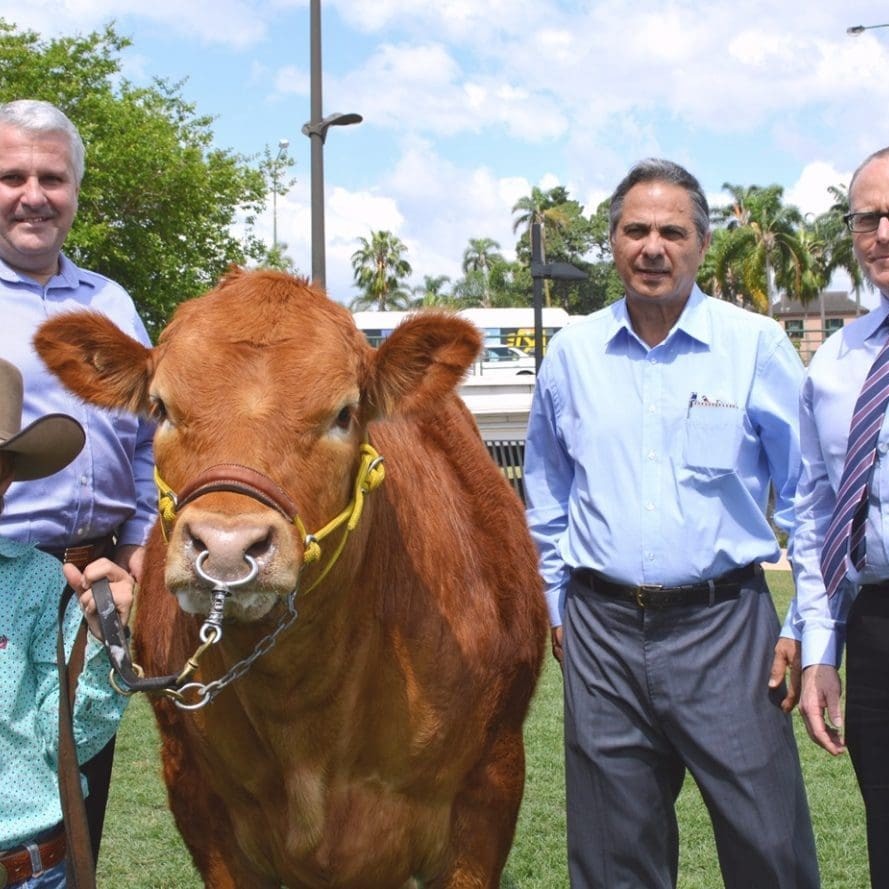 The Kirk family has been one of NSW's leading led steer exhibitors for a lengthy period, winning many major shows including Sydney Royal, Canberra Royal, The National Steer Show, Casino Beef Week and a host of local shows. Stockfeed company Agrigrain donated grain for the steer, which the college processed to make into its well-known "Rocket Fuel".
Rusty went well on this year's led steer show circuit, claiming grand championships at Dubbo and Warren, before heading to Brisbane Show last month. He has grown into an exceptionally well-muscled, soft steer with a good temperament and an average daily weight gain of 1.65kg/day.
Since the Brisbane Ekka he has been in the care of specialist steer fitters and showers, Kalbar's Goetch family, and was paraded before bidders and supporters yesterday at the Brekky Creek by young Billy Goetch.
The Brekky Creek features one of Australia's largest steakhouses, with one-time seating for 1000 and regularly turning over 10,000 steak meals per week. Hotel manager Sam Gullo is planning to hold another charity function in November when Rusty will feature on the menu at the Breakfast Creek.
According to the Prostate Cancer Awareness Foundation of Australia, 3300 Australian men die of prostate cancer each year and 20,000 new cases are diagnosed yearly. To date there is no known preventative action and whilst early detection provides the most effective treatment, it does not always lead to a complete cure. "This auction will raise much needed funds to help improve research into, and the treatment of, prostate cancer," St John's ag coordinator Ben Toll said.
Reader comment:
Well done & congratulations to all those involved in the charity steer for prostate cancer, $21K wow!: ALH Terry Nolan St Johns College Kirk Family Goetch Family – Leanne Goatcher, QWAHS, NSW Health.