A 59-year-old is being held in police custody following yesterday morning's horror shooting at the boundary of a remote property near Collinsville, which left three members of a cattle grazing family dead and a fourth critically injured.
Police this morning confirmed the man they have in custody is a neighbour of the deceased victims, who have been identied as married couple Merv and Maree Schwartz, and Mrs Shwartz's son Graham, the owners of Sutherland Station.
Another of Mrs Schwartz's sons, Ross Tighe, received gunshot wounds to the stomach, but survived and was able to drive a ute some 30km to a neighbouring property and alert police to the shootings.
Mr Tighe was airlifted to Mackay Base Hospital where he remains in a stable but serious condition.
Police have told media they expect to charge the man they are holding in custody with criminal charges later today.
Queensland Police acting superintendent Tom Armitt said the shooting occurred near the gate of a property during what was understood to be a "planned meeting between the families".
"We understand a conversation had occurred the night before which was the reason why the parties had met up at gate of the properties.
"There was an invitation for them to go there and discuss."
Unconfirmed reports suggest that the neighbours were involved in a dispute over a boundary fence line.
Mr and Mrs Schwarz were well known cattle producers who have also owned properties also in the Muckadilla, Westmar/Tara and Clermont regions of Queensland.
They purchased the 30,000 ha Sutherland Station near Bogie between Collinsville and Bowen with Maree's son Graham for a figure reported to have been in the $10m range in May last year.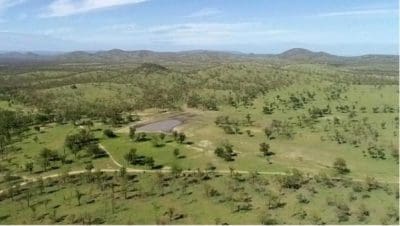 They were members of AgForce, and respected innovators and respected as decent, community minded and hard working people. Merv was asked to share his story with young cattle producers at the Young Beef Producers Forum at Roma in 2019.
Graham leaves behind a young family, while Ross who survived the shooting became a father last year.
Emergency services were alerted to the shooting at around 9am yesterday.
Queensland Police locked down the area after the call and found Mervyn, 71, Maree, 59, and Graham, 35, dead on the Shannonvale Road property a few hours later.
Maree Schwarz's brother-in-law Greg Austen, a councillor on the Isaac Regional Council, told media the neighbours had been involved in a dispute over where the boundary point should be between their two farms.
"They were an honest Christian family. They were a bush family who worked seven days a week and had beers on Sundays, participated in events, very community-minded and well-respected in the community. Just a normal Australian family," Mr Austen told the Daily Mail.
Acting Superintendent Armitt said police had searched the area on foot and "it took a period of time for them to make contact" with the man in custody.
"We made contact with the people on the property, and we arranged for them to give themselves in," he said.
"We had no idea who or where the shooting offender was and obviously, we had to push forward into the scene."
He said five people were taken into police custody.
"Two of those persons were involved in a power company and after taking statements from them, they were released," he said.
"Three other people were property owners or family of the property owners.
He said two of those persons, have since been released and were "a son and a female member of the family."
Police would not comment on a motive for the tragedy which they said was yet to be determined, but acknowledged that there appeared to have been a dispute.
"There is not too much detail I can tell you right now. What we do know is that the parties involved are neighbours," Acting Superintendent Tom Armitt told reporters on Friday.
"Some conversation has occurred between the parties and resulted in a meeting up of the parties at the boundary line in the early hours of yesterday morning when the incident occurred."