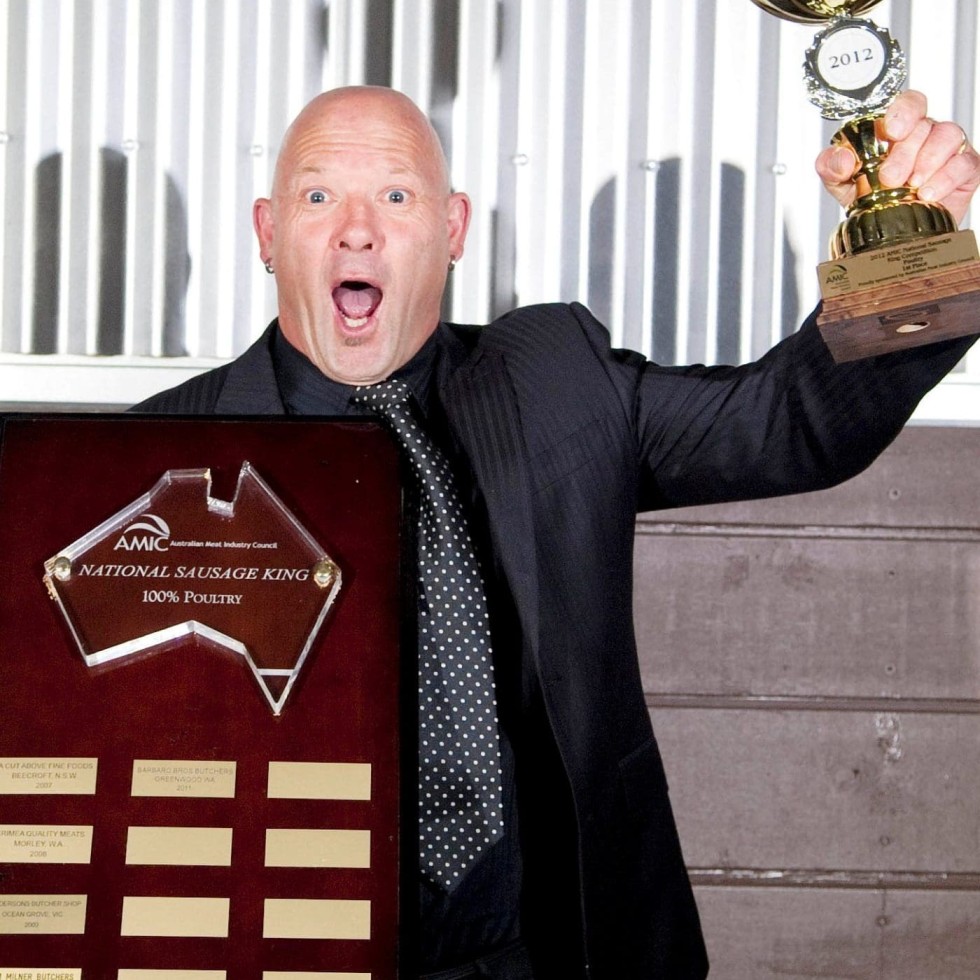 The humble sausage took centre stage on the weekend when the National Finals of the enormously popular Sausage Kings competition were held in Melbourne.
The competition, open to retail butcher members of the Australian Meat Industry Council, receives thousands of entries each year in six divisions – beef, pork, lamb, continental, gourmet and chicken.
Competition honours were evenly shared across the states, and across metropolitan and regional country butchers this year, with winners from Victoria, Tasmania, Queensland and South Australia.
The selection process designed to sift-out the national winners began with regional competitions in each state held last year. In Queensland alone, seven regional competitions are staged, with more than 1000 entries received from Cooktown to the NSW border.
Now in its 14th year, AMIC's Sausage Kings competition has proven to be a highly effective vehicle to showcase and focus attention on independent retail butchers, and the quality of product, variety and service they deliver to customers.
On Saturday, 30 of the nation's top sausage makers, each a state finalist in their category, did battle in the 2012 National Finals. The results were announced at a Gala Dinner at Melbourne's Showtime Events at South Wharf.
National winners included:
Traditional Australian beef – Jason Mathie of Mathie's Meat Shop, Clare, SA (see separate story in this morning's upload)
Lamb – Paddy Maginn of Paddy's Meats, Kew, VIC
Pork – Gary Lethborg of Lethborg's Smallgoods Newstead TAS
Poultry – Brad Drew of Hillie's Meats, San Remo, VIC
Continental – Barnie Nolan of Circle T Meats, Raceview, Ipswich, QLD
Gourmet/Open Class –Paul Darroch of Top Meats, Castlemaine, VIC.
Sausages were judged on visual appeal in raw and cooked state, presentation, flavour, juiciness and texture.
Chief executive of the Australian Meat Industry Council's retail division, Kevin Cottrill said 2012 had produced another outstanding competition, and had proved a difficult job for the judges to find the nation's top six sausage makers. He congratulated each as worthy winners.
Winners of the state and national Sausage Kings crowns typically record an enormous spike in sausage turnover following the announcement of results, as news of the outcomes spread across the consumer community.
Once retailed as a bargain basement item in retail shop shelves for $3-$4 a kilo, quality, well-made sausages regularly retail now in the $8-$10/kg category, with some artisan lines fetching as much as $15-$16/kg from enthusiastic customers.
The competition was supported by MLA; Bunzl Food Processor Supplies; APL; Corona Manufacturing; AMIST Super; Wedderburn; Rosella Foods; Quirks Australia; Rivalea; Westside Meats; Devro; South West TAFE; and William Angliss Institute.