"We are frontier people," Asa Townsend told reporters at Sydney airport on July 25. 1956.
Asa and his son Ray had just flown to Australia from Florida to "find a ranch here. We hope to find a place in your outback, where there is lots of land and lots of opportunity," Asa said.
For more than two centuries, ever since Asa's forebears had migrated from England to colonial America, the Townsends had moved southwards to always be at the newest edges of settlement. In 1911 the family settled near LaBelle, in south central Florida.
By the 1950s the Townsends thought that they were getting crowded out of Florida. They had always been ranchers but now their country was too valuable for cattle. They had switched to vegetable farming but their hearts were not in it. They loved working with cows, not with cucumbers.
Asa and his wife Maria had five adult children that they wanted to settle on the land. Asa also felt a responsibility for a large extended family, but he knew that if he was going to find land for them all it would have to be on some new frontier. He thought first of Argentina but ruled out that country because of its political instability. He then thought about Australia.
So, in 1956 Asa and Ray, his eldest son, flew into Sydney to begin a search for a ranch in the land Down Under. They wanted wet and swampy country, like the Everglades. They didn't find what they wanted in Queensland but a Brisbane agent suggested to the two men that they should have a look at the Northern Territory.
Asa and Ray didn't want to drive on what to them was the wrong side of the road, so they walked across the street to a taxi rank. There they negotiated with one taxi driver to take them to the Territory.
Its now part of the Territory legend that the taxi took Asa and Ray as far as Dunmarra, in the middle of the Territory. There, they shared a warm beer with publican Noel Healy. "You're wasting your time. You won't find country like that up here," Healy told them.
A quick glance toward the nondescript lancewood scrub surrounding Dunmarra convinced the Townsends that Healy would be right. Regretfully, they gave up the search for an Australian ranch. However, they did fly home with a lot of books and magazines about the outback. It was 'cowboy heaven,' Ray Townsend thought.
In 1961 the family decided to try again, after hearing a visiting expert speak about the possibilities of Australia's north. Asa sent two of his sons, Ray and Bob, to have another look at Queensland.
Again the search was fruitless but, just as they were about to give up, the brothers heard of a station called Stapleton, near Adelaide River. It was a huge area that sprawled across the Top End, from Adelaide River township to the sea at the Daly River mouth. It was for sale for very little money and nobody had shown any interest in it.
Ray and Bob flew to Darwin and went straight to the office of the agents, Dalgetys. There they heard a woman 'turning the air blue.' The woman was Stapleton's owner, the defiant pioneer Winnie Bright.
"She was complaining about how she couldn't get ringers to work for her," Bob Townsend remembered. "I can't carry on, I have been trying to sell the place but nobody (expletives deleted!) wants to buy it," Winnie said.
Bob said, "We'll come out and work for you, we'll have a look around and if we like it we'll buy it." The two men spent a fortnight or so in Winnie's stock camp. They quickly decided Stapleton was right for them.
"I was in love with it," Bob recalled. "It had a huge amount of wet country that we knew from our Florida experience could be very productive. But it also had a balance of high and dry country that made it better than Florida. And I saw young fat cattle there, at the end of the Dry season. Florida country wouldn't produce cattle like that," Bob said.
Before long, the whole family had sold what they owned in America and moved to the Territory. For them, there was no going back. They forsook the comfort and security of Florida to live, at first, in tents and tin sheds at Wangi. Undaunted, they got stuck into developing their new station, building yards, putting up fences, making roads and bringing the thousands of feral cattle under control.
Local people watched cynically and laid bets about how long it would take the Townsends to go broke. "That country is not worth spending money on," said the old timers.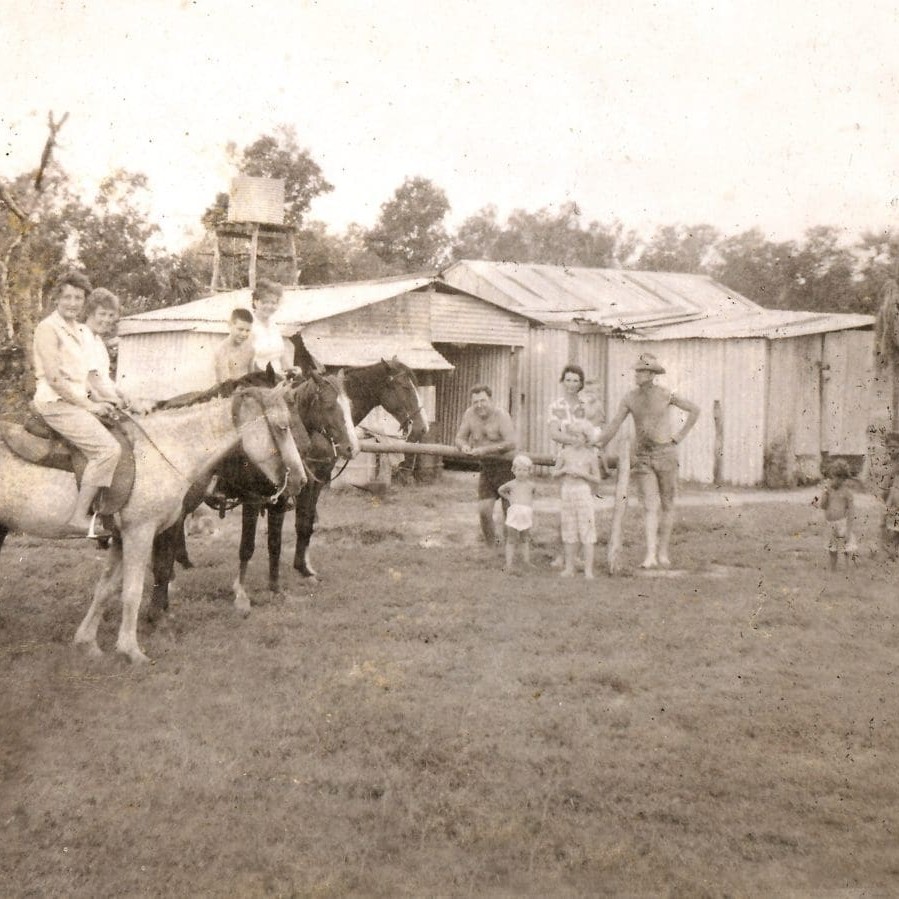 The Townsends proved them wrong, in spades. In 1962 they brought in the first Brahmans to be used in a Territory commercial herd; they showed how air boats could be used on the swampy country; they used stainless steel barbed wire to fence their wet country because it would not rust away in a year or two; a little later they were using aircraft and vehicles to muster into portable yards.
Most revolutionary of all, they brought the scrubber cattle under control and began systematically managing their country.
Before very long, the Townsends were making money. They had arrived in their Cowboy Heaven.
The Townsends had shown how 'rubbish country' could be made productive and valuable. It wasn't long before the people who predicted failure were buying country north of Katherine so they could do what the Townsends had done. Stapleton eventually became LaBelle, Welltree and Wangi stations, as well as Litchfield Park.
It's now fifty years since the Townsends arrived on their newest frontier. The Territory is a very different place now. The Townsends have been well to the fore among the people who have made the difference.
A extract from the recently launched book, 'Cowboy Heaven' by historians and writers Peter and Sheila Forrest, published to commemorate the Townsends' fifty years in the Territory. The book tells the amazing Townsend story, in 272 pages and with the aid of more than 350 photographs. It's a story of adventure and modern pioneering that transformed the Top End's cattle country. More than 400 territorians attended the book's launch in Darwin last month.
Price $65 including postage within Australia. Available direct from Peter and Sheila Forrest – (08) 8941 0435, or email history@forrest.net.au