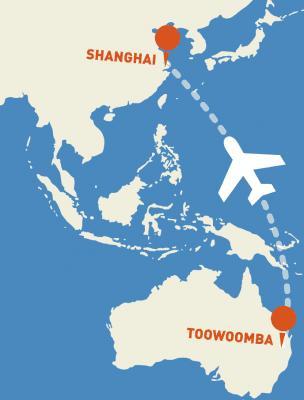 "Anyone doing business with China should be on this aircraft." John Wagner
A ground-breaking five-day trade mission to China will take-off from Toowoomba to Shanghai in October, offering unparalleled opportunities for red meat and livestock businesses to supercharge their trade relationships in China.
Beef Central and Sheep Central will be leading the red meat delegation as part of the landmark agribusiness tour, which will depart on the history-making first international passenger flight to leave Toowoomba's new Brisbane West Wellcamp Airport.
Red meat and livestock producers, supply-chain managers, brand owners and exporters either already doing business in China or with aspirations to develop trade with the market are encouraged to take advantage of the unique business-building opportunities this tour will offer.
The "Access China '16" tour is the brainchild of the Toowoomba Surat Basin Enterprise and Qantas and will involve delegations from a range of sectors including agriculture, eCommerce, education and training, logistics, financial services, sustainable design, manufacturing, resources, tourism and health.
The business-focused seven-day (including travel time) tour departing October 23, will provide unmatched opportunities to benefit from the TSBEs and Beef and Sheep Central's comprehensive on-the-ground networks in Shanghai and China.
It will include meetings and networking events with prospective customers and Chinese Government trade and agriculture personnel, visits to leading red meat supply chain businesses, and valuable insights into how the Chinese meat and livestock import market works.
Delegates will also attend the historic first Ag in the Asian Century conference to be held in Shanghai, which builds upon the successful trade-focused events held in Toowoomba over the past two years.
For an early-bird price from $5300 per person for TSBE members and $5800 for non-members (available to June 30), the package includes:
5-star accommodation at Hyatt on the Bund
Breakfast daily
Seat on the first international passenger flight from Toowoomba to Shanghai, and return flight
All transfers and internal travel in China
Full day Ag in the Asian Century conference tailored to your business interests with world class speakers
Unparalleled access to Chinese business leaders throughout the program
Tailored business matching
Site tours providing backstage access to some of China's most progressive companies
Access to exclusive networking events.
The tour is well timed from the Australian meat industry's perspective for several reasons:
Australia's annual export beef trade into China has exploded from virtually nothing two years ago to close to 150,000 tonnes in 2015. MLA managing director Richard Norton predicts that China will be Australia's largest beef export customer by 2022.
Live slaughter cattle exports to China kicked off in October, with expectations that the trade will grow in significance in coming years.
Chinese investment in the Australian supply chain has expanded rapidly this past year, with significant acquisitions of production, processing and export infrastructure.
"Anyone looking at doing business in China, or wants to have a presence in China, or is doing business in China, should be on this aircraft," Brisbane West Wellcamp Airport chairman John Wagner said at this morning's official tour launch in Toowoomba.
The tour represented a "once in a lifetime opportunity" to network with likeminded people who deal regularly with China, he said.
TSBE chief executive officer Dr Ben Lyons said the delegation offers Australian businesses a unique chance to capitalise on the significant opportunities created under the recently-finalised China-Australia Free Trade Agreement.
"We have put together a program utilising our extensive on-the-ground networks in Shanghai and China more broadly, with meetings and site visits to give businesses an in-depth view and understanding of opportunities," Dr Lyons said.
"We are in the heart of one of the world's best food producing and value-adding regions and businesses and investors in China want to meet us.
"We can sit back here and wait for the Chinese opportunities to come, but I think there is much more to be said about being proactive about the China opportunity, and the Access China delegation is a big part of this."
Toowoomba Regional Council Mayor Cr Paul Antonio said the region is located within just 12 hours of flying time from half the world's population.
'This is a fantastic opportunity to access key players in the world's biggest economic powerhouse'
"The people of Asia, and China in particular, are hungry for what Australia can offer across a range of industries, and this exciting venture is about linking our local business community with that remarkable opportunity.
"As one of Australia's most productive Agricultural regions we know there is remarkable opportunity to revitalise and grow this industry as well as look at how we value-add our products for the Asian market."
"TSBE has strong business connections in Shanghai and Beijing and I think this is a fantastic opportunity to access key players in the world's biggest economic powerhouse," said Mr Wagner.
Expressions of interest are now being sought for this historic trade tour from Toowoomba to China. Seats are limited and interest is expected to be high, so we would encourage interested parties to register as soon as possible.
To lodge an expression of interest, or if you have any questions about the tour, please send an email with the subject line "China Tour 2016" to o admin@beefcentral.com