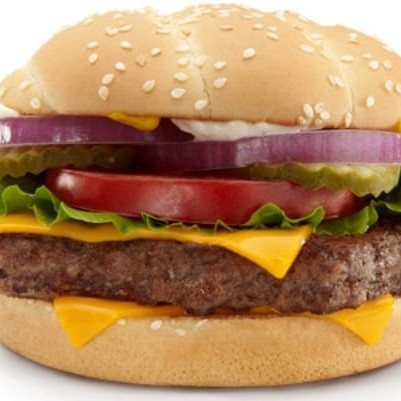 High raw material prices for beef have been blamed for a decision by McDonald's to drop the popular Angus deluxe premium burgers from menus in the company's US stores.
McDonald's Corp last Thursday said it would phase-out its one-third pound (150 gram) Angus burgers from US store menus, as US beef prices hit a 10-year high.
Lisa Isaacs, national purchasing manager for McDonald's Australia/New Zealand, told Beef Central this morning that there were no plans to take Angus deluxe burgers off the Australian/NZ menus.
"We are committed to continuing to support Angus burgers as part of our overall menu through both promotion and new product development," Ms Isaacs said.
The company's US division in March said it was weighing-up the removal of its 'premium' Angus burgers to make room for other menu options.
"While these burgers will no longer be available in our restaurants, they may still play a future role on our menu," spokeswoman Danya Proud said.
While prices for beef and other proteins have risen as a result of last summer's historic North American drought, overall retail food costs have not spiked as much as some experts predicted, suggesting food service operators are reducing their margin to maintain market share in a competitive marketplace.
The US Department of Agriculture's wholesale beef market report on Thursday last week showed USDA Choice grade beef carcases rising another US24c per hundred pounds (cwt) to a record US$204.91/cwt.
McDonald's and other US chains have worked to offset higher beef costs by promoting chicken, raw material from which is less expensive than beef. To that end, McDonald's recently introduced premium chicken wraps and the McSpicy chicken burger.
The world's biggest hamburger chain successfully introduced Mighty Angus and Grand Angus burgers in its US and Australian operations in August 2009. Recently it has been revamping its menu amid tough competition from revived US rivals such as Burger King and Wendy's. Budget items are a key part of that strategy.
At least part of the company's response on dropping premium Angus burgers may lay in recent disappointing business sales performance.
McDonalds recently announced a 1pc decline in global sales across its North American, European and Asia/Pacific regions, compared to year-earlier figures (see earlier Beef Central article, "GFC impacts on McDonald's first quarter.")