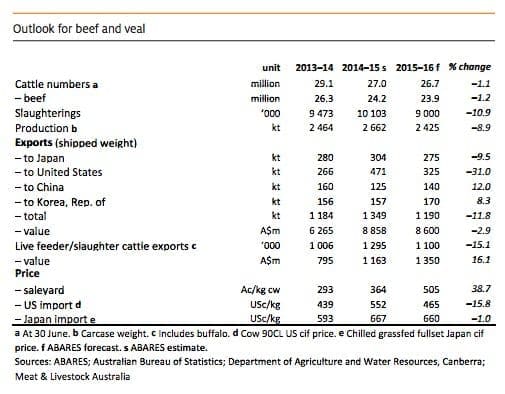 Australian beef supply is easing after the record highs of recent years.
Australia's beef cattle herd is set to contract by one percent in 2015–16 to 23.9 million head, ABARES predicts in its December quarter commodities report issued today.
Australian cattle and calf slaughter is forecast to fall by 11 per cent in the same period to 9 million head after reaching a 36-year high of 10.1 million head in 2014–15.
In turn beef and veal production is forecast to fall by 9 per cent to 2.4 million tonnes, down from the record 2.7 million tonnes produced in 2014–15.
The decline in supply relative to export demand is expected to push saleyard prices to an average of 505c/kg carcase weight, 39pc higher than 2014-15 price levels.
In September 2015, the weighted average saleyard price was 534c/kg, the highest monthly average in real terms for 35 years.
The high saleyard prices will give producers a continued incentive to offload cattle, which will keep Australian slaughter and beef production at relatively high levels historically speaking.
Exports of beef and veal are forecast to fall in 2015–16, but will still be the second-highest on record after 2014–15.
ABARES' view of the season is that despite the emergence of El Niño in autumn, seasonal conditions in 2015 have generally improved in most beef producing regions compared with the previous year.
"Significant summer and winter rainfall in many key beef producing regions resulted in a decline in turn-off and an increase in restocker demand as producers looked to expand herds," it said.
"This has placed significant upward pressure on saleyard prices since March.
"However, El Niño has brought significant volatility in seasonal conditions, resulting in large changes in saleyard cattle prices in the second half of 2015."
The influence of El Niño is expected to ease in early 2016 and average seasonal conditions are assumed for most beef producing regions in the second half of 2015–16.
"This is expected to provide support for cattle prices for the rest of the year as producers look to rebuild herds after successive years of high turn-off," ABARES says
Exports to US to ease
US demand for beef imports is being dampened by an increase in US domestic supply.
As a result Australian beef and veal exports to the United States in 2015-16 are expected to ease by 31pc on 2014-15 levels to total 325 000 tonnes (shipped weight).
US cow slaughter is expected to remain low in the second half of 2015–16 as herd rebuilding continues.
That is expected to constrain domestic supply of manufacturing beef in the United States which should underpin strong continued demand for Australian manufacturing beef exports.
The US dollar is assumed to remain strong over the remainder of 2015–16, restricting the competitiveness of US beef exports and making imports comparatively cheaper.
High beef prices encourage Japanese consumers to switch to pork
Faced with higher beef prices, Japanese consumers have been reducing their beef purchases primarily in favour of pork. Household per person consumption of beef fell by 10 per cent year-on-year in the September quarter 2015, while per person consumption of pork increased by 7 per cent.
High cattle prices in the United States and Australia are forecast to continue to place upward pressure on imported beef prices in Japan for the rest of 2015–16.
As a result, total demand for imported beef in Japan is expected to remain weak.
Australian exports of beef to Japan are forecast to decline by 10 per cent year-on-year to 275 000 tonnes.
However, Australian beef exports are expected to gain a greater share of the Japanese market in 2015–16.
The relative strength of the US dollar combined with lower beef tariffs delivered through the Japan–Australia Economic Partnership Agreement are expected to make Australian exports comparatively cheaper compared with those from the United States.
Korean beef demand remains strong
Pork prices in Korea are expected to be relatively high for the remainder of 2015–16 and, as a consequence, demand for beef is expected to remain strong.
Domestic beef production is also likely to be constrained in 2015–16 as the Korean cattle industry undergoes significant consolidation.
Over the past three years small farms have exited the Korean beef industry, reducing the total domestic cattle inventory.
This is providing support for Australian beef and veal exports, which are forecast to increase by 8 per cent in 2015–16 to 170 000 tonnes.
Exports to China facing increased competition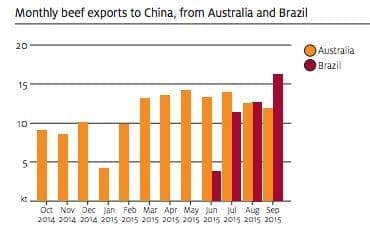 Australian beef and veal exports to China are forecast to increase by 12 per cent to 140 000 tonnes in 2015–16.
Domestic supply in China remains constrained by low slaughter, and total Chinese beef imports are expected to increase in 2015–16.
Growth in Australian exports to China will be constrained by competition from other exporting countries, particularly those in South America.
In 2014–15 Uruguay and Argentina emerged as significant exporters of beef to China.
Imports from Uruguay increased year-on-year by 127 per cent to 183 000 tonnes, while imports from Argentina rose to 59 000 tonnes—an increase of 361 per cent.
In May 2015 China lifted its bovine spongiform encephalopathy–related import restrictions on Brazilian beef, and exports resumed in June.
For the first three months of 2015–16 Brazil exported just over 40 300 tonnes of beef to China, compared with Australia's total of 38 300 tonnes.
Demand for live exports strong
The number of live feeder and slaughter cattle exported from Australia is forecast to decline by 15 per cent to 1.1 million head in 2015–16, reflecting the reduction in Indonesian permits allocated in the September quarter and constraints on Australian cattle supplies expected in the second half of the year.
Indonesian demand for Australian feeder and slaughter cattle is expected to remain strong in the second half of 2015–16, with domestic beef production in Indonesia currently insufficient to meet domestic demand.
As a result, Indonesia is expected to remain reliant on imports from Australia.
Demand for live cattle in Vietnam is also expected to remain strong in the second half of 2015–16.
The combination of this with increased demand from Indonesia and an expected reduction in supply of cattle for live export is likely to result in higher live export cattle prices in 2015–16.
After the first live cattle export consignment from Australia to China was air-freighted in October, additional plane loads are expected by the end of 2015, and the first boatload is expected to depart in early 2016.
ABARES expects growth in the live export trade to China to be slow initially, with the number of Chinese importers ready to take live cattle a major growth constraint.
Nor will China compete directly with existing export markets in Indonesia and Vietnam, ABARES ventures.
"Chinese biosecurity protocols and logistics issues will restrict the primary ports of loading to southern Australia, rather than the main live export ports in Darwin and Townsville.
"As a result, principal cattle breeds expected to be sent to China are Bos taurus, not the Bos indicus breeds sent to Indonesia and Vietnam."