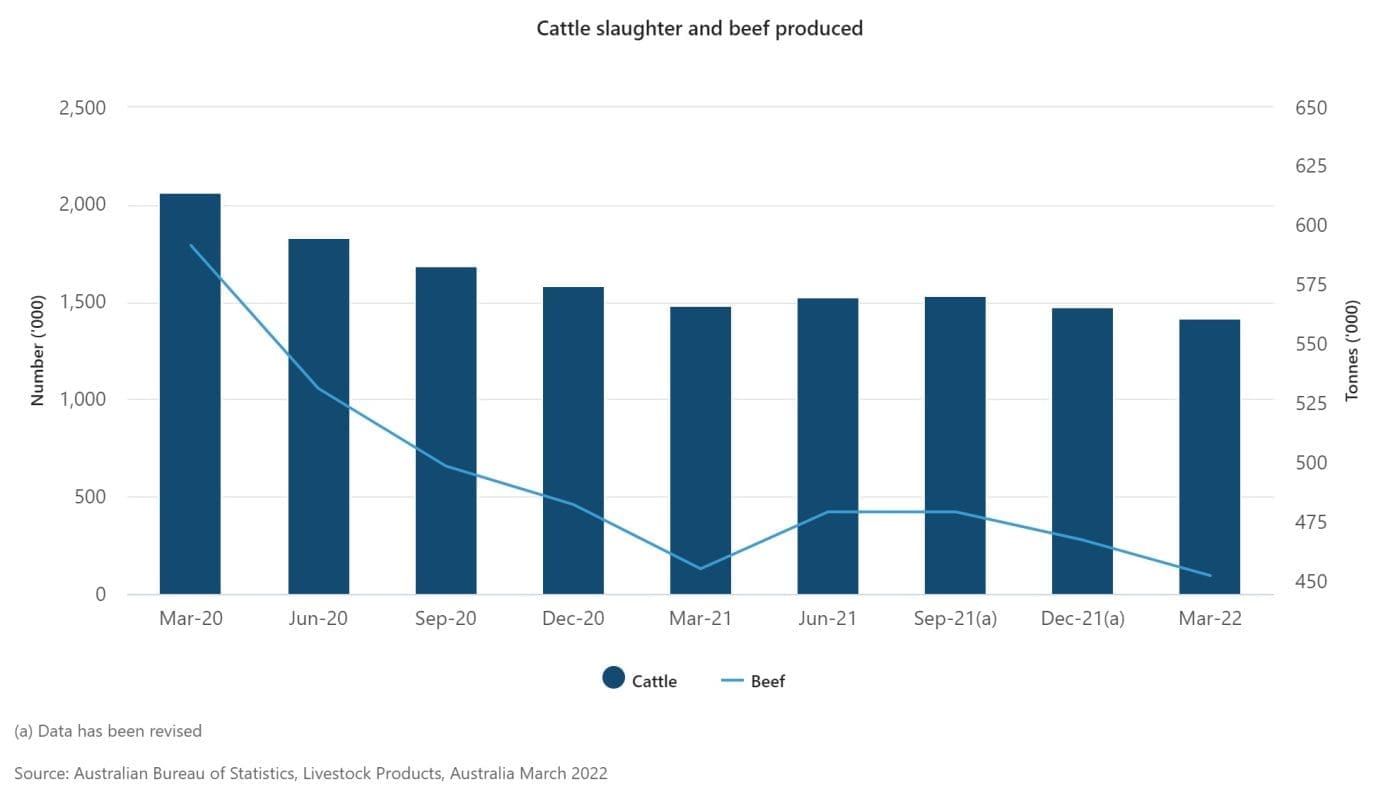 FEMALE slaughter numbers have hit the lowest point in decades, with the Australian Bureau of Statistics today releasing its livestock statistics for the first quarter of 2022.
Overall production was similar to this time last year but down on last quarter, with 1,420,000 head passing through abattoirs producing 452,700 tonnes of beef. New South Wales has bucked the national trend with its kill increasing from last quarter to 297,000 head.
Females represented 41pc of this quarter's kill, which is the lowest since Q4 2011, when it hit 39pc. The female slaughter ratio (FSR) is often used as a marker of whether the national herd is rebuilding or liquidating – less than 47pc is meant to a rebuilding phase.
Qld had the lowest female slaughter with 33pc, NSW on 36pc and Western Australia, Tasmania and Victoria all above 50pc.
With females representing a smaller part of an already small kill, the actual number was the second lowest since 1984, with 546,200 nationally.
Meat & Livestock Australia market information manager Stephen Bignell said factors outside the herd rebuild were also influencing the female slaughter ratio.
"When processor capacity was being impacted by COVID earlier in the year, grainfed cattle were being prioritised because they need to be turned off," Mr Bignell said.
"That meant processors would have been taking in a lot more grainfed steers for the first quarter of this year."
Mr Bignell said he expected the FSR to move in the other direction second quarter of 2022.
"I don't expect the FSR to move above the 47pc mark, but I do expect it to be higher than the first quarter," he said.
While the numbers were low Meat & Livestock Australia market information manager Stephen Bignell said carcass weights were up.
"Despite this nearly 6pc drop in slaughter number, Australian beef production dropped only 2.5pc due to the heavier cattle weights," Mr Bignell said.
NSW bucks the national trend
NSW bucked the national trend with its numbers increasing 3pc to 297,000 head – which is in line with MLA's cattle projections released earlier this year.
"I think it's very encouraging to see the numbers in NSW up so high because it shows how agile supply chains are," Mr Bignell said.
"If Qld is being impacted by floods, it shows we can move cattle to NSW or if there is COVID outbreak somewhere we can move cattle to a new location."
Forecast increased slaughter increase revised down
A recent cattle projection report by MLS said the herd rebuild was expected to continue at two paces, with NSW entering its third year of rebuilding and key breeding areas of North Queensland and the Northern Territory still struggling with inconsistent seasons.
"The national slaughter numbers are expected to rise by 11pc to reach 6.7 million head. As spring calves from 2020 and autumn calves from 2021 reach processor weights, supply is expected to increase and hit the market in the second half of 2022," the report said.
"A period of dry conditions without rain may see cattle turned off earlier than expected, and in larger numbers."
Mr Bignell said MLA was preparing to revise down its forecast when the new projections come out mid-year.