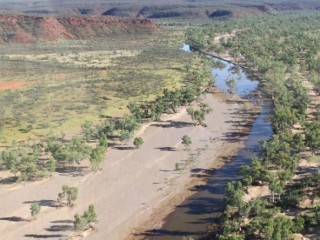 The Central Australian cattle station bought in 2011 by RM Williams Agricultural Holdings for $13m with a $9m Federal grant to create the world's largest carbon farm is being sold as a pastoral lease.
Insolvency firm PPB Advisory yesterday announced that the 514,800ha Henbury Station 230km south Alice Springs, will be sold on a "walk-in-walk-out" basis via a two-month tender process.
The new marketing campaign follows the collapse of RM Williams Agricultural Holdings in June last year.
In 2011 RM Williams Agricultural Holdings, with a $9 million Federal Government grant provided by then environment minister Tony Burke, paid $13m to buy Henbury Station, under a plan to destock the property of its 17,000 cattle and to sell carbon offset credits.
A year later Qantas signed a contract to buy a significant proportion of carbon credits from Henbury to offset its own carbon emissions.
However, the program collapsed when RMWAH was placed into receivership last June.
Expressions of interest for the purchase of Henbury Station were sought by PPB Advisory last August but the property did not sell, with uncertainty over the property's status as a carbon farm and the future of the carbon tax among the main reasons cited for the limited buyer interest.
The NT Government said last year that despite the plans to turn Henbury into a massive carbon farm, Henbury remained a pastoral land tenure lease, and applications had never been made to change that tenure.
The Federal Government recently granted permission for pastoral activities to resume on Henbury in accordance with its status as a pastoral lease, which has enabled the holding to be marketed as a cattle property.
PPB Advisory said Henbury is currently destocked and ready for pastoral use.
Jock McPherson, of Territory Rural McPherson in Alice Springs, has been appointed to sell Henbury on behalf of PPB Advisory.
Tenders will be invited from 24 March 2014 to 23 May 2014. Tenders close at 5pm AEST on Friday 23 May 2014.
Whether Henbury as a cattle property can attract anything like the $13m paid by RMWAH and the Federal Government for use as a conservation property will be one of the key areas of interest.
Another burning question is what now happens to the $9m invested in the failed project by the Federal Government?
A spokesperson for the Department of the Environment told ABC Radio that the Department was working with the receivers to 'secure conservation outcomes for Henbury Station while maximising its ability to recover a proportion of proceeds from any sale'. It also stated that future owners would not be bound by the previous conservation agreements.
In a media release issued yesterday, PPB Advisory partner, Greg Quinn said: "The recent decision to return the property to pastoral use prompted the Director to commence this sale campaign for one of the most well-regarded cattle stations in the Alice Springs region.
"The property has a strong management team in place, and we anticipate significant interest from both local and international parties.
"Despite the dry season it is a very good time for purchasers to consider this property. The absence of pastoral operations on the property since 2011 means there is currently reasonable feed on the property, making it an excellent opportunity for an astute investor."
In October last year two former RMWAH-owned NT properties, Labelle Downs and Welltree Stations, were sold to AA Co for $27.1 million.
The properties were listed for sale in July 2013 after RMWAH was placed into receivership and were marketed by real estate agency Colliers on behalf of receivers PPB Advisory.
Meanwhile, Colliers International will launch a marketing campaign tomorrow on Beef Central for another highly-respected large-scale Northern Territory cattle holding, Legune. The 3060sq km grazing property is located on the coast, adjacent to the Western Australian border in the Victoria River District.
Legune will be another excellent test for the current strong momentum being seen in confidence in the northern Australian industry. See tomorrow's Beef Central home page and email alert tomorrow to access full details.
RELATED ARTICLES:

NT Govt wants carbon farm returned to pastoral use 2 Sep 2013
RM Williams carbon projects plunge into receivership 30 June 2013
$13m NT station to farm carbon instead of cattle 17 July 2011