Leading beef market analysts outlined a positive long-term picture for those who can ride out the short-term challenges confronting the northern beef industry at the Northern Territory Cattlemen's Association annual conference in Alice Springs last Friday.
There is no denying the NT cattle industry is in the midst of tough times, exacerbated by the Indonesian market downturn and the return of dry conditions across the region, which is forcing more cattle onto markets and placing downwards pressure on prices.
With cash flows subsequently tight, costs ever-increasing and property values suffering from a loss of confidence, last Friday's conference heard that the short-term focus for many northern operations is simply on survival and generating the sales required to stay ahead of debt commitments.
However those who can hang in there were told there is genuine reason for optimism ahead.
Asian opportunity
Last Friday's conference heard from a range of market intelligence authorities including Rabobank's Don Close, global food industry expert professor David Hughes and Meat & Livestock Australia's Peter Barnard, and each emphasised the very optimistic outlook that exists for meat demand in Asia, and specifically in the rapidly growing economies of China and Indonesia.
The Asian region will have more than a billion additional mouths to feed in coming decades, and with income levels rising in line with economic growth, more and more consumers are likely to be looking for beef.
The key question for producers is when this positive sentiment will translate into improved demand and higher prices for their product.
As NTCA president David Warriner noted in his opening speech, most of the answers for the NT will come down to what happens in one market in particular: "Indonesia, Indonesia, Indonesia".
"Whatever happens in this market is going to have a profound effect on us in the NT in the near future," Mr Warriner said.
Indonesian machinations
After Australia exported more than 770,000 cattle to Indonesia in 2009, sales to the market have declined significantly since as the Yudhoyono Government introduced 350kg weight limits on imported cattle and reined-in import quotas to encourage local farmers to build up cattle numbers and to make Indonesia self-sufficient in beef production.
That policy has seen quotas decline by more than 60pc in the past four years, which has hit northern producers particularly hard. Even those further south not directly exposed to the market are impacted by the hundreds of thousands of cattle that must be diverted onto local markets as a result of the live export market downturn.
This year's quotas have been cut to 267,000 live cattle and 34,000t of boxed beef as Indonesia aims to supply 87pc of its beef consumption needs from local production in 2013. Quotas are likely to be cut even further next year when the
Government aims to increase the proportion of local supply to 90pc of total consumption.
The policy has been blamed for creating a widespread shortage of beef in the market which has forced prices to unaffordable levels for consumers. This has led to mounting public and media pressure on the Government to increase imports to ease prices at consumer level.
Despite that pressure Indonesia's ruling politicians have shown no sign of deviating from their self-sufficiency policy in the lead up to next year's Indonesian presidential elections, to be held in mid-2014.
A new Government must be formed at the next election because current president SBY cannot re-stand beyond his current five-year term.
With around 40 parties likely to contest next year's elections (38 contested the 2009 elections), there is no guessing which coalition of parties will eventually form Government, or what the new regime's policy on beef imports will be.
A key point here is that, unless mounting public pressure forces the current SBY Government to move away from its long-standing policy of self-sufficiency before the election, any significant improvement in quota levels could still be at least two years away.
That time-frame also assumes that a new Government will be pro-imports, which is not a certainty in a country where domestic agriculture provides more than 30pc of the nation's employment.
Some reason for hope for northern producers lay in MLA market expert Peter Barnard's comments to the conference that "markets will always reign sovereign over governments".
"Markets will force governments to make decisions and to take heed of the market, and I think the fundamentals in Indonesia are so positive that that is going to eventually happen, it is just a matter of when," Mr Barnard said.
David Warriner in his speech said there were some signs of optimism that that things could loosen up in the market, but added there were also conflicting views on the subject.
Indeed, trying to predict what will happen with quotas in a country where nothing is predictable is about as useful as trying to nail jelly to a tree.
'Its a disgrace what you've done'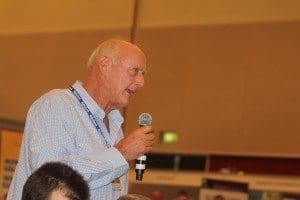 A strong message from both the NTCA executive and producers at the conference was the need for the Australian Government to do more to rebuild its relationship with Indonesia.
Certainly federal agriculture minister Joe Ludwig was not admitting the relationship needed fixing when he addressed the audience, and was challenged by a fired up Tony Davis, a successful and self-made producer and typically straight shooter in the Territory.
"I have been in the Territory for most of my life, 45 years, it has been a tough life, but we have always been able to handle ourselves, with drought and TB and all the problems thrown at us," he told the minister.
"The last two years what you and your government have thrown at this industry is a disgrace.
"I'm amazed that you have got the guts to come here but are you aware that your government has basically halved the capital value of all these properties in northern part of Australia and I think you owe an apology to the cattle industry, to all the people involved, and also to the Indonesian government.
"It is a disgrace you can come here and appear quite proud of what you've done."
In response the minister said the measures the Gillard Government had taken had secured the industry's future.
"If you look at the industry as a whole, I think one of the critical elements is to ensure you have got good supply chains, that those supply chains do provide animal welfare outcomes," the minister said.
"We have to ensure we do have supply chains in place and that we continue to increase this industry
"You can argue about all the things that have gone past, what I am here to tell you is that this government has been doing all it can to ensure we do have a bright future for this industry, because not everybody wants this industry, to continue, not everybody wants this industry to have a future at all … I am one that actually wants to progress this industry and I support that what we do need to move from there."
The minister added that he believed the long-term future for the industry was bright, based on Indonesia's stated commitment to increasing beef consumption per head from 2kg to 20kg in the market.
In a country of 240 million people, even an upward increase in consumption of just 100 grams per head can equate to a significant leap in the amount of beef required to feed the market.
Mr Ludwig announced that the Gillard Government will fund an additional agricultural specialist from the Australian Government to be based in Indonesia from the beginning of April.
The NTCA conference was also attended by shadow agriculture minister John Cobb, who toured Indonesian cattle supply chains first hand with senior opposition figures Tony Abbott and Julie Bishop last year. He noted that building relationships with Indonesia would be a key priority of an Abbott government if elected later this year.
Darwin port investment 'essential'
In his opening address NTCA president David Warriner also commended AA Co on its commitment to build an abattoir in Darwin, the construction of which is underway with processing trials set to commence in September.
He said with Darwin constantly touted as a gateway to Asia, the time for Federal investment in vital road and port infrastructure was now.
Constraints on current port capacity at Darwin meant it was currently cheaper to export hay grown in the Douglas Daly to Japan via the port of Adelaide than it was to export it via Darwin.
Stay turned for more reports from the NTCA conference on Beef Central