One thing that sets the current drought raging across northern Australia apart from those that have gone before is that, this time around, many producers are now connected online.
With that has come faster and more convenient access to information that can assist drought-related decision-making, without the need to drive to conferences or seminars many hours away from properties.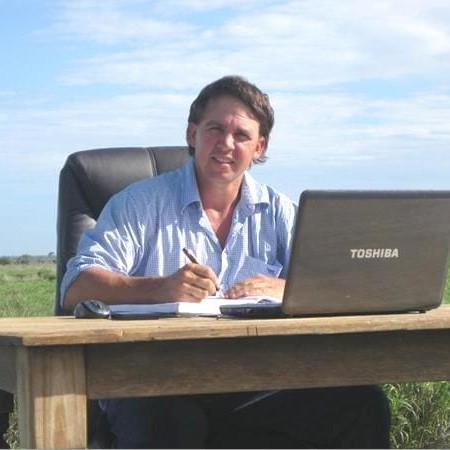 As the severity of the drought in inland Queensland intensified last November, a young fifth-generation grazier from Longreach saw a need to develop an online resource that brought practical and useful information for businesses trying to recover from drought together in one place.
James Walker describes Agrihive as an online agribusiness resource which aims to provide producers with information and training on practical measures that can help them to make better drought-management decisions.
He also hopes Agrihive will be used as an online platform for communication between farmers, agribusiness specialists, industry bodies, the banking sector, government and the greater business community.
"As producers we wanted to know ourselves how to navigate through the drought and recover on the other side," James said.
"All the assistance such as handouts, subsidies and grants are helpful but as resilient people we just want to get information and training right now to handle the situation.
"Once the hay truck comes and goes and it still hasn't rained, where are we?
"That is why we have started Agrihive. We want to get information from fellow farmers and from the best business minds and specialists to help us manage this event.
"That way we are better positioned to dust ourselves off and carry on with being the best producers of food in the world."
Mr Walker plans to regularly update Agrihive with business information, practical advice from experts and training resources of specific relevance to producers trying to manage their businesses through, and recovery from, drought.
One of the first installments on the site is a 25 minute audio file containing interviews Mr. Walker has conducted with three experts in the fields of cattle marketing and feed and fodder analysis.
In the audio file, Allied Beef principal James McLean explains why cattle prices are poised to lift if a break in the season which is limiting production options can be achieved; Roger Sneath from the Queensland Department of Agriculture, Forestry and Fisheries provides practical tips in
assessing energy and protein levels of available feed supplies, nutritional requirements of livestock and how to assess the value and cost of required energy and protein supplements; and Ian Wickham from Feed Central discusses how to use feed test information when buying fodder.
Mr. Walker said the site has been established the use of anyone who is passionate about the long-term viability of farming and agriculture and who would like to contribute to the recovery of businesses from drought.
"The main thing Agrihive wants to achieve is to help businesses recover and provide opportunities, instead of simply being faced with debt and no options going forward."
To visit Agrihive site click here