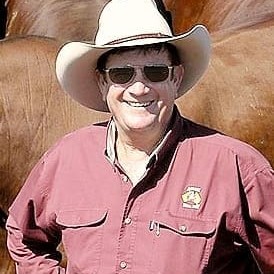 Nobody has campaigned longer or harder for directly-elected membership on the Cattle Council of Australia board than Central Queensland cattleman, Graeme Acton.
He greeted yesterday's announcement of CCA's proposed reforms to board representation with cautious enthusiasm, having started advocating for such change at industry annual meetings seven or eight years ago.
Mr Acton's initial impression was that on face value, the proposal (see Beef Central's full explanation of the structure here) could deliver the key outcomes that grassroots beef producers had been looking for from their peak representative body.
The new proposal, to be ratified at CCA's AGM in October, will combine eight State Farming Organisation board representatives with beef producers who are elected directly from a voluntary membership. Initially, there will be two directly-elected producer board members (one north, one south), but that would grow to four (two each) once 500 non-SFO aligned producers become paid-up CCA members.
"I like the look of it," Mr Acton told Beef Central this morning.
"I'd anticipate it will take CCA no time to raise 500 paid members from across the grassroots cattle industry, so that would put four directly-elected stakeholders on the board straight away. As the CCA membership increases further, though, the number of directly-elected board members has to match the ones representing the state farming organisations," he said.
Mr Acton also liked the idea of reducing the overall size of the CCA board, which currently includes 24 councillors from seven states, a number which he saw as too cumbersome.
"All the same, you don't want any less than 12," he said. "Boards that are too small can suffer, too. In my experience every board has a bit of dead-wood, and if a couple of others don't turn-up for a meeting, suddenly the vote gets too narrow. It can deplete the thinking power pretty quickly."
Mr Acton thought the ideal 'end point' for the proposal would be a board of 16, including eight from the SFOs and eight directly-elected.
"Ideally, it needs to become an equal number of directly-elected council members as those from the SFOs. With a bit of promotion, I think 500 members will come in pretty quick – virtually overnight, after it is activated."
Asked whether the direct-membership of CCA (likely to cost $100/year for non-SFO members) was likely to come at the detriment of joining state farming organisations, Mr Acton though it would not.
"There may be a certain percentage that think that way – but everybody understands that we need the state farm organisations to fight state-based issues, and an effective national cattle body to look after national grassfed cattle specific issues."
"For that reason, I think a lot of producers would continue to support both – and its only $100 to join CCA directly," he said.
"There's a real possibility that joining CCA will also encourage producers who are not currently aligned with SFOs to join them, also, knowing that they have a national organisation that they can join and elect their representatives. It doesn't have to be an either/or situation."
The new proposed model would go a long way to addressing the concerns he and other grassroots stakeholders had raised, Mr Acton said.
"I know it's taken a long time, but this is a massive step in the right direction. If it is rolled-out to eventually include the same number directly elected as drawn from SFO's, then 95 percent of producers will be relatively happy," he said.
CCA has committed to review the success of the structure after two years.