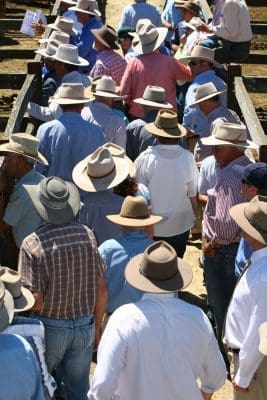 LONG-RUNNING efforts to create a new directly-elected body to represent all grassfed cattle producers across Australia took a small but significant step forward with the awarding of a $500,000 Federal Government grant toward the process last Friday.
The grant does not solve the outstanding question of how the new peak body, to be called Cattle Australia, will be funded in the long-term.
But it will provide the seed funding required to kick start the next stage of the restructure process, by providing funds to, among other things, establish a steering committee, employ a project manager and to pay for the development of a new constitution and business/funding model.
Details of exactly how the $500,000 will be spent are said to still be subject to further negotiations with the Department of Agriculture, but what is clear is that the industry is now working towards a two-year time frame to deliver Cattle Australia as a new peak council for grassfed cattle producers by late 2019.
It is understood that the new body will incorporate a directly elected board (as opposed to the primarily State Farm Organisation appointed board of CCA), made up of regional councillors and supported by technical committees.
A significant consultation process with all cattle industry levy payers is also planned over the next two-year period.
Getting to this point
Getting to this point has been largely the result of work by the industry restructure "Implementation Committee" established by then ag minister Barnaby Joyce in late 2014.
The committee brought together representatives of several disparate cattle industry groups, with the task of reaching an agreed path forward on a new structure to represent all grassfed cattle producers nationally.
Asking different groups with entrenched, contrasting views and long histories of disagreement to reach a unified position was never going to be smooth sailing.
However, the various groups did reach agreement on a unified restructure model which was presented to the Minister in February 2015, and which remains basically the same planned structure that will underpin the new Cattle Australia.
Debate since that time has focused largely on how to get there and how to fund it.
The members of the IC have also jointly succeeded in getting funding to kick start the next stage of the restructure process.
The committee has worked behind closed doors, and its members have largely kept internal committee matters private throughout the course of its nearly three years of deliberations.
However some simmering discontent and distrust has been evident between different groups on the committee in the wake of last Friday's $500,000 announcement.
Some IC members have voiced anger that a CCA media release welcoming the $500,000 grant last Friday did not acknowledge the voluntary work performed by other IC members, in particular Loretta Carroll and Norman Hunt, in writing and submitting the application that ultimately resulted in the $500,000 funding.
It is understood the CCA did not support the IC's initial funding application, because it believed that the $500,000 sought was not adequate to support the goal of developing a long-term sustainable funding stream. The $5m fund was initially proposed by the Minister's office to help with the grassfed restructure process, before being broadened to include all agricultural sectors when it was introduced. It is understood the CCA believed a greater share of the $5m fund was needed to improve the chances of success of the restructure. However, the disagreement caused delays that put the grassfed industry in danger of missing the funding application deadline altogether, and potentially losing any share of the $5m.
Ultimately the CCA and the IC members submitted a joint application which was successful in being granted $500,000 to go towards the creation of the Cattle Australia model. (In total 27 ag groups received funding of between $100,000 to $500,000 under the $5m Leadership in Agriculture program).
Cattle Australia: a brand new entity or a restructured CCA?
Perhaps the biggest point of lingering disagreement surrounds whether Cattle Australia should be formed from scratch as an entirely new entity, as recommended by the recent Senate inquiry, or as a restructured version of the peak council, Cattle Council of Australia.
Earlier this year CCA suggested to the IC that it would be faster, cheaper and more efficient to transition CCA into the new organisation, Cattle Australia, rather than go through the process of starting an entirely new organisation from a clean slate.
Arguments in favour were that it would less cost to restructure the existing CCA into a directly elected structure, would not require extensive renegotiations of all industry agreements and Memorandums of Understanding as a new organisation would, and would get to the end point much faster than by establishing an entirely new organisation.
Arguments against included that an independent Cattle Australia is what was originally agreed to by the IC in February 2015, and that a new organisation with a new culture and fresh start was needed to win the support of a broad base of cattle producers. Continuing CCA in a new form would be seen by producers as "more of the same" and would not be accepted as the clean change the grassfed industry was seeking.
At its last meeting on September 18 the IC committee voted on the creation of a new fully independent Cattle Australia, as opposed to a rebadged CCA, with a result of 9 votes for, and 4 against.
Members of the committee have indicated it was also agreed that the results of that vote would be made public, but that had not happened.
A key question now is what level of power does the IC have to decide the future of the grassfed process?
Some members of the IC have told Beef Central it is their firm understanding that the committee has the power to decide the future of the restructure process, and the result of September 18 vote in favour of a cleanskin Cattle Australia is effectively now binding and should be the last word.
Others however say the IC was established as an advisory group only with no legal standing, and the vote held by telephone could not be regarded as a formal, binding vote.
It is a question perhaps best directed to Mr Joyce, who was forced to depart from Parliament over the dual-citizenship issue last Friday.
Asked yesterday what level of authority he understood the IC had, Australian Meat Producers Group representative, IC member and solicitor Norman Hunt, said the IC was not enshrined in legislation but said the application for the $500,000 in funding was lodged "in contemplation of the creation of a new cleanskin Cattle Australia", as indicated by the Sep 18 vote, and not 'a morphed CCA'.
In response to the same question Cattle Council of Australia interim CEO Margo Andrae said it should not be a question of new versus old, but rather what best delivers an effective peak body and how that is best achieved from a legal and funding perspective.
IC independent chair Troy Setter told Beef Central that the most important point was that the industry ends up with one democratically elected organisation that represents all cattle producers, and has peak council status so it can advise and lobby politicians, as well as being part of the RMAC group and having a strong connection with MLA.
How it arrives at that position was less important than ensuring it actually gets there.
"Getting there from CCA today, which currently fills that function and needs to keep filling that function until Cattle Australia is established, and ensuring that the cattle agri-political organisations and CCA all form into one grassroots organisation, is what is important.
"There needs to be a new organisation and a new constitution and direct membership.
"The exact corporate specifics of how you get there is still yet to be worked out."