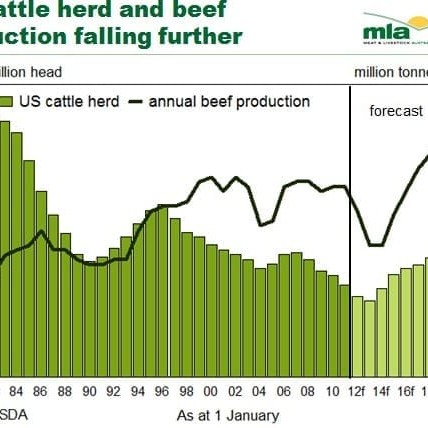 Two key speakers presenting at MLA's half-year projections update yesterday pointed to the recent spike in feedgrain prices driven by drought in the United States, as the 'gorilla in the room' in terms of beef market outlook.
Spiralling corn futures prices on the back of the impact of widespread and severe drought across the main US growing regions are going to have a major impact on beef production, as well as competing proteins even more reliant on grain, such as chicken and pork.
"There's a big focus on what US corn prices do, on the back of this year's drought, which is getting much worse," MLA's senior analyst Tim McRae told yesterday's briefing.
"That feeds and manifests itself not just on the US cattle industry, but right through any industry that relies on grain as a feed source," he said.
"What the US corn market does nearly drives all protein markets – certainly in the US, and arguably, globally."
"The emerging grain supply shortage and higher prices are going to apply some huge pressure throughout the US supply chain," Mr McRae said.
In the end, the supply chain tried to either pass that added cost on to the consumer, or back to the cattle producer.
"Looking at the US market currently, the consumer is in no shape to pay more for beef, due to a rise in cost of production based on corn price. That suggests it is passed back eventually to producers. It's a difficult one, because the US already has a historically low cattle herd, driving cattle prices to record levels. But the corn price leap has to impact on US cattle price over the short term," he said.
"While we wouldn't wish drought on anyone – we have enough of it ourselves – it could play into Australia's hands somewhat, as a large grassfed beef producer, enjoying a sequence of good seasons. But that said, elevated grain price in Australia would also impact on the local lotfeeding industry in the form of higher production costs," Mr McRae said.
"But it's more negative news for Australian lotfeeders. It's been very hard to sell our grainfed product on global markets over the past two and a half years. If they are now faced with a big jump in feedgrain costs, on top of relatively favourable feeder cattle prices driven by competition from grass-finishers, it represents a tough scenario."
Mr McRae said after being a net exporter of beef for the past several years, the US is forecast to become a net importer of beef again in 2014, partly as a result of the effects of drought this year and last.
"The US is going to be crying out for product, and historically, Australia is where they have come looking for it."
The US Department of Agriculture recently released its meat supply-demand forecasts, with beef production expected to fall by 3.9pc in the July-September quarter from a year earlier, and likely to continue to decline for a while.
Analyst Richard Brown, from Europe-based ag consultancy and market research firm, GIRA, told yesterday's projections briefing that grain prices had the potential to go considerably higher, on the back of the US drought.
"This is really going to give the chicken and pork industries, and grain-feeders of cattle a hard time. It is absolutely an area of sensitivity for the whole of the rest of the meat industry at present," Mr Brown said.
In North America, growers had a mild winter and dry spring, allowing them to get their corn into the ground very early. Normally there is a very strong yield correlation between early planting and high yield, but not this year.
"If we had considered the US grain harvest potential in May, the answer would have been phenomenal. But what's now happened is that the drought and heatwave is seeing the crop deteriorate on a daily basis, with big downgrades in crop forecasts, and prices going through the roof," Mr Brown said.
"This is going to give real grief to the intensive feeders of chickens and pigs across the world, and to a lesser extent, beef."
Mr Brown warned that corn shortage and dramatically higher grain prices introduced "yet another huge dollop of caution for the global meat industry."
"Everybody needs to be very careful in these market conditions, where there is weak short-term demand in key markets like Europe, Asia and North America, at the same time as when we could see spectacularly high grain prices driving feeding costs much higher."
"Stakeholders need to be incredibly careful, and that will only result in more modest production growth over the period ahead," he said.