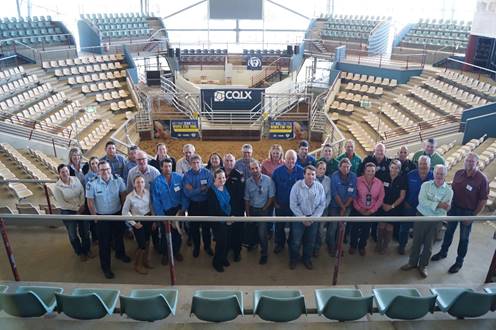 THE Gracemere saleyards was the scene of a major animal health exercise last week, hosted by Gavin Tickle and his staff at the Central Queensland Livestock Exchange (CQLX), with support from Biosecurity Queensland, Animal Health Australia (AHA) and the Australian Livestock and Property Agents Association (ALPA).
A Biosecurity Queensland spokesperson said that while there are stringent controls in place to stop foot and mouth disease (FMD) and other exotic diseases from entering Australia, work is underway to ensure key areas are prepared.
Elders, Landmark, Queensland Police, Queensland Fire and Emergency Services and the Rockhampton Regional Council were also actively involved in the local counter disaster planning event.
In addition to providing updated information to ensure FMD preparedness, the day also included a scenario looking at the impact of a livestock standstill on a sale day at Gracemere saleyards.
A Biosecurity Queensland spokesperson said the event provided enhanced understanding for each of the 38 attendees of their role as key players in emergency disease preparedness.
"Additionally, for the livestock agents present, there was an acknowledgement that their relationship with their vendors, livestock buyers and saleyards management plays an important role in effective biosecurity management at saleyards," the spokesperson said.
"The saleyards industry is an important biosecurity partner in the entire livestock supply chain.
"Livestock agents play a critical role in biosecurity planning and emergency disease management. The peak body ALPA has been very supportive of local agents attending these saleyard exercises."
The Gracemere exercise also demonstrated to the counter disaster support agencies some of the complexity in managing livestock disease emergencies and the support that might be required.
Source: Biosecurity Queensland