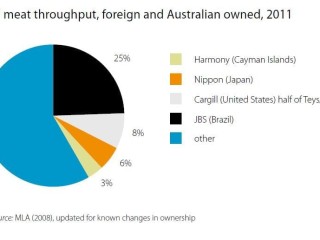 After conducting its first major survey of foreign ownership in Australian agriculture for almost 30 years, the Federal Government says concerns that Australia is "selling the farm" and surrendering control of its food producing assets should be put to rest.
The Government says a report released today shows that existing levels of regulation governing foreign investment in Australia are adequate, however, it has also committed to monitoring foreign investment levels more closely in future in response to community concerns.
Sales of major Australian-based agribusinesses such as grain handling, meat processing and farming companies to overseas-based buyers in recent years have sparked calls for the Federal Government to reduce the threshold above which proposed sales to foreign buyers must attract scrutiny by the Foreign Investment Review Board.
However, after releasing the report "Foreign Investment and Australian Agriculture" by the Australian Bureau of Agricultural and Resource Economics and Sciences (ABARES) today, assistant treasurer Mark Arbib said the existing $231m threshold would not be lowered.
Senator Arbib said the report provided a factual picture of existing foreign investment in Australian agriculture, and confirmed that current levels of overseas ownership had not increased substantially on the levels that existed when the last major Government analysis was conducted in 1983-84.
He said the report emphasised that existing regulatory controls surrounding foreign investment in agriculture were providing a "considerable level of scrutiny".
However, the Government conceded that better data sources were needed to provide a more comprehensive picture of how foreign investment in agriculture is evolving.
As a result, Senator Arbib said, the Government will fund ongoing and expanded statistical data collection by the Australian Bureau of Statistics every two years, and will expand the Agricultural Census to provide more information on ownership of Australian agricultural land.
Findings
The Australian Bureau of Agriculture and Resource Economics report, commissioned by the Rural Industries Research and Development Corporation (RIRDC), follows the completion of an Australian Bureau of Statistics survey of foreign ownership levels last year.
The ABS survey showed that on 31 December, 2010, about 1356 agricultural businesses in Australia, or one percent of the total, were either wholly or partly owned by foreign interests.
Approximately 44 million hectares, or 11.3pc of Australian agricultural land, was wholly or partly owned by foreigners, of which around half had majority Australian ownership.
It also showed that around 99pc of agricultural business in Australia by number and 91pc of water entitlements for agriculture were entirely Australian owned.
The ABS survey did not look at the proportion of production value, or volume, that the 1356 agricultural businesses with foreign ownership controlled.
The ABARES report adds slightly more – but still not much – flesh to those bones by including foreign ownership levels in the value-adding chains of Australia's major agricultural commodities.
For example, it notes that overseas-based companies currently
own half of Australia's 23 licensed wheat exporting companies,
process around half the milk produced in Australia,
own the milling capacity that accounts for 60pc of Australia's raw sugar production, and
process about 40pc of Australia's red meat production by throughput.
Foreign Investment Review Board (FIRB) data included in ABARES' report recorded approvals for foreign investment at $139.5 billion in 2009-10. 58pc of those approved investments were for mineral exploration and development. Only 1.6pc ($2.3b) was for agriculture, and 2pc ($2.82b) fell under the category of food, beverage and tobacco manufacturing.
Foreign owners of agricultural land fell into three main groups, the report said:
companies (private or govt-owned) seeking to expand into other counties to extend activities up the supply chain (examples include Qatar-based Hassad Food; and the UAE and Malaysian investment IFFCO-Felda which holds a 19.9pc stake in AA Co)
Entities seeking to benefit from owning and operating farmland, but where these operations do not form part of any larger agricultural or food businesses (examples include US based Westchester Group, which has 73,000ha of Australian land under ownership and management, and UK-based Terra Firma, which purchased 90pc of Consolidated Pastoral Company from the Packer family in 2009 for $425m )

Purchases of farmland by mining companies (for example Chinese company Shenhua Watermark Coal bought 43 farms near Gunnedah to explore for coal, while the Queensland Govt believes that 60pc of foreign farmland purchases in that state in 2010 were by mining companies).
Existing regulation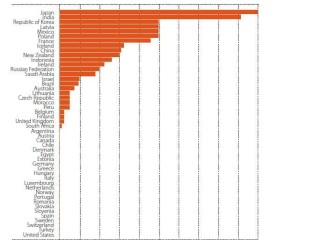 ABARES said that at a national level, regulation of foreign investment in Australian agriculture is assessed as the 10th most restrictive for foreign direct investment in agriculture out of the 34 member countries of the OECD (Organisation for Economic Co-operation and Development).
Under existing regulations, Australia's FIRB (Foreign Investment Review Board) is obliged to examine all proposals from foreign-government owned enterprises, and all other proposals that involve the purchase of 15pc of more of a company worth more than $231 million. (In some cases through Australia has agreed to higher thresholds with other countries, such as a threshold of $1005m for the US).
As a further regulatory measure, the Australian Competition and Consumer Commission is also required to assess the impact that proposed investments would have on competition in the Australian market. It is also responsible for ensuring the competitive behaviour of foreign-owned agribusinesses in Australia.
State-owned foreign investment in agriculture
The report notes that Government-owned enterprises, including sovereign wealth funds, have shown interest in investing in Australian agricultural assets in recent years.
It acknowledged that this had raised concerns on two levels:
that non-commercial investors not bound by profit-making considerations may distort markets by paying prices above those determined purely by market fundamentals;
the state-owned businesses may channel production through non-market avenues to customers in their home countries, thus adversely affecting domestic Australian food security.
However the ABARES report was largely dismissive of these concerns.
"Apart from the likelihood that foreign government owned Australian farm land will account for no more than a relatively small proportion of a nation's agricultural output, the purchase of farmland in another country is unlikely to be an effective means of significantly increasing the volume and security of food supply in the investing country," it said.
"Purchasing food from the world market, including with the aid of government subsidies if required, is likely to be the most cost effective way for a nation to improve its food security through the sourcing of supplies from other countries."
ABARES noted that foreign investment was "a significant force in Australian agriculture", increasing investment in the Australian economy and leading to higher production, employment and income.
It said foreign ownership of agricultural land in Australia had gone through periods of expansion and contraction.
It had been increasing in the past two years, it said, mainly due to purchases of land by mining companies.
Benefits of foreign investment
The ABARES report provides the following statement on the benefits of foreign investment:
"Australia has always relied on foreign investment to meet the shortfall of domestic savings relative to its domestic investment needs. Inflows of foreign investment increase the supply of capital, leading to increased domestic investment and thus to higher production, employment and income. Profits, a small proportion of the total revenue, are either reinvested in Australia or repatriated overseas.
"Without foreign capital inflows, investment in Australia would be limited to that provided by domestic savings. Production, employment, income, exports and taxation payments would all be lower.
"Foreign direct investment typically, but not necessarily, brings new technology, or better management skills or systems. Productivity gains achieved by the foreign company may 'spill over'
to others in the industry and to other industries, thus increasing output and incomes. Within the industry itself, however, the introduction of labour-saving technology may reduce employment in the short term.
"Investment in the supply chain by foreign commodity trading or food processing companies may in some cases lead to enhanced export potential for Australian agriculture. For example, Japanese investment in the beef industry in the 1980s opened channels for beef exports to Japan (Young & Sheales 1991)."
Government response
The Government also today released a Policy Statement on Foreign Investment in Agriculture, which provides guidance on factors the Government typically considers in assessing foreign investment applications involving the agricultural sector.
"Australians can be confident that we have a strong and robust system in place to protect the national interest while also supporting the economy and jobs," Senator Arbib said.
"The Government applies a rigorous national interest test to all foreign investment applications.
"National interest principles include the affect of investments on national security, competition, the economy, the community and other government policies. The Government also considers the type of investor and whether the investor operates independently of foreign governments.
"Consistent with these principles, the Government is committed to ensuring that investments do not adversely affect the sustainability of Australia's national agricultural resources, including their economic, social and environmental contribution to Australia."
Senator Arbib said the enhanced data collecting and Policy Statement will improve the transparency of foreign investment in Australian agriculture and the screening process for foreign investment applications in the sector.
As part of the Policy Statement the Government is providing guidance on factors typically considered in assessing foreign investment applications in agriculture.
The Government typically considers the affect of the proposal on:
the quality and availability of Australia's agricultural resources, including water;
agricultural production and productivity;
Australia's capacity to remain a reliable supplier of agricultural production, both to the Australian community and our trading partners;
employment and prosperity in Australia's local and regional communities.
Senator Arbib said Government would keep monitoring foreign investment in agricultural land, water and agribusiness to ensure that we continue to attract foreign investment and support Australian agriculture, while also ensuring that particular investments are not contrary to Australia's national interest.

Opposition response
Shadow Agriculture minister John Cobb has branded today's report a "whitewash", saying it glosses over the issues that need forensic examination and sheds no new light on "who owns what in our own backyard".
"We need real data about the levels of foreign ownership of farm land and agribusiness, so the government can monitor foreign buy-outs and adjust policy settings when foreign control is not in Australia's national interests," Mr Cobb said.
"This is not ABARES' fault. The government hasn't given this study the scope required to fully assess the situation, instead it is reinforcing the useless information provided by the ABS survey carried out last year.
"The ABS survey didn't even look at the value of production under foreign control or the nationality of foreign landholders, so provides even less information than 1983-84 data almost 30 years ago.
"The ABARE report states on page 1 that the "information is extremely limited"… we didn't need an expensive government report to tell us that.
"The Coalition remains deeply concerned about this issue and we will announce our policy in coming months.
"It is obvious that the $231 million trigger before the Foreign Investment Review Board (FIRB) weighs in is clearly out of step with reality, and that the disparity between the trigger for urban versus regional purchases is nonsensical.
"At present the FIRB is only required to investigate agricultural land buy-outs above $231 million. This means the current trigger will almost certainly never be activated, leaving the FIRB to sit on its hands.
"The current rules for foreign investment are outdated and fail to address Australia's modern food security needs. They will not protect our agricultural commodities from foreign control and/or marketplace domination.
"There is no doubt that foreign investment has been, and will remain, vital for the development of agriculture in Australia, but we need the information and policy controls to make necessary adjustments if this investment runs contrary to Australia's national interests.
"Following this report, Australians remain as much in the dark as we did before the Gillard government started this latest debacle."
RELATED ARTICLE: Foreign Investment concerns not settled yet: Farm groups