THE Federal Government has committed $66.6 million to help arrest the threat posed to Australia by the global advance of African Swine Fever.
Agriculture minister Bridget McKenzie said the government's focus was on keeping ASF out of Australia and the extra funding would put more officers, detector dogs and state-of-the-art x-ray machines on the front line at airports and other access points for people and imported goods.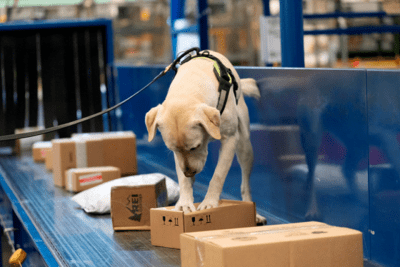 While the project is targeted squarely at addressing the immediate ASF threat, it will have flow-on effects in helping prevent the arrival of other exotic diseases, such as Foot & Mouth Disease.
An alarming number of detections of illegally imported food products carrying ASF and Foot & Mouth Disease have been made at Australian airports and postal facilities over the past year.
"If ASF gets in it could decimate our pork industry that contributes $5.2 billion to our farmers' hip pockets, regional economies and the nation's bottom line," Minister McKenzie said.
"Our agricultural sector, already battling drought, can't afford to take a hit of that magnitude. We export 70 percent of what we grow and we're in demand internationally because of our reputation for safe, clean and green food and fibre – a reputation built on our pest and disease free status."
"Right now the threat is ASF – there's no cure, no vaccine and about a quarter of the world's pigs have been wiped out because of it," she said.
Measures funded through the response package include:
130 more frontline biosecurity officers who will start to be deployed from January to do half a million more passenger screenings a year
Six new detector dogs to be deployed at airports and mail centres by July 2020
Two new 3D x-ray machines at Melbourne and Sydney mail centres to be deployed by July 2020
Biosecurity officers will have a new capability to issue infringement notices on the spot at airports.
A new biosecurity squad will be established onshore to check products brought into Australia for sale aren't fraudulently labelled.
Zoning arrangements will be developed to help support continued market access for our pork producers should the unthinkable happen and ASF reaches a part of Australia.
While the government's efforts were focused on meeting the ASF threat now, there were many other pests and diseases that could hurt Australia's agricultural sector, human health and our unique environment if they get past our borders, Minister McKenzie said.
"The task of maintaining biosecurity is growing and resourcing is not keeping pace," she said.
In the past nine years international passenger numbers had increased by 60 percent, shipping cargo had increased by 30pc and international mail items had increased by 170pc – and that growth was likely to continue, Minister McKenzie said.
The government is also proceeding with a biosecurity levy, in line with its commitment made in May 2018 and will legislate it next year. The new levy model will be developed in consultation with the importing industry and will be applied onshore to importers who use the biosecurity system.
Industry supports response
Measures announced today by the Federal Government to help mitigate the risk posed by African Swine Fever would also help protect the meat sector against other biosecurity risks, according to the Australian Meat Industry Council.
AMIC chief executive Patrick Hutchinson said the $66.6m funding was a decisive and welcome move, which would help the local sector manage the threat of ASF and other potential disease outbreaks.
However, he said that increased screening was only one part of the necessary response.
"ASF has the potential to wreak untold damage on Australia's pork industry so we certainly applaud the package announced today by the Agriculture Minister," Mr Hutchinson said.
"By stepping up efforts to keep out ASF we are also minimising the potential for other livestock diseases to make it past our borders. It's a good move in the right direction and a real recognition of the importance of protecting an industry that employs so many people and supplies meat domestically and to markets across the globe."
Mr Hutchinson said his members were pleased to see the government taking a proactive approach to ASF and other disease threats.
AMIC is the peak council that represents retailers, processors, wholesalers and smallgoods manufacturers and is the only industry association representing the post-farmgate Australian meat industry.
Source: Federal Govt, AMIC