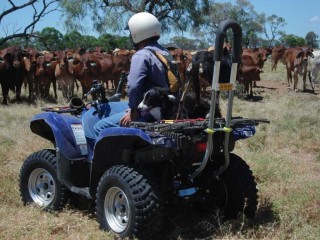 Crush protection devices will be made mandatory on all quad bikes used by Federal Government employees from this week, minister for employment and workplace relations Bill Shorten has announced.
Mr Shorten unveiled the measure at a forum of farmers, unions and industry representatives on the safety of All Terrain Vehicles (ATV's) in Melbourne last Friday.
The forum was designed to address the unacceptably high rate of injuries and deaths from quad bikes, and to look at practical measures that can be taken to improve the safety of the vehicles.
The Australian Council of Trade Unions used the forum to call for rollover protection devices to be compulsory on all new quad bikes sold in Australia.
ACTU Assistant Secretary Michael Borowick said there have been 160 quad bike fatalties in Australia since 2001, and 23 last year alone. Quad bikes are the single biggest cause of workplace fatalities on farms.
Half of the fatalities were from roll-overs occured when the victim was crushed or trapped by their quad bike landing on top of them, or pinned underneath a quad in water and drowned. Half of those killed on farms were children.
"Quad bikes have inherent problems with stability, with some evidence indicating that they may roll over even on apparently flat terrain," Mr Borowick said.
"The rate of fatalities could be dramatically reduced through the simple installation of a crush protection device – such as a u-shaped or T-bar shaped metal bar – which would reduce the risk of being crushed, with only minimal additional cost.
"Similar roll-over protection devices that have been compulsory for tractors since 1992 have reduced fatalities by 80pc, Mr Borowick said.
"We don't want to see quad bikes banned, but they must be made safer."
While stopping short of making rollover protection devices on new quad bikes compulsory, Mr Shorten said the Federal Government will initiate a program to retro-fit crush protection devices for bikes used by federal employers, and will introduce rider training.
The Federal Government will also work with other regulators to sponsor the development of a technical standard to underpin the design, manufacture, testing and installation of crush protection devices for quad bikes during manufacture or for after-market applications.
Mr Shorten said he believed the Commonwealth should take the lead on this issue, after years of warnings, extra training and recommendations for helmet use had failed to reduce the death and injury rate.
"Quad bikes might look safe and stable to the untrained eye, but they can roll and crush and kill and maim.
I believe the QuadWatch initiative, started in July, shows there is now a critical mass of experts and community groups which are determined to improve the safety of these vehicles."
Farmers at the forum opposed the mandatory fitting of crush protection devices (CPDs) to quad bikes, arguing it should be voluntary.
"The Victorian Farmers Federation has always argued that until the scientific evidence is in, it's up to farmers to assess the risks and make their own decision on fitting these roll-over protection structures to quad bikes," president Peter Tuohey said.
"That doesn't mean we support quad bike manufacturers, who've campaigned against CPDs in the past. It simply comes down to it being a matter of choice."
Mt Tuohey said the VFF did not want to see farmers once again wearing the regulatory cost of "yet another bureaucratic initiative".
"Whether it's the carbon tax, native vegetation rules or water reform, it's farmers that end up wearing the cost of new regulations.
"If Federal or state governments want CPDs fitted to quad bikes, then they should pay the full cost of buying and fitting them."
There are about 220,000 quad bikes in Australia, with up to 50,000 in Victoria. The VFF says that fitting CPDs and other roll over structures, worth about $500 each, to the nation's quad bikes would cost quad bike riders $110 million.
"The reality is we need decent research to determine once and for all the value of crush protection and other roll-over protection structures on Quad bikes, plus a decent national strategy on the issue, he said.
"I understand the NSW Government has initiated such research."
To review the Federal Government's QuadWatch discussion paper and have your say on how quad bike safety can be improved click here