BEEF and cattle prices are likely to come under some pressure in 2018 as international export competition intensifies and supply increases, Meat & Livestock Australia suggests in its 2018 Cattle Industry Projections released this morning.
The impact of this will partly depend on the level of restocker activity and strength of the underlying demand for beef in Australia and overseas, MLA says.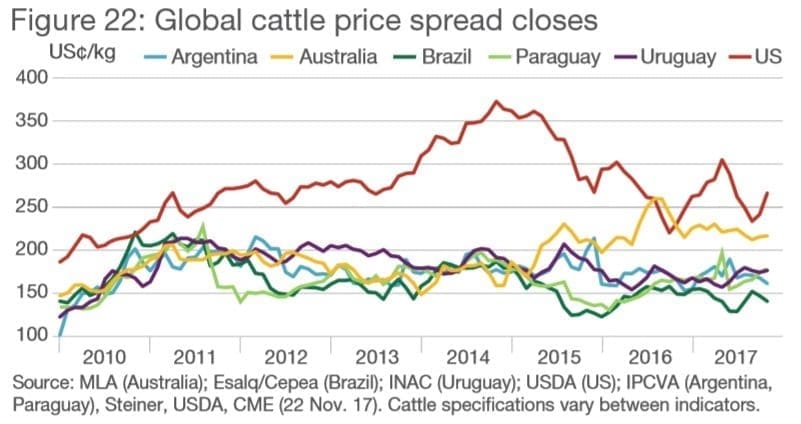 Australian cattle prices roughly realigned themselves with US beef and cattle prices in 2017. In US$ terms, the relative price difference between finished cattle in both countries returned to long-term averages with Australia at a 20 percent discount, after hitting a massive 57pc discount in the grip of drought (and record US prices) and a historic premium when both indicators crossed over for the first time in 2016.
While Australian prices appear to be back in sync with the US, currency movements and the rise in Australian cattle prices over the past three years have made South America a more competitive supplier to the global market, MLA said in the 2018 Projections report.
Up until 2015, Australian cattle prices tracked relatively closely to those in Brazil, Uruguay, Paraguay and Argentina, however Australian steer prices are now tracking close to a 50pc premium to those in Brazil.
Currently, the EYCI, heavy steer and medium cow indicators all remain below where they tracked this time in 2017, with finished cattle prices still historically high – above any level prior to mid-2015.
"Restockers have played a prominent role in the high levels the EYCI has maintained during 2016 and 2017," MLA said.
"There has been a recent shift in the price premiums that restockers typically pay between the northern and southern states, with Queensland the driving force while Victorian restocker demand has eased. The rally of the EYCI seen in October/November 2017 (from a two-year low in late September) with some good rainfall across Queensland and northern NSW demonstrate restocker intent given the right conditions."
In the November price rally, Queensland restockers showed their appetite, purchasing 52pc of EYCI eligible cattle in saleyards across the state after earlier rain, at a 54¢/kg cwt premium to feeders.
In contrast, Victorian restockers secured 14pc of the market and premiums to that of feeder buyers narrowed from 20¢ earlier in the year to 7¢/kg cwt.
Restocker requirements for cattle have lessened in Victoria as herds have been largely rebuilt. The state's herd size is forecast to return to average levels this year.
Queensland restockers may enter the market in force in 2018 if feed supplies allow, MLA said. However, this may pull both young and finished cattle higher, again potentially placing Australia out of sync with global competitors.
"As always, prices will be impacted both positively and negatively by a number of variables such as seasonal conditions, trading environment, currency fluctuations and the pace of recovery in Australian beef production," the report said.
Cattle supplies are likely to remain tight in 2018, with only a small increase expected in adult slaughter to 7.4 million head as the herd rebuild continues, the 2018 Cattle Industry Projections says.
MLA's market intelligence manager, Scott Tolmie, said the dry 2017 winter and spring across many parts of Australia saw a higher than expected turn-off in the second half of the year, temporarily halting the herd rebuilding efforts of producers in affected areas.
"This has meant many young cattle were pushed into feedlots in 2017 due to lack of decent pasture – stock that otherwise would have been finished in the paddock and come to market in 2018," Mr Tolmie said.
"This is part of the reason there is an expectation of tighter slaughter numbers than previously forecast in 2018, as these producers, particularly in Queensland, look to rekindle rebuilding efforts. If the three-month rainfall outlook from the Bureau of Meteorology comes to fruition for February to April, it is likely to see tight supplies in certain regions, particularly through the mid part of the year."
"This is being underpinned by restockers continuing to pay premiums in the young cattle market and increased US competition in key grainfed export markets."
Challenging year for exports
Mr Tolmie said 2018 was shaping up as a challenging year for Australian beef exports, with expected increases in production and exports from many major competitors, including the US and Brazil.
"Australian beef exports will be competing in a global market with a very strong supply of beef. With the increased supply, global beef prices should come under pressure, reinforcing the need for Australia to continually position itself as a superior supplier of high quality product," he said.
Australian beef exports are expected to increase marginally to 1.04 million tonnes shipped weight in 2018, in line with growing production. Although this increase is not much on 2017 and is down on 2013-2015 levels, it will still be bigger than any year prior to 2013.