At a time in Australia when climate change, agriculture, energy, water and environment policies are all at the top of the debate agenda, leading economists from around Australia and the world are meeting virtually this week for the 66th Annual Conference of the Australasian Agricultural and Resource Economics Society (AARES).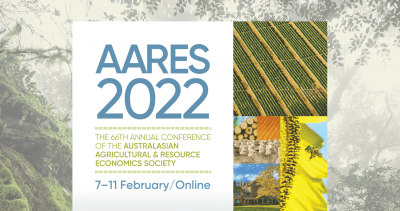 AARES is the pre-eminent society promoting research and tertiary education relevant to Australasia in agricultural, environmental, food, and resource economics and agribusiness.
The conference theme is Resilience in a Time of Uncertainty, and it aims to promote interest in and understanding of the current economic issues affecting primary industries, resources and the environment.
Distinguished international and keynote speakers  at the event, and their presentation topics include:
Prof Johan Swinnen, Director General of the renowned Washington-based International Food Policy Research Institute (IFPRI), addressing Transforming Food Systems Post COVID-19
Professor Paul Burke, Head of the Arndt-Corden Department of Economics, Crawford School of Public Policy, ANU will address Australia's Potential to Supply Zero-Carbon Energy to the Asia-Pacific
Professor Elizabeth Robinson, Director of the Grantham Research Institute on Climate Change and the Environment at the London School of Economics, addressing Climate Change and Health
Professor Will Masters, Professor of Food Economics and Policy in the Friedman School of Nutrition and the Department of Economics at Tufts University in Boston on Food Policy, Prices and Nutrition
Professor Anita Wreford at the Agribusiness and Economics Research Unit at Lincoln University will address Adapting to Climate Change in an Uncertain Future
Dr Svetlana Edmeades, Senior Agriculture Economist in the Europe and Central Asia Region of the World Bank will address Green, Resilient and Inclusive Agriculture: Walking the Talk
Professor Barry Goodwin, William Neal Reynolds Distinguished Professor, Department of Agricultural Economics and Graduate Alumni Distinguished Professor, Department of Economics at North Carolina State University on The Evolving Nature of Seasonality in Meat Demand
In addition to these keynote presentations, there are over 120 contributed papers across a broad range of energy, agriculture, development and environment issues.
The conference starts today and continues until Friday. For more information or to register click here