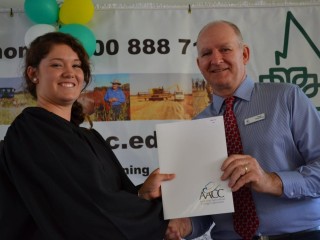 Staring into the abyss just 12 months ago, the future is suddenly looking much brighter for two key livestock industry training colleges in Queensland.
The Emerald Agricultural College and Longreach Pastoral College have played an integral role for more than 40 years in providing practical, skills-based training to young people entering agricultural industries.
For most of their history the colleges were run as independent, self-sufficient entities managed by local college boards. However, in 2005 they were merged by the then Beattie Labor Government to form the State Government managed Australian Agricultural Colleges Corporation.
The new management model failed, with an Ernst & Young report commissioned by the Newman LNP Government following its election last year showing the AACC made losses for seven consecutive years and racked up a deficit of almost $7m in 2012 alone.
The colleges were facing the very real prospect of closure, however the Newman Government announced last September that it would keep the Emerald and Longreach colleges open and return them to their traditional form as independent entities overseen by College Boards.
Full-time student numbers at Emerald averaged 43 for both semesters this year, however enrolments for 2014 have now increased to near 70, the college's director Tony Robinson told a recent AgForce cattle industry forum at Gladstone. Enrolments at Longreach are up to 45 students.
Mr Robinson said many factors were behind the revitalisation.
One of the biggest had been the restoration of previous levels of industry input to the colleges through the membership of the College Boards and through the active encouragement of feedback from industry and business representative groups.
The provision of five $10,000 scholarships each for the Emerald Agricultural College and Longreach Pastoral College by the Queensland Government also helped to create interest.
Mr Robinson and senior EAC staff have also left no stone unturned this year in ensuring potential students and their families know about Emerald as a possible place to study, directly marketing the college through career expos, school visits, social media and industry gatherings and forums, such as the recent AgForce Paddock to Plate event at Gladstone.
EAC has a surprisingly large cattle enterprise in its own right for a training facility.
It runs a herd of 4400 cattle, in addition to a 150 SCU feedlot, on 22,000 hectares spread across three properties – its campus at Emerald, Berrigurra at Blackwater and Narayen at Mundubbera. It also runs 100 horses and farms over 400 hectares of irrigated land.
The main courses include Certificate II, III and IV in Agriculture and Cert II and III in Rural Operations (specialising in Beef Cattle, Horse Breeding, or Broadacre Farming), and Diploma in Agribusiness Management.
Mr Robinson said that following extensive consultations with industry EAC has now developed a two-year, four-block program designed to equip students with generic skills in cattle, horse, cropping and mechanical/engineering knowledge, then to improve those skills in production enterprises (both on the college's three properties and through industry experience on other properties), and then ultimately moving on to specialise in their chosen field.
"This is what industry has identified as the most appropriate model for meeting their expectations," Mr Robinson said. "This was validated through numerous employer forums including over 60 people at EAC in 2012 for a workshop on key outcomes and expectations."
Cattle production studies are tailored around the college's two cattle stations, with students learning station routines such as checking waters, fixing fences, mustering, animal husbandry, contributing to maintenance of infrastructure, cattle selection, operating machinery, mixing feed rations, weighing and measuring cattle, preg testing and AI, and pasture/regrowth management.
Diploma studies also include the development of whole-of-property management plans, marketing studies, financial management and analysis among other disciplines.
"The future of the College is about ensuring that the courses being delivered are relevant for the industry and of a quality that will give graduates the level of skill and experience they need to get a start in the industry and at multiple points in the supply chain," Mr Robinson said.
"The College provides a unique environment to learn and build skills, to gain experience, and have opportunities to build a network of contacts.
"The College is well on the way to restoring its reputation with local decision-making and management, the emphasis is on being economically sound in our operations, maintaining the attractiveness of our courses through effective marketing, and providing the right courses for broadacre agriculture."
Mr Robinson said it was also important for the industry to support the training offered by the college by giving students work experience opportunities, weekend and holiday work, scholarship and bursary incentives, and, above all, by encouraging the younger generation to enter and stay in the industry.
"To many young people the bush is not seen as the place to be, it is tough and we have sold it that way," he told the recent AgForce forum.
"We haven't really said it is the place to be ourselves.
"We have to place a higher priority on attracting and retaining a workforce."