ABC TV's Landline program in Sunday focuses on (now) 28-year old Emily Anderson, station manager at CPC's Auvergne Station in the NT's VRD district. Beef Central wrote this extensive article last year, profiling how Emily has risen through the ranks at CPC from station cook to station manager in just eight years. The item attracted almost 20 reader comments. ABC Landline's segment on Emily airs from Noon on Sunday, August 20.
MEET 27-year-old Emily Anderson, who Beef Central believes is the first and only female to hold a beef cattle station management position with one of Australia's large corporate pastoral companies.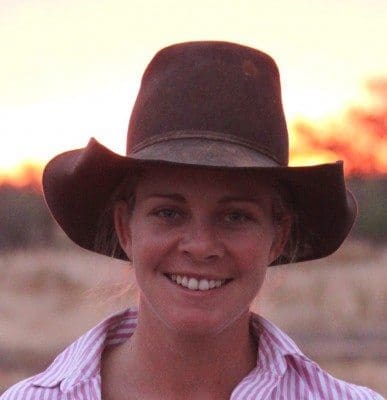 Reluctant as she is to draw attention to it, as manager at Consolidated Pastoral Co's Argyle Station in Western Australia's Kimberley, Emily is blazing a trial in the history of the extensive northern cattle industry that has for a century or more seen station management exclusively as a 'man's role.'
But times change, and with the rapid inflow of females into the northern cattle station workforce that's been witnessed over the past ten years or so, it was perhaps inevitable that a breakthrough like this would one day be made.
However it's not only her gender that makes her achievement noteworthy. At just 27 years of age, her rapid elevation through the ranks at CPC is remarkable, regardless of the gender issue. Emily is the second youngest of CPC's 20 station managers, who collectively have responsibility for some 375,000 head of cattle across holdings in the Northern Territory, northern Queensland and WA.
Recently married to helicopter pilot Henry Anderson, Emily (nee Bryant) admits she is still in the process of adapting to her married name, but was insistent that we use it for the purposes of this profile.
"Poor Henry!" she says, in light-hearted reference to her new husband. "I'm still finding it hard to break the habit of writing 'Emily Bryant' on everything."
Emily's father died when she was an infant, but her mother, Louise, stayed on in Mitchell to run the family service station business and raise Emily and her brother and sister. Emily remained surrounded by other family members with property connections, however, and spent much of her free time during her youth on properties around Mitchell and Injune.
Later her mother shifted the family to Toowoomba for schooling reasons, but every school holiday was always spent back in the bush.
Her connection with CPC first came about when elder brother Hugh took a job working with manager Tom Shephard at Humbert River, in the Victoria River District.
Emily had started a nursing degree when she finished school in 2005. "I was enjoying study and uni life, but I found out through my brother that there was a station cook's position going at Humbert River."
She decided to take a semester off uni and go cooking for six months in 2006. While at Humbert, she met Henry, who arrived at much the same time as a first year jackaroo. Cupid struck, and the rest is history.
After completing 18 months as station cook, Emily then graduated into Humbert's stock camp, where her real interest lay.
When manager Tom Shephard was transferred further west to CPC's Newry Station, Emily and Henry followed him across in 2011. By that stage, Henry was running the Newry stock camp, but he left in 2012 to earn his helicopter pilot's license, in order to following his passion to become a mustering pilot.
Emily herself was appointed head stockperson in his place, running the camp at Newry in 2012, before transferring to Argyle Downs, on the edge of the Ord Irrigation Scheme, as overseer in 2014.
Her historically-significant appointment as manager of 1000sq km Argyle Downs came in May last year. In a classic rags-to-riches story, she had gone from station cook to station manager in just eight years.
Argyle is an important cog in the machine that is CPC's northern supply chain, turning off 8000-10,000 head annually into to the live export market in South East Asia.
Even bigger challenges lie ahead
As part of CPC's management redeployments this year, Emily is moving on from Argyle to take up the even larger role as manager of 4100sq km Auvergne Station in the NT's VRD district, running about 30,000 cattle.
'It will be a change going back to breeders again, having worked with dry cattle at Argyle, but I'm definitely looking forward to it," Emily said.
So was she conscious that she was blazing a trail when appointed as Argyle manager last year?
"I often get asked questions around the subject of being a female manager in this industry," she said. "But apart from that, it's easy to forget the gender aspect altogether. I'm certainly not conscious of it on a day-to-day basis."
"It's just not an issue, because in my own mind, I do not separate myself in any way from the other CPC managers in that sense. I don't feel that staff treat me any differently because of it, and I certainly do not believe I treat them any differently, either," she said.
"I don't go out of my way to 'speak loud and proud' about being a female in this role, but equally, I have confidence in my ability to fill this task as well as a male. But I do feel privileged that CPC has given me so many opportunities in this space, despite the historic gender issue. The company is my first and only employer, and they have been very good to me."
So does Emily think she bring a different suite of skills to people-management than a male equivalent might?
"I think everybody brings something different," was her response. "I like to think I'm firm, but empathetic in the same sense. There may be a maternal instinct there, but I certainly do not see that as a flaw, or a drawback."
"The biggest thing I strive for in my job is getting the best from my staff. They drive everything in a business like this. In my opinion, managers will never stop learning in this area: there is always scope for further improvement in reading people and effectively managing them. But it is an area I personally focus on, a lot."
"There's nothing more rewarding than getting a bunch of fresh recruits at the start of the year, and noticing just how much difference and improvement there is in them between first and second round musters."
She said as a company CPC put a lot of focus on training and developing staff, and it was one of the reasons why the company had such a high staff retention rate.
"It's people that keep the wheels turning, and along with WH&S, training is an absolute priority. The list of courses that staff can do – everything from preg testing to horsemanship, shoeing schools, or welding – is as long as your arm."
Her shift in coming weeks from Argyle to Auvergne will see Emily's staff numbers more than double to 14, but she is looking forward to the challenge. Of those, five of the team at Auvergne this year will be female.
Extraordinary as it may sound, nearly 70 percent of applicants when CPC seeks recruits each year are now females, and about 40pc of all current full-time staff are from the fairer sex.
But would Emily have risen through the ranks quite as quickly as she has, if she had been in the same circumstances a decade or more ago?
"Highly unlikely," she said. "There's definitely been a significant cultural change at pastoral company level – not just at CPC, but across the industry. Fifteen years ago, there wasn't a female in a stock camp in the Territory. The stock camp was not considered to be an appropriate place for a girl. Even the camp cooks were males."
So what's been the catalyst for the change that's occurred?
"Good question. I don't think there's been a single factor. It wasn't just the difficulty in sourcing labour in the bush, for example, but everything has just become a lot more equal," Emily said.
"The only aspect that females may struggle with in the station setting is the odd occasion that just requires brute physical strength. But for the great majority of tasks in station work, there is no difference in whether it is carried out by a male or female. For what they may lack in outright strength, I think they definitely make up for in other ways – attention to detail, multi-tasking, even aspects to do with empathy with fellow employees."
Managing the 'reversed roles' dynamic
Another common question is how the dynamic between Emily and husband Henry works out, give their respective roles.
It would possibly be harder if they both worked in the same business, Emily conceded, but Henry now works with Top End Mustering, out of Kununurra. While he bases his Robinson helicopter and lives out of Argyle (soon to be Auvergne), his only work with CPC is as a contractor, providing chopper mustering services. But equally, he contracts for other cattle producers in the region, and is often away.
"But he definitely cops it a bit, being ribbed about working for the boss," Emily said. "And it is somewhat unusual – the relationship is completely back-to-front compared with many other couples. But it was not a conscious decision that we would not work for the same company – it's just happened that way with his moving into helicopters."
Asked where she saw herself in ten years, Emily said she would like to think she is still at Auvergne, doing much the same as she will be this year. "I love the hands-on, operational role. Eventually I will have to slow down, but home's up in the north for us now. Whatever I'm doing, it will still be within the beef industry."
As if she does not have enough on her plate this year in managing Auvergne's day-to-day operations, a fixed-wing aircraft license is on the 'to do' list this season, likely between the two mustering rounds.
"Auvergne's the sort of place that you can spend six hours just getting out to check some waters and coming back. Being able to fly will be a big asset, and will save huge amounts of time. It's going to be a busy, challenging, exciting year," she said.
Rising Champions experience
In July last year, Emily was selected as the WA finalist for the 2015 NAB Agribusiness CCA Rising Champions Initiative. She was one of seven young beef industry stakeholder participants in the program – an experience she described as "unreal."
"Our visit to Canberra in August made me realise how little I know about the politics and policy-setting that goes on behind the scenes at federal level in our industry. Perhaps the biggest highlight was the opportunity to sit around in Barnaby Joyce's office in Parliament House and fire questions at him left, right and centre about agriculture and how it interacts with government."
"We met and interacted with some very high calibre people as part of the Rising Champions visit, and learned so much in short space of time."
Emily's achievements were recognised at CPC's annual staff conference awards evening in Brisbane recently (see earlier story here), where she was presented with the company's Ambassador of the Year award, as well as collecting the Station of the Year award on behalf of her team at Argyle Downs.
CPC chief executive Troy Setter told Beef Central that among her qualities, Emily was a very good communicator – not only with her own staff, but up the chain to her regional general managers and at head office level.
"She has certainly gotten to where she has on merit. Whether she was male or female would not have mattered," he said.
"She's still very hands-on with her team in the yards, but combines that with modern station management skills with focus on financial management, environmental responsibility and managing and meeting KPIs."
CPC did not believe there should be any barriers to female management in agribusiness in this day and age, Troy said.
"At one point, part of the move to more females being seen in agribusiness may have been the challenge in getting good staff. But equally, there's been a huge upsurge in interest from females looking to get involved in our industry," he said.
"Look at the number of female uni graduates in agribusiness these days, and many have a specific an interest in animal production. As staff, we find the girls to be gentle on machinery, good with quality assurance and record keeping, reporting and safety issues. The same traits are seen in female pen riders which are now commonplace in the feedlot industry – it's that attention to detail."