France is about to enact a ban on the use of terms like steak and sausage when describing plant-based animal protein alternatives.
France will become the first European Union country to ban the use of words associated with meat protein from being applied to plant-based food, following an official decree published on Thursday.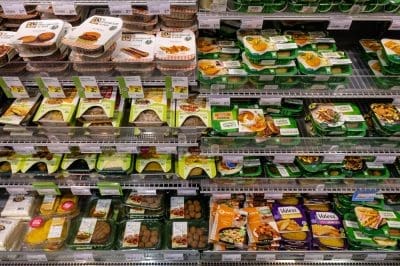 The ban, which was originally agreed-to in 2020, will go into effect in October, according to Reuters and German public broadcaster, DW.
"It will not be possible to use sector-specific terminology traditionally associated with meat and fish to designate products that do not belong to the animal world and which, in essence, are not comparable," the official decree reads.
The regulation only applies to products made in France, and the country's powerful FNSEA (National Federation of Agricultural Holders' Unions) farm lobby group said it did not go far enough, as it left the door open to such products produced outside France.
The FNSEA said similar laws should be enacted at the Europe-wide level, but the EU rejected a similar proposal in 2020.
Some terms, such as 'butter,' 'milk,' and 'cheese are already protected within the European Union, and cannot be applied to plant-based products. Words like 'burger', however, are allowed to be used on meat alternatives across the EU.
French meat industry association Interbev welcomed the implementation of the law.
"This provision is a first step on French territory, a pioneer in the protection of its names, which should be extended at European level," it said in a statement.
The word 'burger,' used by many plant-based brands including Beyond Meat, Impossible Foods and Burger King to attract consumers, would still be allowed as it does not specifically refer to meat, an Interbev spokesperson said.
In February an Australian Senate Inquiry into meat labelling handed down a series of recommendations stating that foods that do not contain beef, pork, chicken or lamb should not be able to use words like beef, pork, chicken or lamb in their packaging or labelling.
The committee's report did state that products made from plants could use utility terms such as pattie, mince or sausage, which give a consumer clarity on how they can be cooked and used, while specific meat category brands such as beef, lamb or even Wagyu be restricted to animal protein products only.