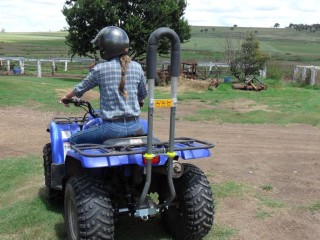 Improved quad bike safety will be the focus of the 10th annual National Farm Safety Week which starts today and runs until Friday.
National Farm Safety Week is an initiative of Farmsafe Australia, aiming to raise awareness of farm safety issues in rural communities across Australia.
Farmers and graziers are being urged to take more care on their four-wheeled ag bikes during this year's National Farm Safety Week, as the number of fatalities from quad bike accidents reaches 12 deaths so far this year.
"In the past 10 years, more than 130 lives have been tragically lost on Australian farms due to quad bike accidents," National Farmers' Federation chief executive Matt Linnegar said.
"Quad bikes are an important piece of farm machinery, but they can also be dangerous when not operated safely or correctly. They are the leading cause of on-farm vehicle-related deaths in Australia and the main cause of fatal injuries in children aged 5-14 on properties," he said.
"Sadly, too many lives are lost in preventable farm accidents, and we are urging farmers, their families and workers to take care."
National Farm Safety Week is about raising awareness of farm safety issues among rural communities and helping to reduce the risk of injury and illness. This year, the focus is all about quad bike safety, and FarmSafe and the NFF are encouraging all farmers to access relevant training, follow safe work practices and always wear suitable protective clothing, including a helmet.
"We hope the incidences of quad bike accidents can be greatly reduced by farmers adhering to some simple rules, like not overloading quads, ensuring they're used for the intended purposes only, and not allowing children under 16 to operate them," Mr Linnegar said.
Farming communities needed ready access to improved education and training in farm safety to reduce the risk of injury and illness associated with agricultural production, Ag minister Joe Ludwig said.
"Government and other agencies play important roles in supporting farmers to improve their health and safety. The wider community can also help by developing a culture of safety in rural communities and the networks that support farmers and their families," he said.
National Farm Safety Week runs from 18 – 22 July.