TEYS Australia yesterday announced the establishment of a formal dispute process to manage claims by cattle suppliers over perceived inaccuracies in meat grading and related matters that can impact on a producer's bottom-line in direct consignment cattle transactions.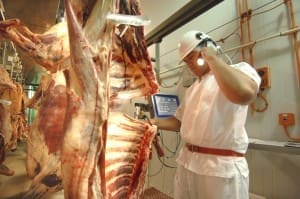 The process was announced at a large producer information forum in Biloela, which drew more than 300 stakeholders from across a large part of Central and southern Queensland.
The move follows earlier concerns expressed by cattle producers – some of which were relayed through the recent Senate Inquiry intro meat processing – over claims of inconsistent or inaccurate MSA or AusMeat grading, irregularities over carcase weights and related issues in abattoirs.
The Canberra sitting of the Senate inquiry in late August produced a concession, under vigorous questioning, that there was no formal dispute settlement process in place to handle such matters at Teys Australia. The question was not put to JBS Australia, which gave evidence immediately afterwards.
Teys managing director Brad Teys told the inquiry that while the process in his company was not formalised, such claims from producers – as few as they might be – were treated with due respect and attention, and handled personally by livestock general manager Geoff Teys.
Speaking in Biloela yesterday Geoff Teys said the company had not previously had a formal complaints procedure, but was now in the process of implementing such a system.
"We're listening to people. Some people giving evidence at the senate inquiry were obviously unhappy about grading issues, so we are responding to it," he said.
"I have personally looked after any complaints from livestock suppliers over grading or pricing matters over the past 45 years."
"Matters where anybody felt they had a complaint, and were unfairly dealt with through our grids has been addressed by me. I can't change the grade, and I can't shift the grid parameters, such as a case where a carcase might be a kilo outside the prescribed weight ranges. But we really are taking this seriously, and always listen to producer concerns," he said.
"In those isolated cases where our staff make mistakes in weighing, doing dentition, fat measurements or whatever – it does not happen very often, but it does happen – wherever there is any doubt, we have always erred on the side of the producer."
"But given the recently expressed concerns surrounding the grading and carcase assessment consistency, we're proud to announce the introduction of a formal complaints handling procedure, which will be launched later this year," Mr Teys said.
The procedure will give producers with a complaint two options:
They can continue to make the initial approach direct with Teys, if they prefer, with trained personnel in both northern and southern processing operations in place that producers can ring, if they have a complaint about their grading result.
Alternately, producer suppliers will now have the option to go direct to an independent third-party to register their complaint and get any review process underway, if considered necessary.
"Under the first option, if we can handle it ourselves we will, but if not, as we have done in the past, we'll bring in an independent third party straight away," Mr Teys said.
He used an example of a complaint at the end of last year over meat colour, over which the company had brought in MSA and AusMeat personnel straight away to investigate what was going on.
"We investigated it fully, to make sure it was right. Our integrity is number one, and if there is any doubt over the problem, we'll bring in a third party."
Mr Teys said in his experience, most issues that arose were 'minor', that could be fixed easily and quickly. "But if there's something we can't explain, we'll go straight to an independent arbiter," he said.
More at stake in grid pricing
Responding to questions from the floor during yesterday's Biloela forum, Cattle Council of Australia president Howard Smith a lot of the 'angst' that had been expressed recently over grading accuracy issues was due to the ever-widening premiums/discounts attached with slaughter cattle, under brand programs for specialised market segments.
"Years ago it was only 5 or 10c/kg if your cattle fell in or fell out of a grid," Mr Smith said.
"But now penalties in some cases it can be up to 100c/kg, and all of a sudden people are paying attention," he said.
"It's moved very quickly, and a lot of people don't understand the grids, especially when they sign up for programs like MSA."
Is third-party grading an option?
Responding to questions, Mr Teys said as part of his company's move to Value-Based Payment systems (see yesterday's initial story), he had considerable faith that new technologies would provide a strong role in such grading dispute settlements in future.
Asked by AgForce cattle president Bim Struss whether Teys would consider adopting third-party independent graders, instead of company-based grading staff, he said the company had in fact considered it, at the end of last year.
"There is a third-party grading system that we could put in place. But apart from the cosniderably greater cost involved, we believe that this new carcase assessment technology, that's going to come-on very, very quickly, is going to be a better solution.
"In the near future, it won't be a person grading the meat colour or fat colour, it will be a machine or a camera. And it will be able to produce a photograph for each carcase, to prove it."
"Until this new technology is implemented, we're confident that the new dispute settlement process will cover such matters. We're asking producers to hold on, because we think there is something far better coming."