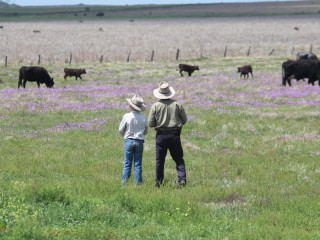 A national register of foreign investment of agricultural land must be established to protect Australia's food security, a major Australian farming group believes.
NSW Farmers said it welcomed the Federal Government's announcement of a bi-annual survey by the Australian Bureau of Statistics to build transparency about foreign investment in agriculture.
However it said a register of foreign investment was also needed to stay on top of creeping investment activity.
"While we don't oppose foreign investment, we are concerned about the creeping acquisitions and the possible effects this could have on food availability for Australian consumers," NSW Farmers CEO Mat Brand said.
"A register would provide policy makers with a current list of foreign investment activity in Australia on a regular basis.
"The concern with the ABS survey announced today is that it will be post effect. That is, the foreign investment would have occurred for it to be recognised in the survey and therefore will be too late to undo."
NSW Farmers was also disappointed the Federal Government has not recommended a review of the current threshold of $231 million.
"Under current laws, foreign companies are able to purchase Australian land up to the value of $230 million without being scrutinised by the Foreign Investment Review Board (FRIB)," Mr Brand said.
"With the average land value of property in NSW varying from $600,000 to $1.5million, depending on the agricultural enterprise, the $231 million threshold currently represents a significant parcel of land before a review is triggered.
"Many countries have safeguards in place, and Australia needs to take more action to manage its food security issues. The United States has a register and in New Zealand the purchase of anything greater than 5 hectares needs approval," Mr Brand said.
The National Farmers' Federation said the clearer picture of foreign investment in Australia released today was today was a good 'first step' in dealing with a contentious issue.
"Now that we have the data, the Government has made some decisions about how to address this issue – and now is time for the debate," NFF president Jock Laurie said.
Mr Laurie said the Government's decision to retain the requirement for foreign commercial entities to be referred to the FIRB only if they exceed the $231 million cap was an area of concern.
"This issue remains a concern for NFF members who are not entirely convinced that the FIRB threshold and processes are stringent enough," Mr Laurie said.
"We need solid guarantees that state owned enterprises masquerading as commercial entities, as well as creeping acquisitions, do not slip through a loophole in the reporting requirements.
"We also be seeking from Government confirmation of the ACCC's escalated role in maintaining competition in the marketplace for food and fibre produced in Australia.
"Australian farmers have legitimate concerns about the issue of foreign investment in agriculture, and as the ABARES report confirms, this appears to have escalated in recent times.
"Historically, foreign investment has been very positive for farmers – but, as we have said for some time, it is the new wave of foreign investment into agriculture for the purpose of food security that is of most concern."
AgForce said foreign investment has, and will continue to be, an essential part of Australian agriculture as it brings much-needed capital and innovation to our farm sector.
However the Queensland-based farm organisation wants to see greater scrutiny of the ownership structure of overseas companies to ensure foreign governments aren't secretly bank-rolling the purchases of our farm land.
"What we are concerned about is the anecdotal evidence that 'sovereign' investment – or foreign governments buying Australian farms – is on the rise and the potential impact that has on domestic food security," AgForce chief executive Robert Walker said.
"That type of investment is targeted at growing food for their needs, not ours and we have to ask if that's in the national interest."
"We also note with some concern that in dollar terms, mining companies accounted for 60pc of the foreign purchases of farmland in Queensland in 2010. A major amount of that land will be taken out of production which further impacts on Australia's food security."
AgForce also wants the investment thresholds that trigger a Foreign Investment Review Board (FIRB) investigation lowered to a more realistic level.
"FIRB only examines foreign investments over $231 million, allowing any purchases under that level to 'fly under the radar'.
"We believe the trigger should be in the order of $15 to 25 million, which is three to five times the average Queensland farm value."
AgForce is disappointed the Federal government hasn't included stronger measures in its response to the ABARES report, and fulfilled its intention to create a national register of foreign purchases.