A GROUP called Food Frontier has come to greater prominence in the agriculture sector in recent weeks as debate has risen around how plant-based protein alternatives to meat should be labelled.

It is an issue many in the meat sector take seriously and feel strongly about, expressing concern about seeing large commercial food manufacturers develop and market food products with labels including terms such as beef, chicken and pork, despite containing no meat.
From descriptions on its website and public statements by its leaders, Food Frontier is an independent think tank, an expert advisor and an educator established to champion plant based and lab grown alternatives to meat in Australia.
Since it was established around 2017 Food Frontier has funded a range of reports to support the uptake of plant and cell based alternatives to animal protein, has positioned itself as a go to source for media commentary in favour of plant-based proteins and has gained representation on agricultural working groups discussing truth in labelling policy.
Alternative protein charity
How Food Frontier itself should be labelled has also generated some discussion in recent weeks, with the group objecting to being referred to as a lobby group for the plant based protein sector and an anti-meat activist group.
We  described Food Frontier as "a lobby group" for the plant protein sector in an article about the truth in labelling issue that followed a Beef 2021 forum.
Food Frontier responded with an email informing us they are not a registered lobby group,  but a not-for-profit, independent think tank.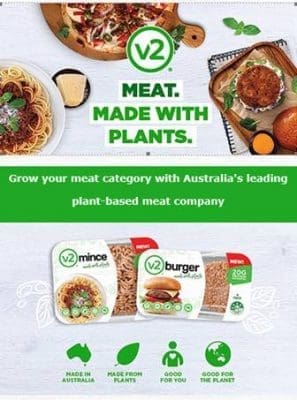 We have to admit we didn't really see what the difference was, so asked Food Frontier if it could explain that further and answer a few other questions about what it does in more detail – see our questions to the group and its full responses published below this article.
The experience did prompt us to look a little more closely into Food Frontier and we were somewhat surprised to find that a group that exists to promote a particular type of food, alternative proteins, has been granted registered charity status by the Australian Charities and Not for Profits Commission (ACNC).
Food Frontier is recognised as a 'health promotion charity' according to the ACNC website and is listed as an institution "whose primary activity is to promote the prevention or control of diseases in human beings (Health Promotion Charity)".
Supporting documents describe Food Frontier Institute Pty Ltd as a company established for the public charitable purposes of "advancing health, ensuring future food security, reducing animal suffering and preventing environmental damage".
"The principal activity will be to promote the prevention and control of cardiovascular disease, bowel cancer and type 2 diabetes, by: (a) increasing awareness of the research demonstrating consumption of animal products as a major contributing cause of these diseases; (b) encouraging consumers to reduce consumption of animal products; and (c) promoting and supporting the increase in supply of healthier alternatives."
New council to give Alternative Proteins a collective voice
Food Frontier explained in its initial email to us explaining that it is not a lobby group that it and a group of leading plant-based product manufacturers have collectively established a new representative group called the Alternative Proteins Council (APC).
The intention of this group is "to ensure the collective voice of the plant-based products sector remains strong and unified on matters of mutual interest, including the development of plant-based product labelling guidelines".
The Food Frontier spokesperson added that clear food labelling "is critically important".
"All Australians should have access to simple, easy to understand, concise information," the spokesperson said.
"Plant-based meat alternatives stocked in the supermarket today carry highly visible product claims: '100% plant-based', 'beefless burger', 'vegie mince' and 'meat-free sausages' to name a few. Similarly, plant-based dairy alternative like 'soy milk' and 'coconut yoghurt' use the same approach. Food Frontier supports the use of these clear qualifiers on plant-based products, which are proven to work, just as 'chicken sausages', 'pork mince' and 'lamb burgers' are used by animal protein equivalent products."
"It is worth acknowledging that the benefits of participating in the plant-based meat alternatives industry are open to all primary producers, not just existing legume growers, with many farmers operating mixed livestock and cropping properties for example, able to supply this sector."
Association with anti-meat brands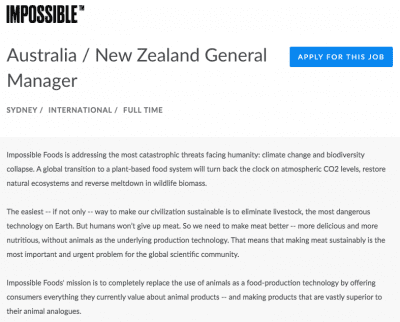 While Food Frontier characterises its activities as non-threatening and even complementary to the meat industry, red meat industry leaders take a different view and believe there is more to the story of how Food Frontier operates and what its true aims are than its public statements suggest.
In a media release issued earlier this week the Red Meat Advisory Council drew attention to Food Frontier's close association with groups like manufactured plant protein company Impossible Foods, which is a member of the newly formed Alternative Proteins Council.
Impossible Foods in a recent job advertisement described livestock "as the most dangerous technology on Earth" and its stated mission is to "completely replace the use of animals as a food-production technology".
RMAC also pointed to Food Frontier CEO Thomas King's background campaigning for Animals Australia, suggesting Food Frontier is at its heart an anti-meat activist group.
We asked Food Frontier a series of questions this week about how it operates, why it has sought charitable status, how it is funded, whether it sees itself as an anti-meat organisation and its views on labelling of plant based alternative proteins which are published below, along with Frontier's responses in full.
Questions and answers
You mentioned (in an email to Beef Central) that your group is not a lobby group as described in our earlier article about a discussion at a Beef 2021 forum, but a not for profit independent think tank. From my reading of your organisation's public messaging on your website and elsewhere it does seem like your singular focus is to promote alternatives to meat – ie your website says Food Frontier was founded to "champion" alternative proteins, the company's stated purposes include "encouraging consumers to reduce consumption of animal products" and "promoting and supporting the increase in supplier of healthier alternatives" – statements like that do sound like you are a lobby group, as in you are lobbying to influence government and the public on this particular issue. Can you explain further what the difference is between a lobby group and an independent think tank?
As an independent think tank, expert advisor, and the lead educator on alternative proteins in our region, Food Frontier is focused on highlighting the economic, environmental, and public health benefits of alternative proteins.
We are not lobbyists, and our activities are standard of any not-for-profit, as evidenced through the programs and publications available on our website. In our primary role as a think tank, we provide data, advice and introductions through research reports, partnerships, and events, as well as direct engagements with key stakeholders.  Food Frontier's heavily cited reports have focused on economic analysis (produced with Deloitte Access Economics), consumer behaviour, and nutrition.
Our engagements span the entire supply chain, from farmers and their representative bodies, such as our strong relationships with the National Farmers Federation and NSW Farmers through the Future of Protein Forum, through to ingredient processors, manufacturers and retailers.
We also provide evidence-based submissions to government processes on a variety of subjects, from free-trade agreements through to labelling matters. These reflect the same form of engagement as other charities, universities, think tanks and research organisations.
Food Frontier is listed as a registered charity – link here – can you provide more details on why Food Frontier is not just a not for profit but also a registered charity and on what grounds it claims charitable status?
Food Frontier is a not-for-profit business and a registered charity that meets all of the governance standards required by the ACNC including:
be not-for-profit
have only charitable purposes that are for the public benefit
comply with the ACNC Governance Standards
comply with the ACNC External Conduct Standards
not have any disqualifying purposes (which are engaging in, or promoting activities that are unlawful or contrary to public policy; and promoting or opposing a political party or candidate for political office), and
not be an individual, political party or government entity.
There have been claims made that Food Frontier is effectively an anti-meat organisation, based on recent reports that one of the members of your policy forum, Impossible Foods, is actively publishing statements that "livestock is the most dangerous technology on Earth", and that your founder Thomas King was an Animals Australia campaigner. Is Food Frontier fundamentally an anti-meat group?
Attempting to label an organisation of people who eat meat as having an anti-meat agenda is nonsensical.
To suggest that new protein industries will come at the expense of our traditional ones reveals a fundamental misunderstanding of what will be required to feed a world of 10 billion people by 2050 with finite resources.
Diversification of the global protein supply is inevitable to meet rising demands, according to the world's top food systems, sustainability, and economic development authorities [UN Food and Agriculture Organization, Intergovernmental Panel on Climate Change (IPCC), the University of Oxford's Environmental Change Institute, the World Economic Forum].
It is this data that informs Food Frontier's approach to supporting alternative proteins which are both necessary and complementary to traditional industries in meeting global protein demands. This data has also been widely recognised by many across Australia's national science, research, agriculture and food agencies, who have acknowledged the need for Australia to make new investments to remain competitive in a changing global protein market – as we see in CSIRO's Future Protein Mission, AgriFutures 2020 report on protein diversification, NSW Farmers policy position on alternative proteins and more. Our engagements with farmers, including those in the sheep and beef industries, have been some of the most rewarding. In our experience, as forward-thinking business people, farmers want to understand current and expected developments in the sector, and there's a lot to be explored, as we are doing in the Future of Protein Forum. Any suggestion that highlighting the benefits of alternative proteins is "anti" traditional protein industries is simply wrong, especially considering Australia's growing export potential in both industries as populations, prosperity and protein consumption in our region continue to rise.
Thousands of Australian primary producers stand to benefit from the growth of the alternative proteins sector.
Our work is based on evidence, not ideology; and the evidence shows greater consumption of new protein sources will be essential to feed the world's population into the future – market growth that the Australian agri-food sector can capitalise on. We welcome those across the sector to join the constructive, evidence-based dialogue underway as our team continues our efforts to unite forward-thinking leaders across food and agriculture to seize the multi-billion-dollar opportunity before us.
RE: our CEO's background
Food Frontier's Founder and CEO Thomas King has spoken on many occasions about his advocacy work across several non-profits during his teenage years. Thomas has been involved in initiatives from conservation, to animal welfare, to poverty alleviation spanning five continents. His work has been widely recognised with honours such as being named VIC Young Australian of the Year in 2015 and a Myer Innovation Fellow in 2019.
After recognising the value alternative proteins can bring to creating a safer, more sustainable global food supply as protein demands increase, he established Food Frontier and has hired an exceptional team of food, agriculture, research, and policy professionals, who have collectively worked across meat and livestock sectors for Australian Pork and Elders, as well as for Hort Innovation and global FMCG (fast moving consumer goods) and retail companies.
Thomas's work in the non-profit sector over the past 11 years demonstrates his desire to help create a better future for people, other species, and the environment we all rely on.
To suggest that caring about animal welfare is somehow at odds with contributing positively to the Australian agri-food sector is a ridiculous notion that we would reject outright.
RE: Impossible Foods
Food Frontier works with a broad variety of businesses, policymakers and agriculture sectors that bring varying perspectives and approaches to their engagements in alternative proteins.
The perspectives of companies within this field won't always reflect ours – as an independent think tank, our approach is focused on delivering research, insights, and introductions to help Australian leaders better understand emerging protein industries and the opportunities they present, as well as direct engagement with the domestic alternative proteins ecosystem.
If Food Frontier only worked with organisations that share its views, it would be unable to effectively facilitate conversations and collaboration across the entire agri-food supply chain.
Food Frontier's website says it is funded entirely philanthropic donations. Is Food Frontier able to provide any further information on who its major funders are, i.e. does it receive any money from commercial entities selling plant based products?
Food Frontier's work is made possible by donations and grants from a range of foundations, philanthropists, and members of the public, all who recognise the critical importance of creating a more diversified protein supply.
Our work has been supported by groups including the Lord Mayors Charitable Foundation and the Sidney Myer Fund, through the Kenneth Myer Innovation Fellowships.
As a registered charity, we are not funded by commercial entities.
In response to your point (in an email to Beef Central) that "plant-based proteins comprise a new, high value sector of Australia's broader food system, complementing Australia's collective food product offering to both domestic and global consumers and enabling our country to increase the production and export of our protein products [alongside conventional meat products]". Is Food Frontier able to shed any light on whether plant based protein alternatives to meat currently selling in Australia are produced with Australian grown plants such as soy etc or whether they are imported and or made with imported ingredients?
As an organisation that strongly supports regional Australia, our interactions are aimed at understanding and educating the broader supply chain on the opportunities alternative proteins present to farmers, manufacturers, and consumers, including the ability for Australian growers to supply ingredients into a new, value-adding supply chain. The benefits to the Australian farming sector of value-adding crops like pulses and legumes to create ingredients for products like plant-based meat – instead of farmers selling their produce into volatile commodity markets – is becoming more widely recognised.
Food Frontier has formed excellent relationships and alliances with agricultural bodies across Australia, who recognise the critical importance of investing in and establishing the necessary infrastructure for a domestic plant protein supply chain that can open this opportunity for our farmers.
As reported in our 2020 State of the Industry, from 2018-19 to 2019-20, Deloitte Access Economics estimates the volume of plant-based meat manufactured in Australia increased 70 percent, with leading companies indicating their desire to use more Australian ingredients in their products.
There are various discussions currently underway amongst governments and the private sector to enable investment in regional areas to build this infrastructure, along with R&D across academic institutions to understand the scope of protein crops currently being produced (or with potential to) in Australia that can be future inputs to a high-value plant protein supply chain.
Red meat industry leaders have said they have no problem with plant-based proteins selling their product but they should not be able to use words like meat, beef, chicken in their branding. This is not just because of potential confusion but they make the point that these are brand categories the meat industry has invested heavily in to build and develop over the years and plant-based competitors should not be able to 'piggyback' off that work. What is Food Frontier's view on that?
The Australia New Zealand Food Standards Code enables the use of widely understood terms such as "meat" with a clear qualifier such as "plant-based" or "meat-free" to indicate to consumers the product's ingredients.
Research indicates that plant-based alternatives are selling well, not because people read the labels incorrectly, but because they want to purchase plant-based products.
We fully affirm the critical importance of clear and accurate labelling to inform consumers. The ongoing regulation of labelling via the Food Standards Code, Australian Consumer Law and ACCC has shown the plant-based products sector has adhered to labelling requirements over its existence in our market.
It should also be noted that the recent labelling working group established by the Minister for Agriculture failed to identify any substantive evidence of confusion over product labelling amongst consumers, which is the group that food regulation exists to serve.