AS THE world starts to recover from the COVID pandemic era, the Australian beef industry's future lies in a 'flight to quality', an industry webinar heard on Friday.
Meat and livestock industry analyst and commentator Simon Quilty from Global Agritrends, said it appeared that a two-speed recovery was taking place, as the world moved into the post-COVID cycle.
"You can either stay in the bottom speed, which I don't advise, or the top speed, where the real opportunities are," Mr Quilty told Friday's Agriwebb webinar.
The US and Australian beef industries were in the 'fast lane,' while other large beef exporters Brazil and India were in the 'slow lane,' with falling export prices.
"Right now, we are at a record spread between the value of Australian/US beef, and that from Brazil and India," Mr Quilty said.
"Why is that? Because of those three months last year when Brazil had no access to China, and nor does India have access. As a result they are both suffering badly, whereas Australia (with some limitations) and the US does have access to the China market."
"That is the difference – the access to China provides that extra fourth player in the market, which is really driving prices at the high-end of the beef export market."
So why has China become so important?
Last year, China spent $28.9 billion on beef, pork and poultry imports, after the earlier impact of African Swine Fever, losing 60pc of their pig herd. The rest of the world stepped up, and (partially) filled China's protein needs for beef, chicken and pork, Mr Quilty said.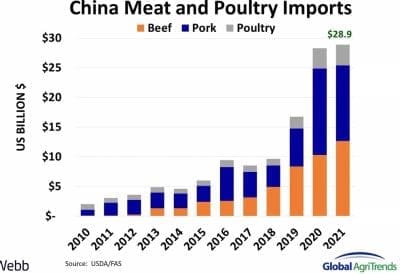 But beef had really been the good news story. As the graph below shows, since 2018, beef prices in China have continued to move higher in price, while poultry has remained flat, and in the past 12 months, pork prices have collapsed.
"To me, beef prices in China are not going any lower, and will only move higher over the next 12 months," Mr Quilty said. "That in turn has seen a dramatic turn in global meat demand, and indeed in all soft commodities, including cereals, dairy and meat."
"That's part of the inflationary super-cycle we are in the middle of.  The feeling we have at Global Agritrends is that we will continue to see high movements in beef price this year. When you break it down, that international beef demand, which is really driven by China, is likely to continue as we move through 2022."
Even at the lower quality end of the market, Mr Quilty expected to see continued strong demand for Australian beef. Lean Australian grinding beef in the US hit record highs last week week, "so demand is extraordinary," he said.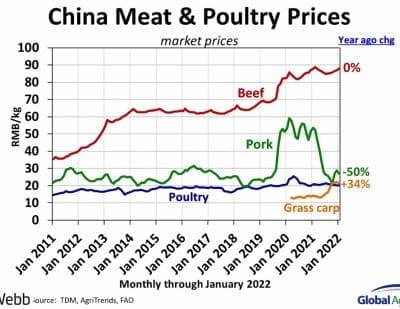 Product differentiation for high quality, well-identified beef is key
In backgrounding the opportunities that lay ahead for Australian beef, Mr Quilty spent time talking to the graph below, looking at EYCI trends and predictions on young cattle price over a seven year period out to 2026.
He has the EYCI averaging around 910c/kg dressed weight this year, falling 18pc from 2021 to 2023, before rising again over the next three years as the herd rebuilds.
He described it as a likely 'soft landing' for cattle prices – "I'm sure we can all live with an EYCI low of 770-790c in 2023-24, before starting to strengthen again," he said.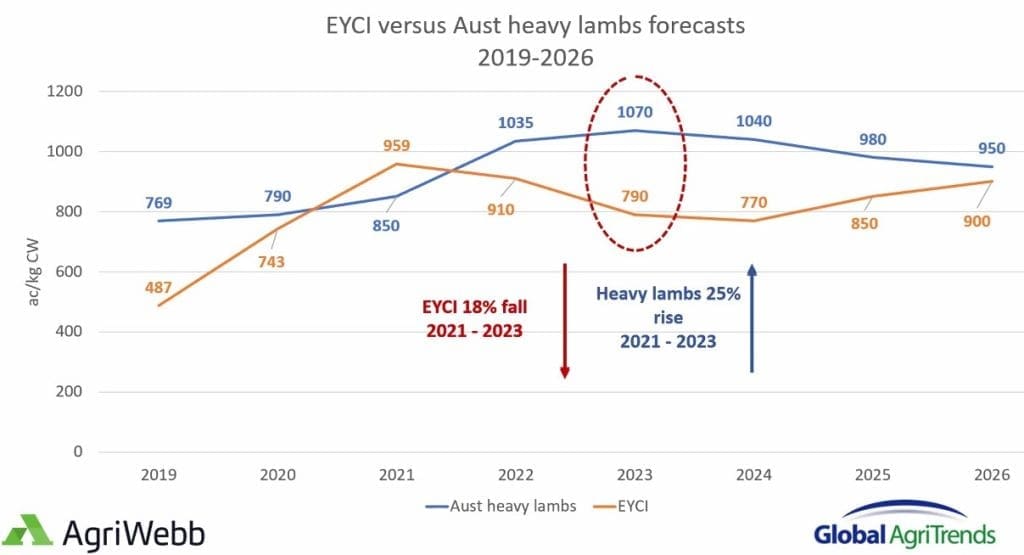 Mr Quilty used the live cattle futures prices in the US to illustrate future price prospects for Australian and global beef.
"Part of the solid outlook globally is about North America. The CME Live Cattle Forward Curve (see graph below) shows a 5pc increase in US cattle prices by April this year, and by the end of 2022 and into the first quarter of 2023, the market says prices will be up about 9pc," he said.
Why this was so important was because Australia competes with the US in 90pc of Australia's export beef markets, including Korea, Japan, China and the US domestic market.
"When prices go higher in America, it lifts Australian prices with it – and it's not just beef. At the higher quality grainfed end of the market, it lifts lamb, also, because lamb now competes directly at that high end of the market, especially in US food service."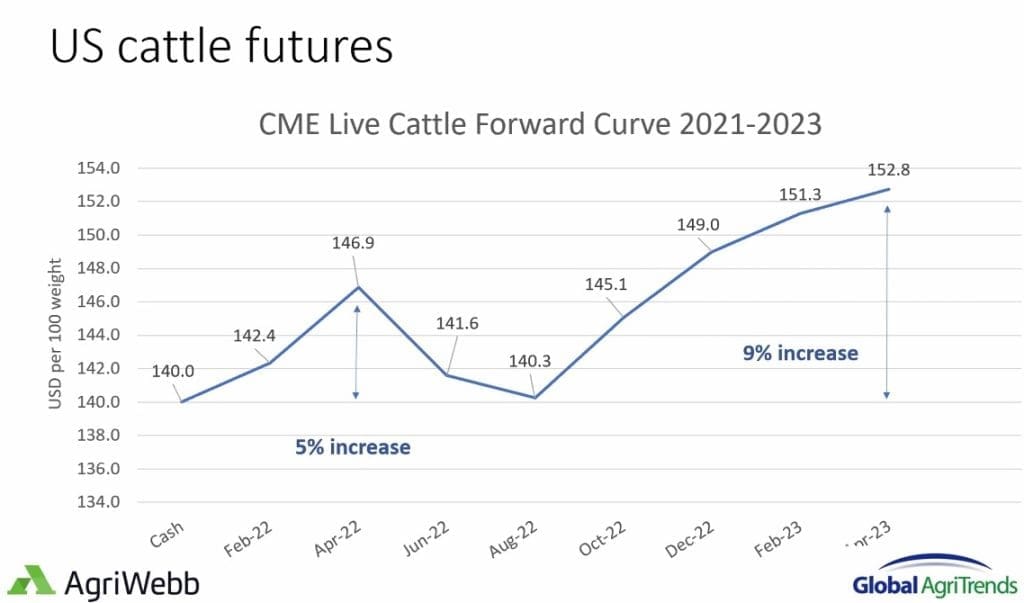 Mr Quilty said the 'flight to quality' was about trying to meet the world's demand for protein.
"America, in some ways, will help Australia over the next five years," he said.
Cattle on feed numbers in Australia continued to expand, reaching 1.15 million in the December quarter.
"My expectation is that we will continue to see growth in cattle on feed numbers in Australia. It (grainfeeding) is becoming absolutely crucial to where we are heading. It's a big deal in the northern part of Australia (Queensland accounts for 62pc of cattle on feed, NSW 27pc), and the grainfed percentage of total exports has gone from 26-30pc a decade ago, to the mid/high 30s today."
"This year, it will be close to 40pc. Why? Because Australia is going to have to fill the void that the US is going to have to step away from."
Mr Quilty's graph below shows Australian and US grainfed beef exports to China in the past two years.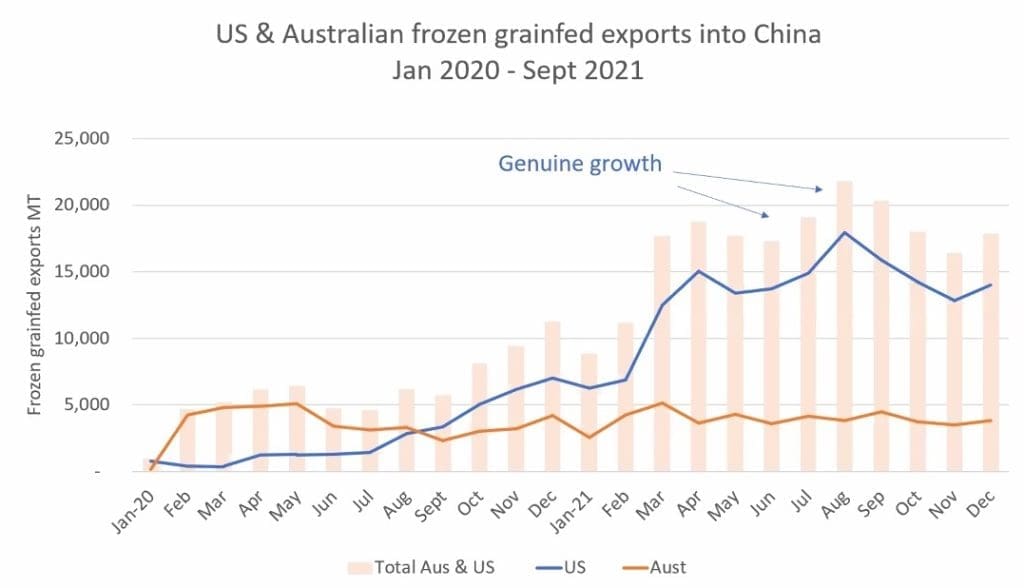 US exports, marked in blue, show the trajectory of beef trade since the signing if the trade agreement for HGP-free beef in early 2020. Monthly US trade has trebled over the period, while Australia (red line) has remained fairly constant.
Part of the growth in US exports was due to the current North American drought. The US herd is anticipated to retract 2pc in size this year, as a result, suggesting the US will reduce exports by about 5.2pc, Mr Quilty said.
"That will create a void in markets like China, and I think it will be Australia, and only Australia, that can really fill that grainfed void. So expect more demand as we go forward, this year and next, on grainfed beef and in particular on that frozen end of the market."
It all lends itself to a 'soft landing' when it comes to movements in cattle prices. Mr Quilty said.