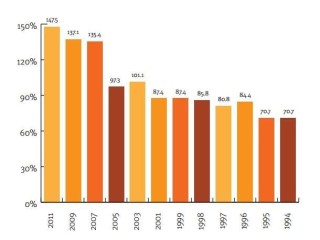 The financial squeeze gripping many northern cattle enterprises has been brought into sharp focus by the latest rural debt survey in Queensland.
The findings raise serious questions about the long-term financial sustainabiltiy of agricultural operations in the face of declining terms of trade, with debt levels now standing at almost 150 percent of gross production value (see graph at left, which should be read from right to left).
The 2011 Queensland Rural Adjustment Authority survey, released yesterday, said the average debt carried by each primary producer now stands at $1.073m, a rise of 17 percent in the two years from 2009 to 2011.
Total agribusiness borrowings over the same period increased by 19pc or $2.6 billion to $16.9 billion.
The beef industry is responsible for the largest chunk of that debt, with 6499 beef industry borrowers in total accounting for $9.18 billion – or approximately $1.4m per borrower on average.
The results underline the challenges cattle enterprises are facing to remain viable in the face of rising costs and stagnating prices and productivity levels.
A corresponding analysis by leading rural consultancy firm Resource Consulting Services indicates that the average cattle producer in Queensland has spent more than they have earned in nine of the past 10 years, due to rising costs and stalling incomes.
The response by many has been to increase debt levels against their properties to cover the annual shortfall.
The QRAA report, prepared by Bentleys Chartered Accountants in Brisbane, notes that producers have faced rising costs of fuel, utilities and restocking for post-drought herd rebuilding in recent years , while meat prices have remained static over the same period.
Financial difficulties have been exacerbated by a raft of natural disasters.
AgForce points out that more than 5500 rural businesses in Queensland were affected by floods, fires and cyclones in recent years, costing more than $1.5b in lost farm revenue and a similar amount again infrastructure repairs and stock replacements.
Further impacts have included deferred sales due to weather related difficulties in getting to stock market, and losses associated with the impact of last year's live export ban in northern Australia.
Despite the magnitude of the debt picture, the study notes that 95pc of beef industry borrowers are considered to be viable in the long term, notwithstanding short term debt servicing difficulties.
QRAA Chairman, Wayne Carlson, said the survey results indicated that tighter bank lending criteria had been applied over the past two years, with borrowers classified as the most-viable (Category 'A') contributing the most to the overall debt increase.
"Encouragingly, the survey found that 86 per cent of the total debt was classified as 'A' or 'B+' rated debt (borrowers who are considered potentially viable long-term but are experiencing debt servicing difficulties), indicating confidence in the future of Queensland agribusinesses as a key investment sector," Mr Carlson said.
AgForce president Brent Finlay said the organisation will work with the Queensland Government to support broadacre producers in further developing their business and risk management skills.

"The results underline the challenges that producers face in operating a profitable business and the need to working closely with their lenders to achieve an agreed plan for debt reduction," Mr Finlay said.
10 year comparison
Comparisons with where the same figures stood 10 years ago underline the trend of continuously rising debt.
Total rural debt has increased by 2.5 times from $6.6b since 2001, and average debt per farm business borrower has increased by almost 3 times from $307,035 in the same period.
RCS figures show that average debt level per large stock unit over the past 10 years has increased from $240 to $647.
At the same time income levels have remained fairly constant. The Eastern States Young Indicator today at 373c/kg cwt today is still moving in a similar price range to the EYCI of 10 years ago (the corresponding price for this week in 2001 was 337c/kg).
RCS data also shows that Earnings Before Interest and Tax figures for farm enterprises have not changed significantly over the past decade.
Mr Carlson also said that five industries account for more than 80pc of total recorded rural debt, these being beef (54pc of total debt), cotton (7.6pc), grain/grazing (6.8pc), grain (6.5pc) and sugar (5.7pc).
"More specifically, the level of rural debt for the beef industry has increased by $1.3 billion (17pc) over the past two years to a total of $9.18 billion," Mr Carlson said.
"Impacts of natural disaster as well as the live export ban in May 2011 have no doubt played a role in the increase in debt amongst Queensland's beef producers."
"Looking forward there is optimism that a better season and a shortage of beef in the US will bring better returns for the beef industry. Restocker demand remains strong and there are signs of aturnaround in the size of the national herd."
Mr Carlson said the grain/grazing industry recorded the second highest movement of rural debt, with an increase of $295 million, or 34pc from 2009.
The regions making up the majority of Queensland's rural debt were the Central South Coast ($3.6 billion; 21.6pc of total debt), Maranoa/Western Downs ($3.5 billion; 20.9pc), Central ($2.67 billion; 15.7pc) and Tropical North Coast regions ($2.06 billion; 12.1pc).
"The higher levels of debt in these areas can be attributed to the concentration of beef, cotton, grain and sugar operators in these regions, as well as the recent natural disasters that have impacted these areas."
The Rural Debt Survey was prepared by Bentleys Chartered Accountants with cooperation from the major banks, Queensland-based lending institutions and industry associations.
The full report can be found at the QRAA website by clicking here clicking here