FOR the first time an accurate, district-by-district assessment of livestock losses experienced during the February 2019 Northwest Queensland floods has been completed.
The Queensland Department of Agriculture study suggests that flooding, wet conditions and unusually cold weather at the time of the event between late January and 9 February last year caused the death of an estimated 457,000 head of cattle, 43,000 sheep, 710 horses and 3000 goats across an area of 11.4 million hectares. Cattle represented 91 percent of total livestock losses.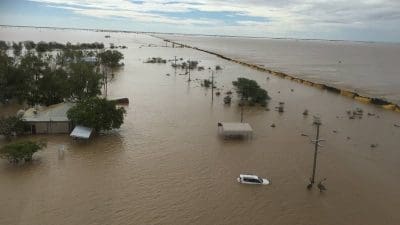 DAF's Rural Economic Development group carried out the analysis in September, led by economist David Phelps.
In addition to livestock mortalities, about 22,000 km of fencing and 29,000 km of farm roads and tracks were destroyed or damaged, and 2320km of poly pipe and 1350 tanks and troughs destroyed or damaged. Other losses included farm machinery such as motorbikes and graders, equipment such as tools and generators, stock and domestic dams, livestock handling facilities, sheds and houses.
DAF collaborated with Local Governments, AgForce, Queensland Rural and Industry Development Authority and the North Queensland Livestock Industry Recovery Agency to carry out the survey of livestock owners, as the basis for a more accurate damage assessment.
The survey covered the Local Government Areas of Burke, Carpentaria, Cloncurry, Flinders, McKinlay, Richmond and Winton Shires.
An estimated 11.4 million hectares of grazing land (39.6pc of the shires' total grazing land) was within the AgForce flood-extent area. Most properties reported at least some flooding, with 47pc reporting more than a quarter of their area affected, 43pc reporting less than a quarter of their area affected, and 10pc reporting no flooding. Some properties were entirely inundated.
Of the seven local government areas surveyed, McKinlay Shire was the worst affected, with cattle losses totalling 132,614 head, and sheep, 11,073 head. Cloncurry and Carpentaria shires were next, with 85,899 cattle and 79,513 cattle respectively.
McKinlay was also the worst affected by fencing losses, calculated at 6411km, followed by Richmond Shire with 6087km.
DAF's report suggested that early post-event estimates of losses were relatively accurate, when the difficulty in accessing livestock and infrastructure during the first few weeks is considered.
Based on best 'guestimates' by local eyewitnesses, Beef Central's original report, published on February 5 last year (click here to view), suggested between 300,000 and 500,000 cattle may have perished. Later reports published in metropolitan media used figures as high as 700,000 and 800,000.

Restocking
DAF's report found that lack of pasture growth following the flooding was another key issue, and a limitation on affected landholders' ability to restock.
By September last year, most had replaced and repaired fences, but had not yet moved on to other infrastructure. Nearly 70pc of destroyed or damaged fences had been replaced by the end of September, and an estimated 24pc of cattle (109,000 head) and 20pc of sheep (8700 head) had been restocked.
Landholders also identified concern over the spread and increase of weeds such as prickly acacia, parthenium, noogoora burr and rubber vine, in the post flood period.
Unprecedented flood event
Severe weather conditions across north-west Queensland persisted from 26 January to 9 February last year, leading to unprecedented flooding, livestock losses, infrastructure damage, erosion, environmental impacts and economic disruption.
The conditions were due to a slow-moving monsoonal trough which developed to the north of Australia and intensified as it moved over Cape York Peninsula towards Townsville, and then inland towards Mt Isa. Once this trough was to the west of Cloncurry, it became almost-stationary, resulting in rainfall totals which were the highest on record over much of the affected area, extended for a week to ten days, and led to extensive flooding across the region.
The wet conditions were coupled with low day-time temperatures and strong winds under thick and low cloud cover, causing more cattle to perish from exposure.
Pastures were severely damaged and there was limited to no natural fodder for livestock. The shires of Burke, Carpentaria, Cloncurry, Flinders, McKinlay, Richmond and Winton were disaster-declared to ensure people isolated by the flooding were safe, to provide assistance to deliver hay and other fodder to surviving livestock, for the disposal of livestock carcases before diseases became a problem, and to enable the region to begin the recovery process.