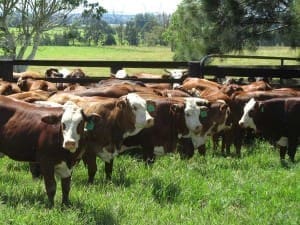 In four hearings in four different states to date, cattle producers have uniformly expressed unerringly similar concerns to a Senate Inquiry into grassfed cattle industry structures.
In Canberra, Broome and Katherine in recent weeks and again in Rockhampton yesterday, producers voiced frustration at receiving low and unviable farmgate prices while export demand and retail meat prices stand at high levels, and the perceived lack of control they feel they have over the primarily producer-funded Meat & Livestock Australia compared to other sectors.
'How are producers surviving?'
Committee chair, Labor Senator for WA Glen Sterle, said yesterday that the inquiry repeatedly heard from producer witnesses that their farm gate price has not improved since 1990, prompting him to ask Hughenden cattle producer Rob Atkinson: "How the heck do you survive?""
Mr Atkinson explained that many northern producers had aimed for better economies of scale and had tried to cut labour costs to get ahead, as his own family had on Kattandra at Hughenden. 20 years ago the property employed a mob of permanent ringers, now the entire operation is run only by family members, at a ratio of one family member per 2000 cattle.
"I don't believe there is capacity left to cut costs, and that is why we have come to a screaming halt right now," Mr Atkinson said.
"We're urging anyone who would listen to try and come up with some sort of rationale to get some profitability back."
Can a restructure improve farm gate prices?
Liberal Senator Chris Back posed a key question yesterday when he asked whether producers believed it was possible for a restructure to deliver a better farmgate price.
Common responses to that line of questioning included the view that producers and processors should be separated in any new structure, because both had fundamentally conflicting interests at point of sale. Processors were commercially motivated to pay the lowest possible price for cattle, while producers wanted to receive the highest possible price. Several witnesses yesterday supported the view that those competing interests could not be accommodated by a single body.
"What we have had is the antelope and the tiger together in the same pen," CQ cattle producer and Property Rights Australia chair Joanne Rea told the inquiry.
AgForce cattle president Howard Smith said the fundamental conflict that exists between different red meat sectoral interests meant no single vehicle could adequately represent the views of all, which in turn meant it was up to each peak council to go in to bat for their own sector.
"Therein lies the issue, we need well-funded and well-resourced peak councils to do that," Mr Smith said.
MLA 'only has to consult' with CCA
Asked how CCA should be better funded, Mr Smith said AgForce believed 7pc of the $5/head transaction levy, or 38c/head, would be sufficient to ensure CCA was well resourced and effective.
But he added that the Memorandum of Understanding between CCA and MLA also had to be changed to give CCA more power over the service-organisation MLA.
"My understanding of the Memorandum of Understanding and Statutory Agreement is that MLA only has to consult with Cattle Council," Mr Smith said.
"We need some sort of mechanism in there where they consult, but also go and deliver on our recommendations."
Producers need more say on MLA board selection committee
The make-up of the MLA board selection panel remains a particular area of contention. The panel interviews candidates for MLA board positions and then puts forward one candidate for each available position for MLA members to vote upon at the next annual general meeting.
"I don't believe that mechanism is fair," Mr Smith said. "Levy payers feel as though they don't get a say on who to vote on, someone has already been pre-selected, it is just a mere formality from their view and they don't get a vote, that is something that needs to be looked at," he told the inquiry.
The MLA board selection panel is made up of three MLA board members, two grassfed cattle producers, two grainfed cattle producers and two sheepmeat producers.
Grassfed producers contribute more than 60pc of total levies received by MLA, but, despite that significant input, have no more say over MLA board selection decisions than other sectors which contribute a far smaller share of levies.
Former Cattle Council Chair Greg Brown said there was no reason why MLA board members should have seats on the selection panel at all, let alone the highest number.
"The selection process for the MLA board is totally distorted by the fact that MLA people dominate it. I can't actually prove nepotism but I certainly can suggest it, and that distorts the whole process," he said.
"I believe that MLA people should not be on the selection process."
Queensland Liberal Senator Ian McDonald said there was an accepted view that those who pay the most levy should have a commensurate say in how it is spent, a proposition which the inquiry chair Glen Sterle said was shared by the whole committee.
Yesterday's hearing was not the first time a Senate Inquiry had heard complaints about MLA's board selection process, as Senator Sterle told the audience.
He explained that in 2002, following an inquiry into Australian meat industry consultative structures and quota allocations, a Senate Committee noted "the undemocratic process by which MLA board members were appointed" and recommended that the MLA board consult with its membership on democratic reform of MLA's articles of association.
"Now here is the kicker everyone," Senator Sterle said. "MLA proposed amendments to its membership at its 2003 AGM, but only 73pc of the votes cast were for change.
"Are you ready for the punchline? Under the MLA's constitution you need 75pc," he said.
"It's absurd," Mr Brown responded.
MLA R&D review response
In Rockhampton the inquiry also started to delve more deeply into MLA's and CCA's handling last year of an independent review of MLA's levy funded Research and Development Program. In response to industry calls for a review, MLA management last year commissioned six independent R&D experts to examine its performance in selecting, funding and managing R&D programs. The resulting report was highly critical of existing processes, but the report was not released by MLA to the producers who fund it, and, 12 months later, many of the recommendations remain yet to be acted upon, former Cattle Council chair Greg Brown told the inquiry.
Mr Brown said MLA had to improve its communication processes with producers as a matter of urgency, and said CCA's lack of response to the R&D review suggested it had been weakened by its reliance on direct funding from MLA.
"Cattle Council in my view is weakened by its service agreement that they have with MLA. I can't prove it but I think that potentially they must think about where some of their money is coming from, and not necessarily be that critical of MLA.
"They have not said anything about this R&D review, and nor have they forced the issue with MLA."
Mr Brown said the issue highlighted the imperative that existed for Cattle Council to be given a direct share of the levy so it could cease its reliance upon funding from MLA.
"It is imperative they get a portion of the levy. There has to be seriously authoritative body representing grassfed beef producers in Australia, it is an imperative."
Processors not our enemy: RIchard Wilson
Not all producers at yesterday's hearing agreed with the view that processors are the natural enemy of producers. Central Queensland cattle producer Richard Wilson who sells all of his cattle through an alignment with a major processor said producers had to work with, not against, processors.
"We produce the cattle, and they convert it to beef and export it," Mr Wilson said. "If they can't make a return, we won't get a return, so I think in many respects we have to work closely with them."
Majority support so far for CCA as peak body
In hearings to date, which have been addressed by a broad spectrum of cross-sectoral representatives and many producers large and small, committee chair Glen Sterle said the majority of witnesses so far appeared in favour of retaining CCA as the peak body, but with better funding to improve its ability to oversee MLA, however he noted there had also been opposition to that position.
One ongoing sticking point is whether CCA or its future restructured equivalent should receive a portion of the levy, or whether it should control all grassfed levy funds and invite service delivery companies such as MLA and others to tender for the right to manage individual projects.
Added to this debate is the question of whether an industry council which undertakes lobbying and advocacy activities among other roles can legally receive funds generated from compulsory levies under current legislation.
Does legislation allow CCA to receive direct levy funding?
AgForce cattle president Howard Smith told the inquiry that prevailing legal advice suggested that current legislation does not allow for funds raised from compulsory levies to be used for industry lobbying and advocacy activities. In that light, he said, CCA could still receive direct levy funds, which would be 'firewalled' from lobbying and advocacy activities.
That would also mean that paid membership pathways would remain essential in future so CCA could continue to fund lobbying and advocacy activities.
However other witnesses pointed to industry bodies in the horticulture and pork industries which undertake lobbying activities and are already being funded by direct levies as proof that revenue generated from compulsory levies can be used under existing legislation to fund peak industry bodies.
Nationals Senator Barry O'Sullivan suggested further legal advice be sought to clarify the issue.
"It is your money that takes a path, and if it makes it back to your peak council, I would be surprised if it were (treated) as strictly appropriated funds," Senator O'Sullivan said in a discussion with Howard Smith. "There are 72 other industry (bodies), many in horticulture, who survive 100pc on a levy struck upon their members, and they're able to use that for lobby purposes or direct representational purposes also."
Several witnesses also expressed support for the concept of establishing a separate organisation to manage R&D, as previously occurred under the Meat Research Corporation prior to the 1998 establishment of MLA.
'All we want is profit'
One producer, Rob Moore, drove almost 10 hours from his cattle property near Bollon in South Western Queensland to Rockhampton to explain his proposed solution to dwindling on-farm profitability to the Senators yesterday.
Mr Moore's own story captured the challenges many producers are facing to remain viable in the current low-price market environment.
Despite holding his multi-million dollar property without any debt, a situation he had achieved only through being 'single-minded', Mr Moore said he has still been living on "less than the dole" for the past five years. "We're on a treadmill to nowhere," he said.
Mr Moore is seeking Federal Government support for a proposed piece of legislation he has written called the Primary Production Pricing bill, which is based loosely on the US Packers and Stockyard Act and seeks to increase farmgate prices through creating greater transparency and improved competitive tension for livestock. The proposal would require the Federal Government to establish a Forward Offer Board or single marketing desk for cattle, through which all buyers of slaughter cattle in Australia would be required to post their offer prices for the various categories they need to buy at any given time. Producers would then have the ability to choose whether to supply an order at the posted price.
The concept of introducing such a level of Government control drew resistance from a number of senators present. Mr Moore told the Senators that increased competition was desperately needed to restore viability.
"All we want is profit," he said.
The need for profitable cattle prices was one point every speaker agreed upon throughout the day.
"The only thing that can bring young people back into this industry is profit," Central Queensland cattle producer Cameron McIntyre told the inquiry.
Two more public hearings are scheduled to be held in Albury, NSW and Canberra, ACT, in June.