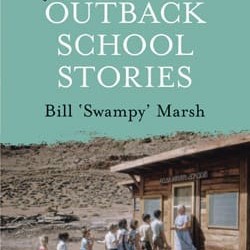 If you had to watch out for rogue bulls rather than traffic or if you rode to school on a horse instead of in a car – you probably went to an outback school.
Great Australian Outback School Stories, is a collection of more than sixty wonderful stories, gathered by Bill 'Swampy' Marsh in his travels across Australia. It harks back to a simpler time and perfectly captures the experience of life growing up in the outback, when the days were long and hot, the kids were cheeky but innocent, and adulthood seemed such a long, long way away.
Whether you loved school or not, Bill's Great Australian Outback School Stories are sure to bring a smile to your face and maybe have you shed a tear or two, as students and teachers share their yarns and memories of a time gone by.
Bill 'Swampy' Marsh is an award-winning writer and performer of stories, songs and plays. He spent most of his youth in rural south-western NSW and now lives in Adelaide.
Swampy is one of ABC Books' bestselling authors of Australian stories; this is his twelfth book.
Great Australian Outback School Stories is available from ABC stores and other good bookshops.
ABC Books is part of ABC Commercial and publishes in partnership with HarperCollins Publishers Australia. Committed to fostering and developing Australia's best storytellers, ABC Books publishes titles across ABC programming, ABC journalists and the stories that matter to us as Australians.