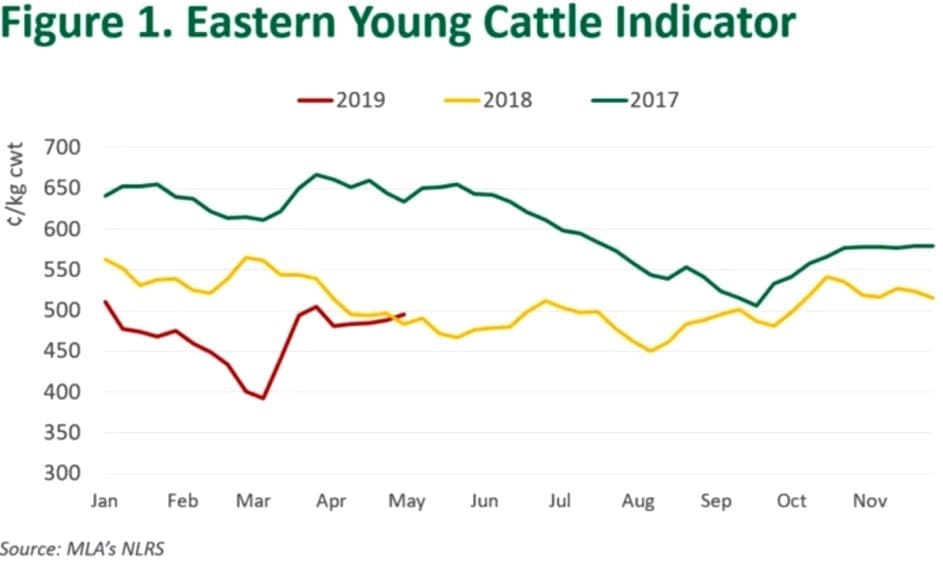 THE Eastern Young Cattle Indicator hit an important inflection point on Monday, with the indicator rising above year-on-year comparisons for the first time in three years, following helpful rainfall in some regions.
Following Roma store sale on Tuesday, the EYCI rose to 498c/kg carcase weight, up 1c on the previous week and up 12c year-on-year. The fact that prices are now higher than year-ago levels marks a significant inflection point for the store market, MLA said today.
Young cattle prices have been on a gradual decline since the end of 2016, due to severe rainfall deficiencies in the majority of supply regions. As shown below, the EYCI rose above year-ago levels on Monday, for the first time since 2016.
"Some market commentators note the importance of a move above year-ago levels, as it potentially highlights the fact that prices may have bottomed," MLA said. "That said, a range of factors will influence future price movements, such as seasonal conditions – which are highly unpredictable."
There were some useful falls across NSW and Victoria over the weekend, but more is needed.
"There is no guarantee prices will continue to rise, especially in the absence of follow-up rain, but markets are beginning to show signs of improvement," MLA said.
"Looking to recent market reports, numbers lifted in some saleyards despite the rain. Cows and plainer conditioned young cattle made up the bulk of the yardings, with restocker buyers competing a little more enthusiastically than the week prior. Grown steer and bullock supplies have begun to decline in some regions due to seasonal shortages."
Female slaughter hits new highs in March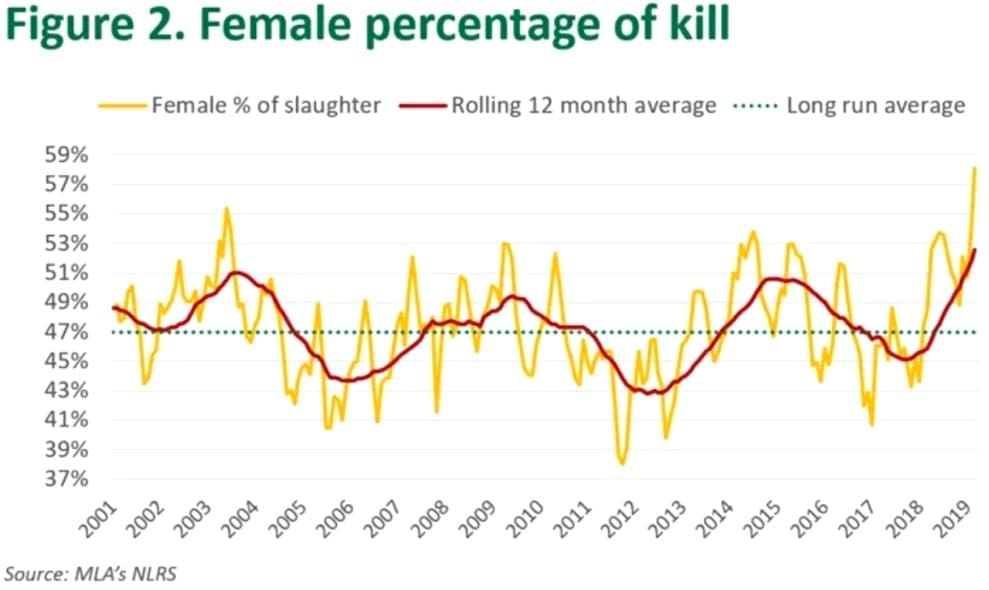 On Monday, the ABS released cattle slaughter and production data for the month of March. The data included some unprecedented numbers, particularly regarding the level of female slaughter.
Nationally, adult cattle slaughter was up 19pc year-on-year, to 734,000 head. Male slaughter fell 3pc year-on-year, while female slaughter rose 42pc.
The portion of female slaughter in any given month is an important metric when assessing potential changes in the size of the Australian cattle herd, i.e. a higher portion of female slaughter directly reduces the size of the breeding herd and potential future production.
In March, the female portion of adult kills rose to 58.1pc, which is the highest level ever recorded. On a 12-month rolling average basis, the figure also set a new record, at 52.6pc. Typically, the herd is considered to be in a contraction phase when this figure rises above 47pc.
Source: MLA