THE Eastern Young catle Indicator has continued to plunge since December, falling almost 2c again in the past 24 hours to reaching 291.75c/kg, carcase weight, yesterday.
That's now within sight of the recent low-points of 289.5c reached last October, and 278.5c in May last year, as drought started to take hold. Prior to that, you have to go back to December 2009 to find EYCI figures so low.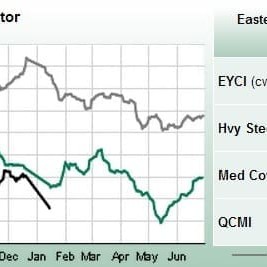 In a commentary issued yesterday, Meat & Livestock Australia says it's not uncommon for the variability in price movements to be directly associated with weather events, as producer trading habits generally hinge on seasonal rainfall.
Over the past 10 years, the major effect rainfall (or more accurately, lack of it) can have on price, coupled with an oversupply of stock at crucial times, is substantial, MLA said.
In 2002 when rainfall was 'well below average' across the majority of Australia's east coast, the EYCI slipped 90¢/kg from the start of January to the end of December.
Similarly, 2012 rainfall was 'average' to 'below average' across much of the east coast, with the back end of the year being very dry, and prices declined 90¢/kg – albeit from record high prices earlier in the year, MLA's report said.
In 2013 the EYCI was affected not only by the lack of sufficient rainfall through Queensland and northern NSW, but the large influx of lightweight steers and heifers at NLRS reported markets.
Surprisingly, from January 2013 to the last reported EYCI for the year, prices improved by close to 9¢/kg cwt, as processors and feeder buyers assisted the market, after dropping to a low of 278¢/kg in May.
The EYCI has opened 2014 at well below 2013 levels, largely due to the prolonged dry conditions through Queensland and northern NSW and the lack of restocker and feeder interest, MLA says.
"Significant fluctuations in the EYCI over the Christmas break isn't uncommon, as large differentials in the indicator were evident throughout 2010-11, with 'well above average' rainfall recorded throughout much of the east coast in those years," the report said.
Historically, on average, prices improved marginally (4¢/kg) from January to December each year.