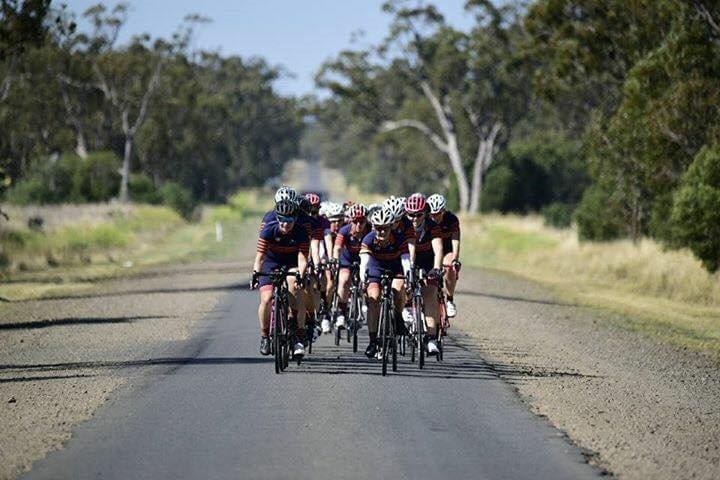 News headlines are dominated by bad news. But that doesn't mean good news isn't occurring just as frequently.
In the past few days the highways of western Queensland have been pedaled by everyday people making extraordinary efforts to help others.
Last week a group of 34 girls, including Toowoomba's Elissa Walker and Bella Reynolds, the better halves if we may say of two people well known to Beef Central – our regular feed grain columnist Luke Walker and Mort & Co's private client manager Berry Reynolds – spent three days riding from Brisbane to Meandarra in western Queensland to raise money for the Heart of Australia Heart Bus.
If you haven't heard of the heart bus, that is in itself yet another inspiring example of people going to astonishing lengths at significant personal discomfort and cost to help others.
The Heart Bus is a mobile heart clinic developed by Indian-raised cardiologist Dr Rolf Gomes. After discovering that people in western Queensland lacked access to the same critical heart health services as people in the city, despite heart disease being a major killer in the bush, Dr Gomes and his wife personally mortgaged their house to pay for a new truck-mounted heart clinic to travel rural areas.
It is an invaluable service for people who would otherwise have to travel hundreds of kilometres to access diagnostic and treatment services, and it relies heavily on donations and sponsorship to keep the wheels rolling. (You can learn more about the inspiring Heart of Australia Heart Bus story at this Australian Story link)
Inspired to help Dr Gomes after hearing his story at a fund-raising lunch last year, 34 women – mums, employees and business owners from Brisbane and Toowoomba – have spent a large chunk of the past year training to prepare for the three-day, 446km ride.
Last Wednesday they pushed up the grueling Toowoomba range and then out along the plains of the western Downs through unseasonal winter heat, buffeting headwinds and relentless exhaustion.
In the process these 34 girls made one heck of a difference, raising over $110,000 for Dr Gomes' Heart Bus.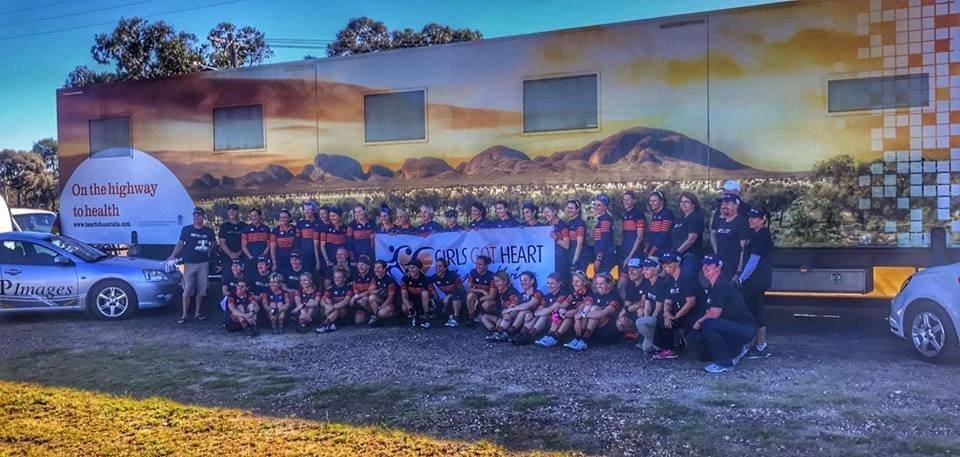 As they were finishing their ride, another lycra-clad rider was setting out on his own solitary mission to use pedal power to raise money for a worthy cause.
Steve Dummett, well known in the rural sector as the marketing manager of Ag Data Australia, plumbed the depths of his physical endurance and 50 year old frame by riding a bike from his property at Haden near Toowoomba all the way to Cunnamulla.
Starting each day in darkness and ending each day in darkness, he rode 670 epic kilometres from Friday morning to Sunday night.
Occasional videos posts on Facebook kept supporters up to date with his progress, the taxing nature of the marathon effort etched in Steve's face and voice as he managed to smile his way through the gruelling adventure.
His target is to raise $3000 for BeyondBlue and its important work in particular in helping rural people to cope with depression, and he is also tackling the 2017 Noosa Triathlon as part of his fund raising efforts.
At the time of posting this article, Steve was agonizingly close to his $3000 goal, still needing $145.92. If you can help get him across the line, click on the link to his fund-raising website below.
It's easy to think we can't make a difference.
Thanks to Elissa, Bella and their fellow "Girls Got heart" team members and Steve Dummett for reminding us that we can.
Fund raising links:
Both the Girls Got Heart team and Steve Dummett have fund raising pages on the aptly named "every day hero" website where you can contribute to their respective fund raising efforts