THE European Parliament will tonight (Australian time) debate the case for introducing a "sustainability charge" on meat, proposed by the Tapp Coalition of health, environment and animal welfare organisations.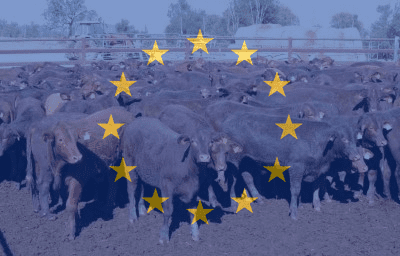 Meat industry leaders have expressed their disappointment with the proposal, which would would increase the price of beef by €0.47 (40p) per 100g (making a steak about 25 percent dearer).
The proposed levy on pork and chicken would be lower,  reflecting their smaller environmental impact, according to the TAPP Coalition, recommended at €0.36 (31p)/100g and €0.17 (14p)/100g respectively.
An economic analysis on the proposal by CE Delftt University suggests that if adopted, the charges would reduce consumption of beef in the EU by 67 percent, pork by 57 percent and chicken by 30 percent by 2030.
Overall the tax would generate €32bn (£27bn) in revenue a year.
The Tapp Coalition said about half of this should be given to help farmers move their production away from meat, which could increase individual farm incomes by thousands of euros per year.
The rest should be used to reduce the cost of fruit and vegetables, support poorer families and help developing countries deal with the climate crisis.
The proposal to be debated calls for the new pricing model be included in the European Green Deal and Farm to Fork Strategy., which, if adopted, would apply to EU member states from 2022.
In comments quoted by UK Meat Management magazine, Nick Allen, the chief executive of the British Meat Processors Association (BMPA), said it was disappointing the European Parliament was considering the proposal.
"It is really sad that the European Parliament does not recognise that this is one of the best parts of the world to produce meat with the lowest environmental impact," he said.
"A meat tax does not make sense; it merely puts up the price of all food and the poorer people in the community will suffer.
"At the same time, it will probably encourage production of meat in other parts of the world where it will have a greater environmental impact."
Association of Independent Meat Suppliers said the proposal would not achieve what it was intended to achieve.
"The proposed blunt weapon of tax on meat would not reward environmentally responsible production systems," Norman Bagley, Head of Policy at AIMS, said.
"It instead appears to be saying all livestock farming is bad and needs to be taxed in order to drive up prices for the consumer who in turn may then reduce consumption.
"As ever with the EU it is simply a collection of 'ifs, buts and maybes' rather than a well thought through plan that is fair to all farmers."
Tapp Coalition spokesperson Philip Mansbridge, executive director of ProVeg, one of the coalition members, told EU media the meat tax is urgently needed.
"The time has come for us to act decisively with policy on the environmental consequences of animal protein, the price of which has been kept artificially low for far too long," he said.
"Here we have a solution that is fair for farmers and supports the transition to a more plant-based food system that we so urgently need if we are serious about mitigating climate change."
An economic report based on research from CE Delft university in the Netherlands said the prices of beef, pork and chicken would need to increase by €0.47 (40p, €0.36 (31p) and €0.17 (14p) per 100g respectively to cover the costs of greenhouse gas emissions, other air and water pollution, and losses of wildlife associated with livestock production
The CE Delft report suggested the proposed meat tax will lead to a reduction of up to 120 million tons of CO2 each year.
This represented 3 percent of all EU greenhouse gas emissions.
Tapp Coalition members said Europeans eat roughly 50 percent more meat than is recommended in dietary health guidelines, ad imposing the tax would save billions of euros annually in lower healthcare costs.