THE return to better growing conditions and superior weight-for-age was an underlying factor in record-equalling Meat Standards Australia grading compliance last financial year, the latest MSA Annual Outcomes report issued on Friday shows.
As we reported earlier, MSA graded cattle continue to represent more than half of the national adult cattle slaughter in 2021–22 at a record 55pc, up from 53pc a year earlier. More than 3.25 million cattle were MSA graded through 39 Australian beef processors last year.
A slight decrease in the number of cattle graded on the previous financial year reflected the overall decline in slaughter numbers due to herd rebuilding, as producers took advantage of generally favourable seasonal conditions.
Lower cow kill last year due to herd recovery may have had some influence on the percentage of carcases presented for MSA grading.
National compliance to MSA standards during 2021-22 reached 95.5 percent of cattle meeting minimum MSA requirements.
Better nutrition (ie seasons) was one of the primary drivers that had kept grading compliance at an record-equalling level last year, MSA program manager David Packer said.
"Producers were putting more kilos into their animals, so we also saw average MSA carcase weights rise accordingly," Dr Packer said.
"From a compliance perspective, those animals more than likely had better nutrition on average (the previous year included the tail-end of the impact from the 2019-20 drought), meaning they were more likely to meet the pH requirement and have adequate rib fat," he said.
Comparing different states, New South Wales had the highest compliance of carcases presented for MSA grading at 97.6pc, up from 96.8pc the previous year.
National compliance for non-grainfed cattle remained stable at 91.7pc compared to previous years, while there was a slight decrease in compliance for grainfed cattle to 98.1pc.
The main reasons for non-compliance last year were high ultimate pH (+pH5.70) accounting for around 2-4pc (some variance from month to month) and rib fat measurements less than 3mm, around half-a-percent. There is some seasonal variation, with national non-compliance being highest in September 2021 at 5.4pc.
The proportion of grainfed cattle being MSA-graded grew in 2021-22, representing 62pc, with non-grainfed cattle 38pc.
Decrease in index performance
In 2021–22, the average Index result for MSA-compliant carcases was 57.37, a slight decrease of 0.25 from the previous year. The decrease in index can be attributed to a range of factors influencing grading results.
Firstly, there was an increase in the use of HGPs in some categories, negatively impacting the MSA Index score. Nationally, there were 56,000 more cattle HGP treated last year, a 5pc increase on 2020–21.
In the non-grainfed category, there was an increase in the number of females with higher ossification scores from some regions. This was likely due to the effects of the drought early in life carrying through to non-pregnant females being sent for finishing and/or processing.
The average MSA Index for non-grainfed cattle last year was 58.20, a decrease of 0.49 from the previous year, while the average MSA Index for grainfeds was 56.89 – a decrease of 0.04 from the previous year. The reason why grassfed MSA cattle have a better average index result than grainfed is the relatively higher use of HGP in the grainfed sector, diminishing index results.
More older cattle graded
The number of older animals being presented for MSA grading has grown over time, although the figure remains only a small part of the overall MSA program. Brand programs like HW Greenham's Vintage brand cow beef program and Paradigm Foods' Wagyu cow beef program are examples of that trend.
Various processor grids offer MSA premiums for eligible cattle bearing four, six and even eight teeth. That has been enabled through the use of the Eating Quality Graded (EQG) cipher, which allows brand-managers to market product on the eating quality outcome of cuts, rather than dentition. Meat science has shown that the eating quality variation across populations of milk to six-teeth cattle is similar, as well as a proportion of eight-tooth cattle.
Victoria big outlier in MSA adoption
As it has for many years, Victoria remains an anomaly in uptake of MSA grading activity in Australia. Last year, 30pc of Victorian adult cattle slaughter was MSA-graded, compared with NSW (71pc), Tasmania (68pc), SA (90pc), WA (70pc) and even Queensland (54pc).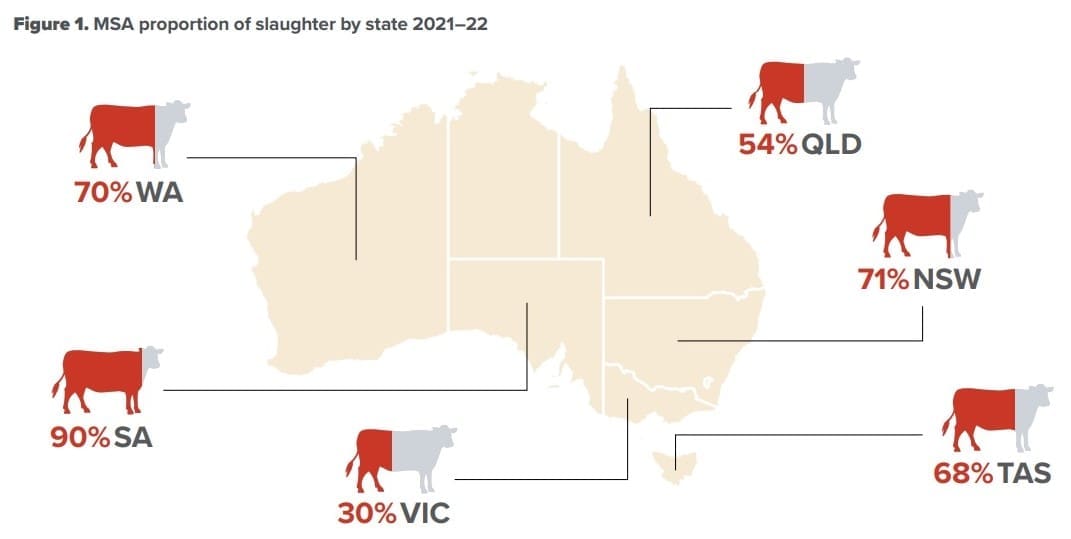 There appears to be a number of reasons for Victoria's relatively low adoption. The first is heavier reliance on the saleyards channel for slaughter cattle marketing. Saleyards make it more difficult to fit into the MSA model, with a 36-hour farm-to-slaughter deadline imposed, potentially holding back some Victorian processors and MSA graded carcases. Research is being undertaken, however, to look at possibly expanding that saleyards window to 48 or even 72 hours, and what re-feeding might achieve, across a one-week or two-week cycle.
The second is the view – among some Victorian stakeholders, at least – that the quality and consistency of Victorian cattle is inherently higher than other states, making MSA 'less relevant.' Data clearly shows that variation in eating quality exists, however, which is what MSA is all about.
Audits underpin program integrity
Throughout 2021–22, 469 audits were conducted on MSA licencees from saleyards and processors, through to retailers, wholesalers, independent boning rooms, supermarkets and food service outlets, the report showed, with more than 100 integrity checks made with MSA-licenced processors alone. MSA completed 243 face-to-face and/or video streamed MSA grader checks on active MSA graders around Australia to ensure consistency in carcase grading.
Some 6.8pc of end-user outlets, 4.2pc of processors and 8.6pc of independent boning rooms who were audited received Corrective Action Requests (CARs) during the year, often related to documentation or human-error.
When the number of MSA audits was reduced some years ago, partly for cost reasons, there were some fears that this might lead to more rorting or manipulation of the system by a few outlier users. To date there has been no evidence that that has occurred. In recent years at least, there has been no evidence of deceptive conduct in MSA system use.
R&D focus
Major topics for MSA research and development underway and soon to be completed this year include dairy beef programs, the Wagyu effect, road-rail transport impact and further saleyards research mentioned above.
Click here for full MSA annual report.