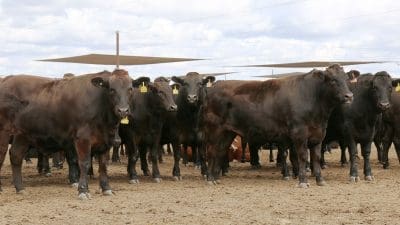 Australian Wagyu producers will have the chance to stake their claim on more than $10,000 in prize money, with entries for the RNA's 2020/21 Paddock to Palate Wagyu Challenge presented by JBS Australia now open.
The competition has been running for five years, with entries open for Wagyu and Wagyu-cross cattle (minimum 50% Wagyu blood) breeds.
The competition involves four phases comprising best aggregate weight gain over 370 days; a carcass competition; carcass value and finishing with a beef taste-off judged by some of Queensland's top chefs.
Each exhibitor can enter three pens, with each pen comprising seven steers, with the best six judged.
The weight gain phase of the competition will be held at Smithfield Cattle Co near Kingaroy in Queensland.
RNA Beef Committee Chair Gary Noller said the competition gives Wagyu producers a stage to showcase their animals and demonstrate their skills in breeding.
"The competition brings together the nation's top Wagyu producers, giving them a platform to benchmark their genetics," he said.
"The judging process incorporates the latest industry technology, with comprehensive analysis of the marbling's fineness in the carcass phase.
"We created a separate competition for Wagyu five years ago as it produces meat unlike no other and has become a highly commercialised product."
Entries close Friday 24 April 2020.
For more information and to enter now go to https://www.ekka.com.au/competitions/animals/beef-cattle/paddock-to-palate-competition/